September 2011
Volvo XC70 D3 Volvo Ocean Race
Ocean themed specification includes 'propeller' wheels
September 2011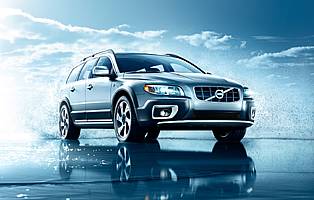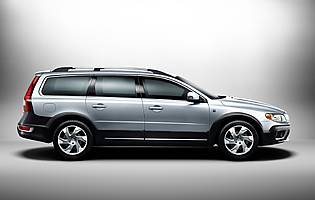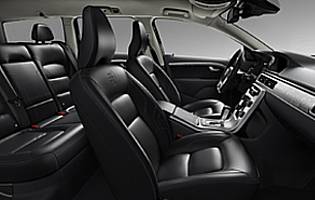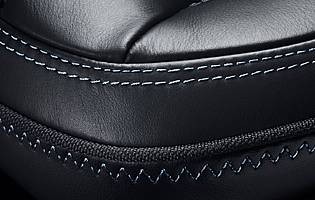 Overall rating

Likes:
Comfortable ride thanks to tall, soft suspension
Engines well suited to the car
Interior quality and layout mostly good
Tall tyres minimise risk of damaging the wheels
Gripes:
Permanent four-wheel-drive reduces fuel economy
Some key equipment not included as standard
Automatic gearbox also hampers fuel economy
Acceleration blunted by automatic gearbox
The XC70 is Volvo's large estate for people who either want a little more ride height or live somewhere only accessible by rutted tracks. In the spirit of adventure, it can be specified in Volvo Ocean Race (VOR) trim, which celebrates Volvo's involvement in an around-the-world race lauded as one of the world's toughest competitions of any kind.
VOR specification is loosely ocean-themed, with dark blue paintwork and special alloy wheels that are designed to look slightly like propellers. Inside, unique black leather seats feature different stitching to those in a normal XC70, and the plastic centre console has a stylish and unique design. Overall the end result is different enough from the normal car.
The chief visual differences between the XC70 and the V70 are the plastic trims around the bumpers and wheel arches, and the increased ride height. While the grey plastic trim will help to keep repair costs down if it should get knocked, the chief benefit is the suspension. In conjunction with modestly sized wheels and tall tyres, the longer-travel suspension creates a very comfortable ride.
Engine choice for cars in VOR trim is limited to two diesels, with a choice of manual or automatic gearboxes. The refined engines suit the car perfectly, and although the automatic gearbox reduces fuel economy, it suits the laid-back, luxurious ride that the XC70 offers better than the manual. In all, the XC70 is a very comfortable car.
Considering its status as something a little different in the range, the XC70 VOR is comparatively good value next to the regular trim options, with leather upholstery and steering wheel trim standard among many stylistic touches unique to this model. Buyers can choose from a large selection of options covering safety, convenience and style, making it relatively customisable.
Our verdict on the Volvo XC70 D3 Volvo Ocean Race
The XC70 takes the V70 and makes it more comfortable and a better long-distance cruiser. It pays the penalty for its four-wheel-drive system in the shape of lower fuel economy, but its increased comfort could be worth the extra cost at the pump, especially for lower mileage drivers. The Volvo Ocean Race trim level is good value and something a little different, and has deserved appeal as a result.
Costs
The Volvo Ocean Race model only comes with four-wheel-drive, which impacts on fuel economy, road tax costs and initial purchase price. The normal XC70 is available with two-wheel-drive and is more economical as a result. Ocean Race cars are therefore a little more expensive to run than they could be, but this is a compromise buyers will be willing to make.
Space and practicality
With a great deal of boot space and legroom on offer, space is one of the qualities that the XC70 was designed for. Two 12-volt power sockets will be useful for adventurous owners in charging their outdoor gadgets, and the exterior grey plastic trim protects the painted bodywork from potential damage from roadside plants and even rocks.
Controls and display
The XC70's displays are clear. They are simple and functional, but perhaps a little too understated for some. The sat nav screen is clear and bright, although the interface that allows navigation of the menus could be more intuitive. The ancillary stalks are nicely weighted and add to a general feeling of solidity in the passenger area.
Comfort
High wheel arches are filled with alloy wheels that look rather modestly sized, although they are actually 18-inches across. Tall tyres help absorb many of the road's imperfections, working well with the long-travel suspension. The latter is also damped well to make sure that the car doesn't wobble in any direction, or bounce repeatedly after bumps.
Car security
An alarm, immobiliser and a special key that pushes into the dashboard all help to prevent the car being stolen. Volvo is well known for including a lot of security technology without listing it in the brochure, especially in its larger models, and the XC70 is no different. Quietly, it's as secure as a car can be.
Car safety
As well as Volvo's famous passive protection in the shape of the Side Impact Protection System and matching structural safety features elsewhere in the chassis, the XC70 has a range of airbags to protect the driver and all the passengers. There is a long list of optional electronic safety equipment that can be added, so it has the potential to be a very safe car - at a price.
Driver appeal
While it doesn't really offer anything in terms of sportiness, the XC70 excels at providing a comfortable, quiet and refined cruise. Plenty of drivers find pleasure in cars that are relaxing to drive, and they would be very happy with this car and its soothing combination of modern diesel engines and supple suspension.
Family car appeal
As it's based on the V70, the XC70 has all the attributes of a good family car, with the added bonus that it benefits from a higher seating position, which many people prefer. A large boot and an additional 12-volt power socket mean that portable entertainment systems can be used over longer periods.
First car appeal
Although Volvo's cars are much better looking than they used to be, the long and tall XC70 is unlikely to appeal to first time buyers, not least because of its price. However, if a person were to pass his or her driving test later in life after starting a family, and if they could afford it, this would make a safe, capable and dependable first car.
Quality and image
High-quality plastics are used both inside and out, making the XC70 look and feel like an expensive car. Its image has evolved over decades and is refined, respected and slightly unusual. Other estate cars can boast more street cred, but the understated XC70 is an intelligent choice thanks to its balance of quality, reliability and practicality.
Accessibility
In this area the XC70 exceeds the V70 on which it's based. The same basic body shape has been lifted up, making it very easy to get in and out of any seat. The relatively flat roof line helps maintain headroom for rear seat passengers. Accessing the boot is a little more difficult, though, because of the higher load lip the car presents compared to the V70.
Stereo and ICE (In car entertainment)
As standard there is no special audio system, but Volvo's Premium Sound package is available as an option. The standard stereo is fine, with a reasonable balance throughout the frequency range, but it lacks any sense of drama. The upgraded version is much better and will keep dedicated music fans very happy.
Colours and trim
In Volvo Ocean Race trim, the two colour options are blue and metallic silver. No other colours can be ordered without switching away from Ocean Race specification, which makes this particular model very discreet. It's not as bold or as good looking as a V70, but the colours and special interior trim suit it very well.
Parking
Despite wide tyres, the XC70 manages a convincing amount of steering lock, which is a great help in car parks especially since the car is relatively long. Front and rear parking sensors are available as cost options. Good visibility all round from the large windows means that parking sensors aren't needed quite so much as in some rival cars.
Spare wheel
Emergency tyre repair kit included as standard.
Range information
Petrol engine options - 3.0-litre (300bhp). Diesel engine options - 2.0-litre (161bhp); 2.4-litre (161bhp and 212bhp). Transmission options: Six-speed manual and six-speed automatic, both standard according to model. Trim levels: ES, Ocean Race, SE, SE Lux.
Alternative cars
Audi A4 allroad Quattro four-wheel-drive adds prestige, but prices are high
Subaru Outback Solid all-rounder largely in the same vein as the XC70
Mini Countryman Affordable in this company, but standard equipment is sparse
Land Rover Discovery Large boot, SUV style and peerless off-road ability make a best-seller