July 2004
Volvo XC70 AWD D5 SE
Modest facelift is intended to increase aggressiveness
July 2004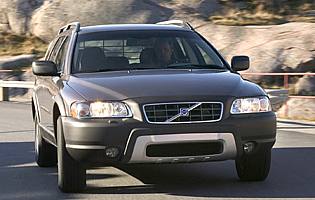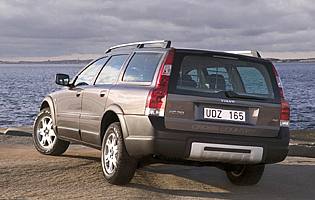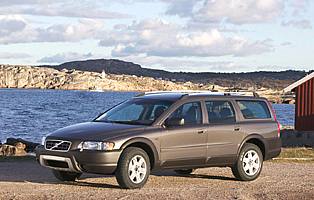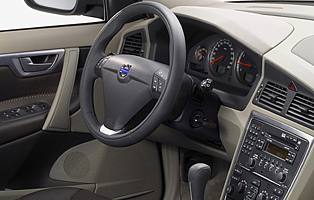 Overall rating

Likes:
Chunky styling sets it apart from regular estates
Comfortable, well-designed and uncluttered cabin
Solid construction with comprehensive safety package
Just about the best car to be in on an icy road
Gripes:
Actually looked more attractive pre-2005 facelift
Even diesel isn't particularly fuel efficient
Off-road ability not as impressive as looks might suggest
Blind Spot Information System of limited use
A jacked-up, beefed-up version of Volvo's long-serving V70 estate, the XC70 can justifiably claim to be more than a test bed for the later XC90 sports utility vehicle. It has managed to establish a small but significant place for itself in the Volvo line-up as the model for buyers who want 4x4 robustness without having to sacrifice the everyday functionality of an estate car.
Though similar all-wheel drive estates are slowly gaining popularity, Volvo was among the first to explore this sector of the market, originally naming the car the V70 Cross Country before adopting the abbreviated 'XC' badge which is developing into a significant sub-brand for the Swedish company. A series of revisions, the most recent of which prepared the car for 2005 and beyond, has enabled the XC70 to keep pace with the competition, most notably Audi's excellent A6-based Allroad.
The latest round of exterior styling tweaks are not entirely successful, with plastic headlamp lenses replacing the more attractive glass used previously, and oversized skidplates of questionable utility but the XC70 still seems chunky and solid enough to appeal. Interior revisions are, thankfully, fairly minor which is good news given that the XC70 has long possessed one of the most comfortable and spacious cabins of any estate car.
Driver and passenger are both well catered for. Even though rear passengers have less room, they are far from cramped, while bootspace is huge. Just as importantly, every surface of the XC70's interior feels well constructed from high-quality, long-lasting materials that will stand up to prolonged and sometimes demanding usage.
The plastic cladding and raised ride height aren't just for show. An XC70 can venture into fairly serious rutted tracks and muddy fields with confidence. It may lack the low-ratio gearbox or driver aids of a full-on 4x4 but only the most serious off-road conditions are likely to defeat it. On slippery or icy roads, the comparatively low centre of gravity actually makes the XC70 a better, safer proposition than a tall 4x4 - it's no coincidence that Northern Sweden is swarming with them.
A former tendency to roll through corners has been corrected in the XC70's latest iteration, leaving buyers with a clear choice between the quick but thirsty 2.5 T petrol and the slower but more assured D5 diesel. Most will find the five-speed automatic gearbox to be a boon.
Our verdict on the Volvo XC70 AWD D5 SE
Though the Audi A6 feels more luxurious and Subaru offers cheaper alternatives in the form of its Forester and Legacy Outback models, there is something intrinsically 'right' about the idea of a chunky Volvo estate such as the XC70. It's big enough and tough enough to act as a workhorse whilst retaining the quality and attention to detail necessary to appeal to more badge-conscious buyers.
Costs
An XC70 is not a cheap option. Though it does undercut the Audi Allroad, it is far more expensive than a Subaru Legacy Outback or Nissan X-Trail and nearly twice the price of a Subaru Forester. But its perceived quality and the ever-increasing attraction of the Volvo badge will be enough to attract a steady trickle of discerning buyers who can probably afford the significant fuel and insurance costs. In its favour, the XC70 should prove reliable and will hold its value well but when remedial work is required, it will be expensive. Buyers should pay particular attention to tyres, which need to be changed together on each axle, in strict accordance with manufacturer instructions.
Space and practicality
As expected, the XC70 scores highly for practicality. Essentially a car offering the flexible loadspace of a large estate with enhanced traction, it can cope with large, heavy loads and a full complement of passengers in comfort while continuing to drive like a car rather than a van. It also delivers extra confidence in adverse weather conditions, an attribute that should not be underestimated in temperamental climates.
Controls and display
While it's true that the main elements of the XC70's driver interfaces could probably have come from virtually any Volvo of the last 20 years, that's not necessarily a bad thing. Volvo has long stuck to basic principles of clarity, simplicity and restraint without being overly precious about its design philosophy. As a result there is a complete absence of gimmickry in the controls and displays that makes reading them and operating controls very easy. The quality of plastics used for buttons and stalks is high, too.
Comfort
All seats are supremely comfortable, with front seat driver and passenger particularly well catered for. The driver has electronic seat adjustment and all the major controls fall easily within his or her reach. Much is made in Volvo brochures of ergonomics, but this really amounts to little more than common sense in the layout and the provision of an appropriate rather than excessive number of buttons and switches. Newer Volvo models have started to tinker with accepted Volvo practice with regard to displays but happily the XC70 remains determinedly old-school and is all the clearer for it.
Car security
As an expensive car likely t catch the eye of thieves, the XC70 deserves and receives a decent security package with anti-theft alarm including immobiliser and panic function, remote central locking (including fuel flap), movement sensor and even a steel load protection net. Further enhancements can be added such as laminated side windows and an inclination sensor.
Car safety
Volvo has a deserved reputation for building safe vehicles and indeed the XC70 comes with a lot of safety equipment bearing familiar acronyms such as SIPS, WHIPS and DSTC with EBA. Larger side mirrors (in fact the same ones used on the XC90) give a superb view of the car's flanks, though the Blind spot Information System (BLIS) that is supposed to warn of unseen dangers feels like a technology with some development time still required. However, there are a few surprising anomalies: items such as ISOFIX attachments for the rear seats and powered child locks are actually cost options, albeit fairly cheap ones.
Driver appeal
Raised ride height and the car's fairly heavyweight construction inevitably impairs the XC70's nimbleness somewhat, but nowhere near as much as expected. Recent chassis changes have sharpened up handling and cornering so that it feels planted and confidence-inspiring. Petrol-engined models are quick into the bargain, hitting 60mph in around eight seconds. Automatic transmission is strongly recommended, particularly as it comes with an invaluable 'Winter' setting that adjusts the way torque is delivered to prevent loss of control on slippery road surfaces.
Family car appeal
It is easy to imagine an XC70 being pressed into service as a family car. It would be far more practical on the school run than the usual crop of high-rise 4x4s and will also cope more readily with visits to the garden centre, furniture warehouse and supermarket. High standards of build mean it should easily stand up to the rigours of family life while parents will gain reassurance from Volvo's reputation for safety.
First car appeal
Few first-timers are likely to covet an XC70. They are fairly expensive to buy (even secondhand models command premium prices) and to run with at best average fuel consumption. Perhaps more significantly, the V70 and its associated models retain a rather middle-class, middle-aged image. A young buyer is far more likely to be attracted to a V50 or a hatchback from an entirely different manufacturer.
Quality and image
Volvo is keen to join the ranks of prestige car marques and is a long way along the road towards its goal, even if it hasn't quite arrived. Certainly the XC90 and S40/V50 combination have enhanced Volvo's desirability and the XC70 feels like a fairly classy motor. Nevertheless, despite its high standards of build and sizeable price tag, the XC70's fairly aged V70 underpinnings prevent it seeming very contemporary. Relatively small numbers do provide some claim to exclusivity though.
Accessibility
Lacking most of the interior flexibility of more modern estates and SUVs the XC70 does sometimes seem rather old-fashioned. Doors and boot are quite heavy but of a good size and open wide. The raised ride height means passengers can slide into position more easily than they can in, say, a V70, and once in their seats they will not find it difficult to get comfortable. What one gains on the swings, one loses on the roundabouts though - loading heavy objects into the back is made correspondingly more difficult by the greater ground clearance.
Stereo and ICE (In car entertainment)
Standard six-CD audio system has been upgraded with Dolby Pro Logic II and has new separate buttons for quick selection of radio stations and functions. It may look slightly busier than the previous system but it must be admitted that it is easier to use. Volvo has a reputation for having some of the best in car audio of any manufacturer and one blast of the standard system or the 11-speaker Premium sound system included in SE Lux spec makes it clear why this is the case.
Colours and trim
SE specification is pretty comprehensive, including leather upholstery, front fog lights, folding door mirrors, Electronic Climate Control with SE Lux models gain little: electric passenger seat, headlamp washers, heated front seats, walnut wood trim, bi-xenon lamps and a Premium sound system. Dark exterior colours make the XC70 seem heavy but more muscular while lighter shades are more discreet.
Parking
For a fairly sizeable vehicle, the XC70 is fairly easy to park. That's partly down to its 'old-fashioned' estate shape with a sawn off rump and strong nose, but the raised driving position and well-weighted steering help, too. Parking sensors at the rear are still a sensible option, though only the most timid parkers are likely to plump for frontal sensors as well.
Spare wheel
Volvo provides a 'Tempa' spare wheel as standard, which is a space saver for speeds under 50mph, though as this is an all-wheel drive car, owners should get a full-size replacement as soon as possible after a change.
Range information
XC70s come with a choice of two engines and two specification levels. Engines are a five-cylinder, 2.5-litre (210bhp) petrol with light pressure turbo or a five-cylinder 2.4-litre (161bhp) turbodiesel. Both trim levels (badged SE and SE Lux) are superior to those generally seen on V70 models, due to the XC70's 'premium' status. In addition, numerous accessory packs (Winter, Family, Communications and so on) and individual accessories can be selected, though many of them are expensive. Transmission options comprise standard five-speed manual with optional six-speed manual and five-speed Geartronic adaptive automatic.
Alternative cars
Audi Allroad Truly luxurious interior though you'll pay for the privilege
Subaru Forester Cheap and honest tough estate lacking refinement and class
Subaru Legacy Outback Offers huge boot and is superior to XC70 off-road
Mazda 6 Estate AWD Rarely seen 2.3 petrol with quirky auto gearbox as standard