September 2010
Volvo V60 V60 T4 SE Lux
From the front the V60 shares much with the S60 saloon
September 2010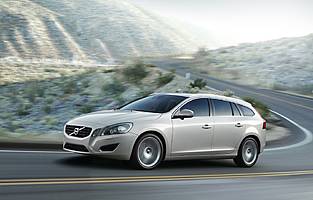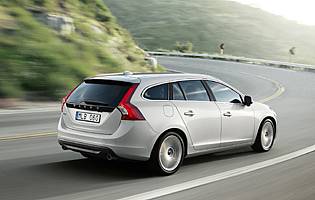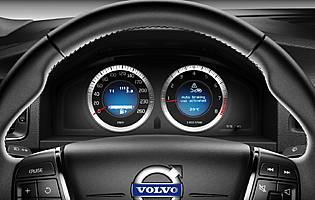 Overall rating

Likes:
More driving appeal than Volvos of old
Sleek styling as attractive as the saloon variant
Adjustable interior makes most of space available
Impressive interior fit and finish
Gripes:
Direct injection petrol unit is not the most refined
Styling compromises boot space
Centre console switchgear layout requires some acclimatisation
Steering could do with more weight and feel to please keen drivers
Following the introduction of the S60 saloon, Volvo has also unveiled its estate counterpart, the V60. Not a Volvo estate in the traditional sense, the Swedish manufacturer sees the V60 as a stylish Sport Tourer competitor in the premium business car segment.
In the same way that Volvo intended the recently launched S60 saloon to shake off its reputation as a producer of safe but uninspiring premium cars, the company expects its new V60 estate to inject some new life into the estate segment. Volvo estates have a reputation as boxy, practical but underwhelming to view and to drive. A greater focus on style and driving experience is intended to change that.
Yet, despite protestation from Volvo that the V60 is not a traditional Volvo estate, it's hard to argue with the five-door design and spacious boot. Extra effort has even gone into making the model as practical as possible with a fold-down front passenger seat maximising load carrying potential.
But equally hard to miss is the stylish and upmarket exterior and interior feel. The V60 is a more swooping, coupe-inspired estate model than anything that has come before it. The bold front end is identical to that of the sharp-suited S60 saloon and the rear makes the most of Volvo's new-found sense of design adventure, too. Inside there's modern Scandinavian design teamed with strong material and build quality for a premium feel.
The traditionally strong area of safety has not been neglected - the V60 boasts a new City Safety package that can identify and prevent potential pedestrian encounters. Under the bonnet, the V60 benefits from a new 1.6-litre turbocharged and direct injected petrol unit with a view to reducing running costs and emissions while retaining the petrol performance that can make the most of the V60's driver focussed chassis.
Our verdict on the Volvo V60 V60 T4 SE Lux
A sensible estate is certainly nothing to be ashamed of, but the V60 offers drivers the chance to sacrifice a little outright load carrying potential for a good deal of contemporary style. The driving experience is a vast improvement over previous Volvo estates although it's yet to reach the level of driving appeal of rear-wheel drive estate competitors. A stylish, comfortable, technically advanced and potentially economical package, it brings much to the Sport Tourer sector.
Costs
The new 1.6-litre turbocharged engines are intended to provide diesel economy with petrol performance, and are reasonably successful in reaching their goal. Running costs are certainly lowered by the advanced units, although the premium model remains a relatively costly vehicle to purchase. Strong equipment provision eases the blow.
Space and practicality
Although Volvo is keen to express that the V60 is a Sport Tourer and not a traditional boxy Volvo estate, the model still proves a capable load carrier. The rear seats fold flat once the headrests have been electronically lowered, offering up a useful load space. The front passenger seat also folds flat, meaning the whole length of the car can be employed. A 40:20:40 rear seat split provides a variety of seating and luggage combinations and touches like the grocery hook show thought has gone into the design. Passenger room is good, despite the sloping roofline, with decent head, shoulder and legroom in the rear.
Controls and display
For some time now Volvo has excelled when it comes to cabin ergonomics and the clarity of its instrumentation. The V60 continues this trend, with easy to use switchgear angled towards the driver, a bold and clear information display plus easy to read and stylish dials. The manual gearshift could be more precise, however.
Comfort
A downside to the fuel efficient new petrol engine's direct injection technology is that there's a distinct grumble from beneath the bonnet, which slightly takes the edge off an other wise accomplished performance in terms of comfort. Volvo has made the V60's cabin a welcoming and plush - if minimalist - environment. Road and wind noise are well repressed and the ride is supple and smooth.
Car security
With keyless entry and keyless ignition on the menu, the V60 is comparable in terms of convenience functions to most of its rivals. An alarm and immobiliser package also adds peace of mind.
Car safety
Volvo has upped the stakes here with some innovative technology. City-focused tech that warns of a possible impact when crawling through traffic and take action is standard on the V60. A more dynamic version, complete with the ability to differentiate pedestrians from roadside furniture, capable of braking the car to a stop from low speeds and assist greatly at higher speeds is a cost option. Factor in intelligent radar cruise control, stability control and a full compliment of airbags and it's difficult not to be impressed.
Driver appeal
As with its saloon counterpart, improving the driving experience was one of Volvo's key aims with the V60 and the difference in road holding and cornering agility is remarkable compared with traditionally wallowy Volvo estates. Certainly deserving of the Sport Tourer badge it's a much more competent car when the going gets twisty, although failing to offer the feedback and responses of its rear-drive German rivals. Adjustable steering weight can add to the driving appeal - although it can't be tweaked on the move and does not infuse greater feedback. The T4 petrol engine belies its small capacity with spirited turbocharged performance.
Family car appeal
The V60 makes an ideal choice as a family car, offering a neat combination of style, comfort and practicality. It's not as versatile as the large estates or SUVs within the Volvo range, but it's more enjoyable to drive and offers plenty of practicality.
First car appeal
Adjustable steering weight and decent visibility make the V60 reasonably easy to drive and safety is strong, but the model remains a large vehicle and is unlikely to register as a first car choice for younger drivers.
Quality and image
Having cultivated a strong, safety-centric image over recent decades, Volvo is now just as keen to promote its cars as an extension of your lifestyle - none more so than the V60 which drops the 'estate' badge for a more fashionable 'Sport Tourer' tag. Unquestionably a good looking car, the V60 can boast build quality on a par with German rivals and a cabin feel and quality that will not leave premium car buyers feeling disappointed.
Accessibility
With doors that open wide enough at the front to accommodate all shapes and sizes, access to the main part of the V60's cabin is straightforward. The seats aren't mounted too low either, which should help. It's good news at the rear too, with the rear door aperture large enough for those who are less than agile. The boot door is a reasonable size but not as large or uniformly shaped as its sister Volvo estate models.
Stereo and ICE (In car entertainment)
Critics will rejoice at the news that Volvo's old-style 'pop-up' sat-nav screen is missing from the top of the dashboard. A larger, easier to read version is located lower down and boasts better mapping graphics and more intuitive controls. It remains an option, though. Elsewhere, the audio unit performs well, as does Bluetooth telephone and iPod integration.
Colours and trim
Darker colours tend to mask the stylish exterior lines and details, meaning the V60 benefits from the smart lighter shades available - particularly the metallic paint options. The SE Lux model gets a full leather interior with various shades available. Customers will not be short of options. Aluminium trim on the centre console, doors and steering wheel looks sharp and contemporary, giving the interior a modern feel.
Parking
The V60's proportions are not hard to judge and although the estate model requires a reasonably sized parking space its light steering and decent visibility aid the parking process. Rear parking sensors are present from the mid trim level up.
Spare wheel
Tyre inflation kit is fitted as standard.
Range information
Petrol engine options - 1.6-litre (150bhp); 1.6-litre (180bhp), 2.0-litre (240bhp); 3.0-litre (304bhp). Diesel engine options - 2.0-litre (163bhp); 2.4-litre (205bhp). Transmission options: six-speed manual gearbox, six-speed automatic gearbox (3.0-litre petrol gains all-wheel drive). Trim levels: ES, SE, SE Lux.
Alternative cars
Vauxhall Insignia Sports Tourer Premium look and feel from the Vauxhall contender
Audi A4 Avant Spacious and a highly sought after badge
Ford Mondeo Estate Not as convincingly premium but a hard to fault package
BMW 3 Series Touring Great handling and faultless build