February 2013
Volvo V60 D6 AWD
Handsome V60 D6 almost indistinguishable from standard car
February 2013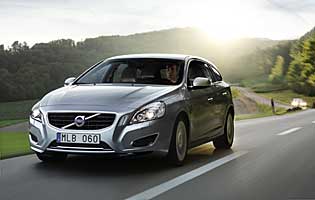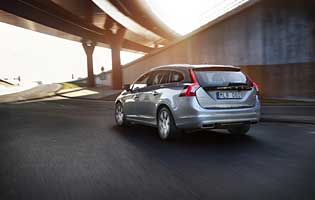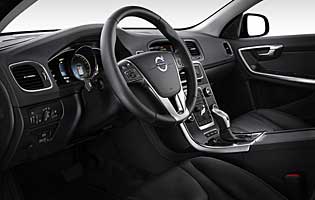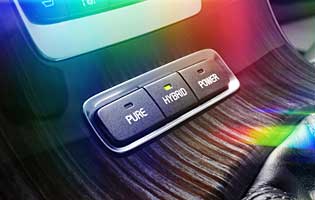 Overall rating

Likes:
Amazing blend of performance and economy
More driving appeal than Volvos of old
Genuine alternative to conventional performance estate
Adjustable interior makes most of space available
Gripes:
High price tag will be an obstacle for some
Reduced boot space
Fast charger required to benefit from quickest recharge time
Battery life may be a concern over longer-term ownership
Swedish manufacturer Volvo has followed the general industry trend in offering more efficient models to its range, but now it has gone a step further than most by introducing the V60 D6 AWD. With a powerful diesel engine combined with an electric motor Volvo claims it offers exceptional performance and emissions performance as a result.
With the introduction of the V60 D6 AWD Volvo now offers only the second plug-in hybrid model on sale in the UK, and the only one that uses a diesel engine. Volvo claims that the inherent efficiency of a diesel engine at higher speeds pairs ideally with electric power that is better suited to low speed and city driving.
At the front end the V60 D6 AWD is comparable with any other V60 model, with the combustion engine at the front and drive being sent to the front wheels. At the rear however the back axle houses the electric motor, driving the rear wheels via the battery pack that sits beneath the boot floor.
The V60 D6 AWD also has three driving modes, designed to maximise the system's performance. In Pure mode it runs solely on electric power stored within the battery pack, with a potential range of around 30 miles. In Hybrid mode both the diesel engine and electric motor work together for maximum efficiency, and in this guise claimed fuel consumption is far in excess of a conventional combustion-engined car. The final mode is Power where both the diesel engine and electric motor are set to deliver maximum performance, making the V60 D6 AWD the fastest production Volvo.
In all other respects the D6 AWD is essentially the same as any other V60, with a modern and stylish exterior combined with an appealing and practical cabin. With the addition of the battery pack luggage space is slightly reduced compared to the standard car, but it still offers sufficient room for a family.
Our verdict on the Volvo V60 D6 AWD
With its innovative powertrain the V60 D6 offers buyers a remarkable blend of performance and economy that can't be found elsewhere. It also offers all of the typical traits to be expected from a Volvo, with a smart design inside and out plus enough space to cope with family life it is a very complete car. The only issue is cost - the V60 D6 is unquestionably an expensive car, although in truth it is not much pricer than the comparably fast T6 petrol version.
Costs
If the high initial purchase price can be reconciled, the V60 D6 has the potential to provide exceptionally low fuel costs especially with the potential to avoid congestion charges with its pure electric mode.
Space and practicality
Although Volvo is keen to express that the V60 is a Sport Tourer and not a traditional boxy Volvo estate, the model still proves a capable load carrier. The rear seats fold flat once the headrests have been electronically lowered, offering up a useful load space, although a little less than the standard V60 wagon. The front passenger seat also folds flat, meaning the whole length of the car can be employed. A 40:20:40 rear seat split provides a variety of seating and luggage combinations and touches like the grocery hook show thought has gone into the design. Passenger room is good, despite the sloping roofline, with decent head, shoulder and legroom in the rear.
Controls and display
For some time now Volvo has excelled when it comes to cabin ergonomics and the clarity of its instrumentation. The V60 continues this trend, with easy to use switchgear angled towards the driver, a bold and clear information display plus easy to read and stylish dials.
Comfort
A key attribute in any Volvo, the V60 D6 is undoubtedly a comfortable machine for all occupants and over long journeys. The seats are some of the best available at any price, and noise levels are well managed throughout. There is the additional pleasure of driving in pure electric mode in virtual silence.
Car security
With keyless entry and keyless ignition on the menu, the V60 is comparable in terms of convenience functions to most of its rivals. An alarm and immobiliser package also adds peace of mind.
Car safety
Volvo has upped the stakes here with some innovative technology. City-focused tech that warns of a possible impact when crawling through traffic and take action is standard on the V60 D6. A more dynamic version, complete with the ability to differentiate pedestrians from roadside furniture, capable of braking the car to a stop from low speeds and assist greatly at higher speeds is a cost option. Factor in intelligent radar cruise control, stability control and a full compliment of airbags and it's difficult not to be impressed.
Driver appeal
Although the V60 D6 has three driving modes, it defaults to the intermediate Hybrid setting which provides a simple driving experience for the uninitiated. Although the drivetrain cycles between the various settings without disturbing its occupants. Alternatively switch into Power mode and there is rapid and instant acceleration on offer, and with four-wheel drive traction it can be deployed almost regardless of the conditions.
Family car appeal
The V60 is one of the most family-minded cars that Volvo make, and although it is smaller than the huge V70, it still has a family focus. The only issue is that the boot is slightly smaller than the regular V60 although it is still big enough to swallow the usual child paraphernalia.
First car appeal
An eco-minded and sufficiently well-off new driver might take a fancy to the V60 D6, but in truth it is too expensive and more practical than most freshly-qualified drivers would need.
Quality and image
Having cultivated a strong, safety-centric image over recent decades, Volvo is now just as keen to promote its cars as an extension of your lifestyle - none more so than the V60 which drops the 'estate' badge for a more fashionable 'Sport Tourer' tag. Unquestionably a good looking car, the V60 can boast build quality on a par with German rivals and a cabin feel and quality that will not leave premium car buyers feeling disappointed.
Accessibility
With doors that open wide enough at the front to accommodate all shapes and sizes, access to the main part of the V60's cabin is straightforward. The seats aren't mounted too low either, which should help. It's good news at the rear too, with the rear door aperture large enough for those who are less than agile. The boot door is a reasonable size but not as large or uniformly shaped as its sister Volvo estate models.
Stereo and ICE (In car entertainment)
A larger infotainment screen sits at the top of the dashboard, with better mapping graphics and more intuitive controls than the previous system. As well as standard sat-nav, a high quality audio system and Bluetooth it also can provide information on the status of the hybrid system.
Colours and trim
With almost nothing to distinguish the D6 from other V60 models, it suits both sober metallics and more vibrant colours. On the inside there is less of the usual grey plastic and the option of lighter hues is welcome.
Parking
The V60's proportions are not hard to judge and although the estate model requires a reasonably sized parking space its light steering and decent visibility aid the parking process. Rear parking sensors are standard on this model.
Spare wheel
Space saver fitted beneath the boot floor.
Range information
Petrol engine options - 1.6-litre (150bhp); 1.6-litre (180bhp); 2.0-litre (240bhp); 3.0-litre (304bhp). Diesel engine options - 2.0-litre (163bhp); 2.4-litre (212bhp) 2.4-litre hybrid (212bhp + 70bhp). Transmission options: six-speed manual gearbox, six-speed automatic gearbox (3.0-litre petrol gains all-wheel drive). Trim levels: ES, SE, SE Lux, R-Design.
Alternative cars
Vauxhall Ampera Similar emissions performance but not as fast or as practical
Nissan Leaf Pure electric car has limited range but clever design
Peugeot 508 RXH The only other diesel hybrid on sale lacks plug-in facility
BMW 5-Series Touring Efficient Dynamics diesel offers impressive performance and economy