December 2009
Volvo S80 DRIVe SE Premium
Sharp exterior styling gives little clue of eco-leanings
December 2009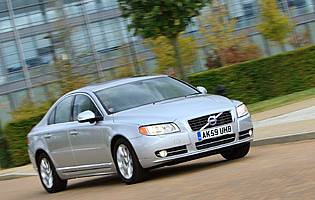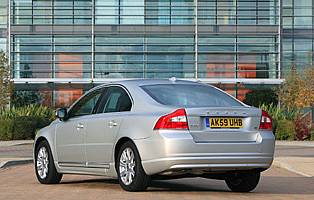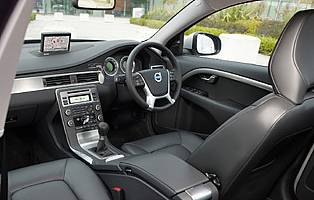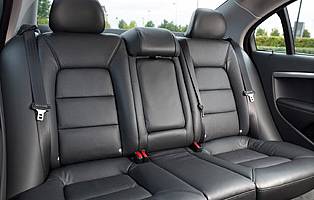 Overall rating

Likes:
No styling penalty for eco-variant
Highly impressive real world economy
Extremely comfortable
High level of safety equipment
Gripes:
Performance is less than sprightly
Most premium rivals boast six gears or more
Steering a little lacking in feel
Oddments tray behind centre console hard to reach
Following the introduction of a refreshed S80 executive saloon model earlier in the year, Volvo has added a 1.6-litre diesel engine to the existing range to create the first S80 DRIVe high efficiency model.
Volvo's S80 was refreshed early in 2009, with the promise of a super-efficient 1.6-litre diesel model to follow later. That model has now arrived; badged DRIVe it's capable of 57.7mpg combined and produces just 129g/km CO2.
Benefitting from the same exterior and interior improvements as the rest of the range; a slightly lower, wider stance, imposing front end with a more substantial badge, new dials, steering wheel and gear lever, the S80 DRIVe also features some bespoke improvements in order to increase fuel economy. Ride height is lowered 20mm at the front and 15mm at the rear, third fourth and fifth gears on the five-speed manual box feature longer ratios, low rolling resistance tyres are present, the power steering has been replaced with a less power-sapping electric system and the engine software has been tuned for economy.
The engine itself is a tried and tested unit that has proved popular with more than one manufacturer as a solid base for a high efficiency model. Able to produce 107bhp and retain high mpg even in larger vehicles the turbocharged 1.6-litre diesel unit is an unusual choice for a car of this size but one that, quite literally, pays off. To qualify for a DRIVe badge, a Volvo must meet be the lowest emitting vehicle in its range and produce less than 160g/km CO2. The 1.6-litre S80 achieves both with ease.
Elsewhere, the S80 DRIVe boasts the same spacious and luxurious five-seater, four-door saloon body as the rest of the range. Sleekly proportioned with upmarket interiors across the range of trim levels, the model is a competitively priced rival to large executive saloons chiefly from German manufacturers.
Our verdict on the Volvo S80 DRIVe SE Premium
There's little arguing with the results of Volvo's experiments in the S80 - the DRIVe variant is capable of astonishing fuel consumption with minimal effort from the driver. Already a tempting proposition thanks to competitive pricing and a strong engine range, the S80 now boast even more appeal to cost conscious drivers assuming they're willing to live with the dampened performance.
Costs
Clearly, reducing running costs is the key intention of the super-frugal S80 DRIVe and it's one that has been achieved with aplomb. Highly impressive real world fuel economy and CO2 emissions that qualify the vehicle for very favourable tax rates will mean low lifetime costs. The S80 range is also competitively priced against its premium rivals. Insurance groupings should not be a hindrance for experienced drivers.
Space and practicality
There's no shortage of space inside the S80. Head and legroom are generous and the cabin will comfortably seat five adults. The boot is very large although the saloon design rules out carrying exceptionally bulky items in the rear.
Controls and display
Aluminium dials were part of the S80 refresh and are present in the DRIVe model's, too; a neat touch and a well considered one that adds an additional air of luxury to the area most viewed by the driver. They retain the needles that rotate around the outer edge, which is also a nice effect, while the centres contain a white on black display for the trip data and other information. A popup display for the sat-nav limits clutter and the floating centre console features one of the most ergonomic button arrangements available, and is a joy to use. Some of the buttons are on the small side, but the spacious cabin means there's plenty of room for them to be spread out.
Comfort
For driver, front and rear passengers the S80's spacious and plush interior provides a high level of comfort. Seats are well padded, shapely and supportive while requirements such as cup-holders, a ticketholder and pass holder in the windscreen and ventilation for rear passengers in the B-pillars are met. The 1.6-litre diesel engine is well contained, with little engine noise perceptible even at high rpm. Long gears ratios keep revs and therefore noise and reverberation to a minimum and the ride is outrageously cosseting.
Car security
The S80 should remain secure at all times thanks to a volume and level sensitive alarm system and immobiliser. Delayed lighting and a panic alarm built into the key fob also aid security. There's even the cost option of a heart rare monitor inside the vehicle, to give advanced warning of intruders.
Car safety
Safety has always been one of Volvo's key selling points, and the S80 DRIVe does not skimp on this important element in a quest to save weight. A huge array of preventative and protective systems are standard across the range, with new developments always available as options. An intelligent driver information system prevents messages, phone calls and distractions from being received during critical moments while adaptive brake lights warn following drivers of hard braking. Small lights on the A-pillars warn of hazards present in the blind spots - a great feature for motorway driving. A full ESP system is standard featuring advanced traction control and a host of braking assistance programmes. In the event of a crash passengers are protected by a side impact system while driver and front passenger also get whiplash protection. Airbags are copious, making the S80 one of the safest executive saloons available.
Driver appeal
Enthusiastic drivers should look elsewhere; the S80 DRIVe almost completely trades any sporty pretensions for fuel economy. Yet, as a long distance cruiser, it's almost above reproach with a soft ride and ease of use that fails to take any toll on the driver. Steering is lacking in feel and feedback but not overly assisted and the engine responds well in the power band. The five-speed gearbox is clearly an efficient tool, but an extra ratio may have made the S80 even more refined.
Family car appeal
The S80 would make an excellent family car, particularly for those who wish to use it as a business car during office hours. The frugal diesel engine will fit in perfectly with family budgets and, although there's more practicality to be found in the V70 estate range, the S80 will cope effortlessly with family life. A strong emphasis on safety also makes it a desirable form of transport for those with children.
First car appeal
The S80 is an executive car and as such is unlikely to be placed high on first time car buyers' shopping lists. Although entry level models are priced competitively and the inclusion and the DRIVe model offers low running costs, it will still be beyond the budget of most young drivers.
Quality and image
The S80 is traditionally a more mature and sensible choice than its rivals, focussing on comfort rather than the driving experience. The 1.6 DRIVe is perhaps the ultimate expression of that sensible nature, with performance traded for economy. That said, the Volvo reputation has come a long way from the traditional image of boxy estates and drivers can feel proud to be behind the wheel of a model as status-wielding as the S80. Build quality is truly excellent, with a solid and substantial feel to the vehicle, excellent finish and doors that shut with a heartening thud.
Accessibility
Four large doors opening to a wide angle make the S80 easy to access for front and rear occupants. The seats are positioned at a sensible height and grab handles are present front and rear for the less agile. It's unlikely that occupants will notice the 15 to 20mm reduction in height. The saloon boot door is wide and uniform, offering excellent access to the spacious boot.
Stereo and ICE (In car entertainment)
The Premium upgrade means the S80 DRIVe benefits from a remote control operated pop-up sat-nav system that's smart, intuitive and concise. Controls are also mounted behind the steering wheel for safer driver operation. The Premium package also sees a DAB radio added to the spec-list, although a disc-changer or top-level Dynaudio sound system will require further investment.
Colours and trim
Trim changes to the S80 for 2009 were are subtle but effective, with a larger badge giving a more impressive front end and some additional chrome work around the air intakes, lights and sills. The model's executive styling means that it looks at its best in dark shades and silvers. The Premium package sees an upgrade from cloth to leather upholstery and the S80 DRIVe model, unlike its V70 estate twin, is able to retain the smart 17-inch alloy wheels.
Parking
Despite its size, the S80 is an easy car to park. Parking sensors are still optional equipment on the SE Premium model but even without them the proportions are easy to judge and visibility is good. The downside is a poor turning circle that might make three point turns a necessity where smaller, or rear-wheel drive, car may have been more efficient.
Spare wheel
Tyre sealant kit fitted as standard.
Range information
Petrol engine options - 2.0-litre (143bhp); 2.5-litre (227bhp); 3.2-litre (234bhp); 4.4-litre (310bhp). Diesel engine options - 2.0-litre (134hp); 2.4-litre (173bhp); 2.4-litre (202bhp); 1.6-litre (107bhp). Transmission options: five-speed manual gearbox, six-speed manual gearbox, six-speed Geartronic automatic gearbox. Trim levels: SE, SE LUX, SE, Executive, Premium package.
Alternative cars
BMW 5 Series 520d offers best efficiency potential
Jaguar XF 3.0-litre diesel offers respectable economy considering output
Audi A6 2.0 TDIe is closest competitor
Mercedes-Benz E-Class BlueEFFICIENCY models mix strong economy with high specification