May 2006
Volvo S80 2.5T SE Lux
Though large, the S80's styling is understated
May 2006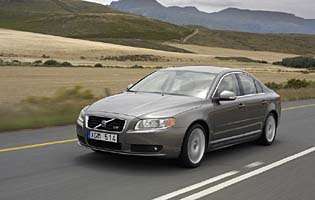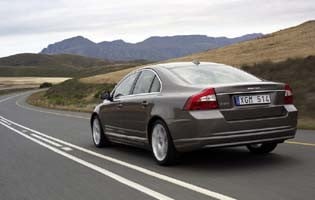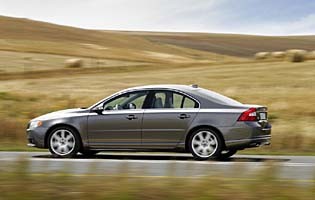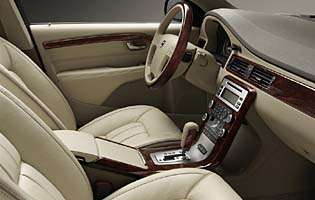 Overall rating

Likes:
Blind Spot Information System is a significant safety feature
Understated styling should age gracefully
Delivers you in quiet luxury to your destination
Intelligent key fob adds to security
Gripes:
V8 shows Volvo's green appeal is only skin deep
Diesels are noisy and unrefined
High end models are very expensive
Not really a car for enthusiastic drivers
The idea of a luxury Volvo would have been a little surprising at one time. However, over the last decade or so the Swedish brand has gradually risen through the ranks and is now officially a premium marque. As such, the flagship S80 saloon is an important model despite the relatively small numbers that will be sold in the UK.
The previous generation S80 still possessed vestiges of 'old' Volvo's values; robustness, value and honesty. But it was never a glamorous car in the way that a BMW 5 Series, Mercedes E-Class or Audi A6 could be. The latest S80 is a concerted effort to put that straight by creating a machine that supposedly epitomises 'Scandinavian luxury'. It's pretty convincing package.
Far more elegant than its predecessor, Volvo's new design language is somewhat similar to Lexus's. That's no bad thing, as both the S80 and Lexus's GS use classy understatement to make their point. The S80 hides its considerable size effectively thanks to crisp, flowing lines, smooth surfaces and orthodox positioning of main elements such as lights, grille and glazing. There is very little ornament or unnecessary ostentation, in keeping with Scandinavian design principles. As a result, the S80 should age exceptionally gracefully.
Inside, the S80 is very much as one would imagine a luxury Volvo should be. It's well constructed, comprehensively thought out and even luxurious, albeit in an almost apologetic Scandinavian way. Despite the claims Volvo makes for interior innovation, in fact it's fairly conservative. Some interesting combinations of wood, plastic, chrome and leather are available, so care needs to be taken when selecting the exact trim to match your personal taste.
Diesel-engined models are likely to prove most popular in the UK. Fun the range-topping V8 may be, but its poor fuel economy and high emissions are hardly in keeping with Volvo's green image. The pick of the bunch is probably the petrol 2.5-litre turbo, which loses little to its larger 3.2-litre alternative in terms of performance and is relatively thrifty into the bargain.
Our verdict on the Volvo S80 2.5T SE Lux
Anyone looking to inject a bit of individuality into the executive car park will be intrigued by the S80. A car for people with mature, refined tastes, it makes a satisfying alternative to German premium marques and showcases the next generation of safety features without really grabbing the attention.
Costs
No longer being sold on the basis that it's a lot of car for the money, Volvo's new approach is to argue that its S80 is similarly priced to competitors while offering a little bit more in most departments. The argument isn't entirely convincing and towards the top of the range the S80 starts to look rather expensive. Volvo is bullish about the car's resale values, but these are not guaranteed. Running costs should be lower than direct rivals, though.
Space and practicality
A Volvo saloon is never going to be quite a practical as one of its famous estate cars, but if the thought of turning up to meet a client in an estate sends shivers down your spine, you'll discover that the S80 still has room for a couple of sets of golf clubs and a case of wine for effective power lunching.
Controls and display
There are two sorts of people in the world: people who think Volvos have the best controls of all and people who think they are boringly prosaic. Whichever camp you fall into, it cannot be denied that information is communicated quickly and effectively to the driver. Most controls are intuitive. Only the recent introductions such as the ability to recalibrate the steering can be confusing.
Comfort
Volvo's reputation for seat comfort is maintained in the S80 thanks to additional legroom in the front and rear and the option of ventilated leather upholstery with fans in the seat cushion and backrest for maximum cooling on hot days. Drivers can customise the way the car drives to a certain extent, including the automatic start of the heated rear window if the temperature drops below a certain level and speed-dependent power steering with a choice of three different assistance levels. But in practice few people will bother making the adjustments - after all, isn't that what the car's engineers were supposed to sort out?
Car security
Executive models always feature prominently on thieves' hit lists, so it is reassuring that a decent security package is provided. Volvo's Personal Car Communicator is similar to a conventional remote control, but does more than activating locks and the alarm. The PCC can tell if the car has been left locked or unlocked, if the alarm has been activated and uses a sensitive heartbeat sensor to tell if there is anyone in the car. It can access this information when it is within 100 metres of the car, and stores the most recent information so that the driver can check to see if the car was locked when it was parked.
Car safety
This is a Volvo after all, so you can take it as read that safety is first-rate. There are even some important new safety features that will one day be on every new car made. Simplest and most effective is the Blind Spot Information System, which simply flashes an LED by the wing mirror when a car is in your blind spot. It does sometimes go off for no reason and seems to be affected by rain and reflections, but we expect this to be ironed out quickly.
Driver appeal
Despite numerous improvements, the S80's forte remains its ability to glide smoothly and swiftly. Piloting the S80 is more relaxing than driving the equivalent BMW or Jaguar, but also slightly less involving. In the real world this is likely to be a positive advantage, and when pushed the Volvo can entertain to a degree. Perhaps it's just that driving aggressively in a Volvo seems inherently inappropriate.
Family car appeal
Though it'll transport a modestly-sized family to visit the in-laws for a weekend away, even the smaller V50 estate car makes more sense as family transport than the S80. The interior is designed for four adults, not numerous kids and with no tray tables and few storage bins, a relatively short trip could result in total destruction of your nice leather upholstery.
First car appeal
A luxurious, powerful, expensive but sensible saloon as a first car? We rather doubt it. The Volvo brand may gain some youth appeal with the release of the C30 hatchback, but while it is gaining ground among twenty- and thirtysomethings, it has yet to produce a car with teen appeal.
Quality and image
There's no denying that Volvo can turn out a very high quality car when it sets its mind to it. The fact that underneath the skin the S80 shares many components with other Ford Group products such as the Mondeo and S-Max may cause a few to wonder if the price is justified, but not many, as the S80 is distinctive enough to have its own identity. Ownership should mark you out as an individual who doesn't always follow the herd.
Accessibility
These days saloons seem rather awkward to get into compared to people carriers and some estate and crossover vehicles. The S80 is better than most in its class with wide-opening doors requiring little effort to open and close. The boot could do with the automatic close function that is common on many Jaguars and Lexuses.
Stereo and ICE (In car entertainment)
Volvo seems obsessed with telling the world how good its stereo system is. Unless you're a teenager or a yuppie, this can be highly irritating. For the record there is an 80W system with CD and six speakers for S models, rising to 160W with a six disc CD changer and eight speakers for SE models and above. The optional Dynaudio Premium Sound audio system features all the stuff audiophiles will adore.
Colours and trim
Leather upholstery is standard for SE spec and above, and it is clear Volvo has made an effort to provide contrasting trim options to suit different tastes. Surprisingly, it is the modern black and chrome combination that is the most effective. Usually Volvos lend themselves well to beige and wood, but these options seem a little wishy-washy in a car with prestige status. Darker exterior colours are most flattering.
Parking
Parking sensors are included, so there are few problems despite the S80's size. The turning circle is much tighter than the old model's barge-like dynamics. All right hand drive versions of the new S80 have an electronically operated parking brake which can be set to automatically release as the car starts to move.
Spare wheel
Space saver spare wheel fitted as standard.
Range information
Five engine options - 4.4-litre V8 petrol (315bhp); 3.2-litre in-line 6-cylinder (238bhp); 2.5T five-cylinder petrol engine (200bhp); D5 2.5 (185bhp) and 2.4D (163bhp) turbodiesel engines. V8 comes with all wheel drive as standard. Transmission is six-speed manual or six-speed Geartronic automatic transmission according to engine selected. Range is structured S, SE, SE Sport, SE Lux and Executive.
Alternative cars
Audi A6 A cabin to die for and great quattro versions
BMW 5 Series Still the class benchmark despite questionable styling
Mercedes-Benz E-Class Latest E-Class is an outstanding all-rounder
Lexus GS Finally looks the part and is very well equipped