April 2011
Volvo S60 D5 R-Design
More distinctive nose is a feature of R-Design package
April 2011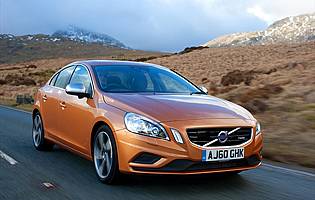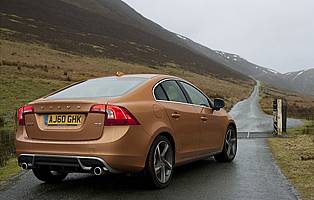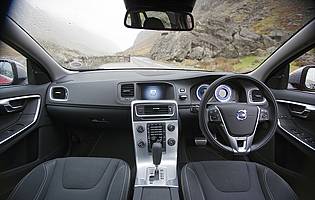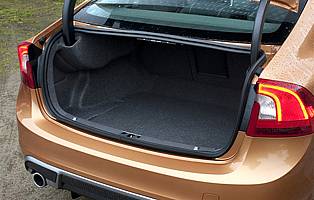 Overall rating

Likes:
Sweet-sounding and powerful diesel engine
Very attractive and modern design throughout
Performance, economy and good emissions
Impressive interior fit and finish
Gripes:
Badge snobs unlikely to be impressed by Volvo image
Centre console switchgear layout requires some acclimatisation
Manual gearshift occasionally notchy
Pretty alloy wheels easy to kerb
With both the saloon S60 and estate V60 versions introduced, Volvo is continuing to expand its range of mid-sized premium offerings with new derivatives - in this instance the most powerful diesel in the shape of the D5 unit alongside the sportier appearance of the R-Design trim level.
The impressive exterior design of the S60 maintains the progress Volvo has made in recent years to throw off the staid image that it has been associated with over the past decades. The previous generation S60 had already made significant strides in this respect, but the latest version has sufficient visual appeal to tempt buyers from a variety of rival manufacturers.
The key to the appeal of this particular version is the visual changes that make up the R-Design model. All R-Design models have a redesigned front bumper to give greater presence and distinction, while at the rear there is a diffuser-style valance beneath the bumper and twin exhaust pipes. Attractive diamond-cut 18-inch alloy wheels are also standard, and thanks to suspension revisions it also sits 15mm closer to the road.
The R-Design changes are far from cosmetic however. The decreased ride height is a result of stiffer suspension springs, and alongside that the dampers are of a different design for quicker response. Stiffer suspension bushings and a strut brace between the front suspension struts complete the changes, all of which combine to offer a distinctly sporty drive.
Our verdict on the Volvo S60 D5 R-Design
Combining traditional Volvo values of safety, solid design and durability with a premium feel and a sporty feel gives the S60 R-Design a broad appeal. Although not significantly cheaper than its traditional premium rivals it does deliver good value for money, and the promise of a good driving experience and the distinctive design makes for an attractive prospect.
Costs
Even though strong performance is on offer the D5 S60 can still achieve good fuel economy when driven with restraint, while low emissions help to keep running costs relatively low.
Space and practicality
Those wanting more space will be tempted by the V60 estate version, but the S60 is not short on room. All passengers have good head and legroom while storage space is respectable. The boot is generous and well-shaped too.
Controls and display
For some time now Volvo has excelled when it comes to cabin ergonomics and the clarity of its instrumentation. The S60 continues this trend, with easy to use switchgear angled towards the driver, a bold and clear information display plus easy to read and stylish dials. The manual gearshift could be more precise, however.
Comfort
Despite the sportier set-up, the S60 still delivers a comfortable drive. Refinement is impressive in terms of tyre and wind noise, and the D5 engine is muted at medium and low revs. The seats are amongst the best in the segment too.
Car security
With keyless entry and keyless ignition on the menu, the S60 is comparable in terms of convenience functions to most of its rivals. An alarm and immobiliser package also adds peace of mind.
Car safety
Volvo has upped the stakes here with some innovative technology. City-focused tech that warns of a possible impact when crawling through traffic and take action is standard on the S60. A more dynamic version, complete with the ability to differentiate pedestrians from roadside furniture, capable of braking the car to a stop from low speeds and assist greatly at higher speeds is a cost option. Factor in intelligent radar cruise control, stability control and a full compliment of airbags and it's difficult not to be impressed.
Driver appeal
As with its saloon counterpart, improving the driving experience was one of Volvo's key aims with the S60 and the difference in road holding and cornering agility is remarkable compared with more traditional Volvo traits. The R-Design package brings a stiffer but still comfortable ride, reduces bodyroll and helps to sharpen the steering responses.
Family car appeal
The S60 is a good choice as a family car, offering a neat combination of style, comfort and practicality. It's not as versatile as the estates or SUVs within the Volvo range, but it's more enjoyable to drive and offers plenty of practicality.
First car appeal
Adjustable steering weight and decent visibility make the S60 reasonably easy to drive and safety is strong, but the model remains a large vehicle and is unlikely to register as a first car choice for younger drivers.
Quality and image
Having cultivated a strong, safety-centric image over recent decades, Volvo is pushing towards a more dynamic and a premium feel. Unquestionably a good looking car, the V60 can boast build quality on a par with German rivals and a cabin feel and quality that will not leave premium car buyers feeling disappointed.
Accessibility
With doors that open wide enough at the front to accommodate all shapes and sizes, access to the main part of the S60's cabin is straightforward. The seats aren't mounted too low either, which should help. It's good news at the rear too, with the rear door aperture large enough for those who are less than agile. Access to the boot is good too, with the bootlid opening high to leave a good-sized aperture.
Stereo and ICE (In car entertainment)
Critics will rejoice at the news that Volvo's old-style 'pop-up' sat-nav screen is missing from the top of the dashboard. A larger, easier to read version is located lower down and boasts better mapping graphics and more intuitive controls. It remains an option, though. Elsewhere, the audio unit performs well, as does Bluetooth telephone and iPod integration.
Colours and trim
Darker colours tend to mask the stylish exterior lines and details, meaning the S60 benefits from the smart lighter shades available - particularly the metallic paint options. Aluminium trim on the centre console, doors and steering wheel looks sharp and contemporary, giving the interior a modern feel.
Parking
The S60's proportions are not hard to judge and although it requires a reasonably sized parking space its light steering and decent visibility aid the parking process. Rear parking sensors are present from the mid-trim level up.
Spare wheel
Tyre inflation kit is fitted as standard.
Range information
Petrol engine options - 1.6-litre (150bhp); 1.6-litre (180bhp), 2.0-litre (240bhp); 3.0-litre (304bhp). Diesel engine options - 2.0-litre (163bhp); 2.4-litre (205bhp). Transmission options: six-speed manual gearbox, six-speed automatic gearbox (3.0-litre petrol gains all-wheel drive). Trim levels: ES, SE, SE Premium, R-Design, R-Design Premium, SE Lux.
Alternative cars
Vauxhall Insignia Premium look and feel from the Vauxhall contender
Audi A4 Spacious and a highly sought after badge
Ford Mondeo Not as convincingly premium but a hard to fault package
BMW 3 Series Great handling and faultless build