February 2004
Volvo S40 2.4i SE
Svelte S40 is guaranteed to turn heads
February 2004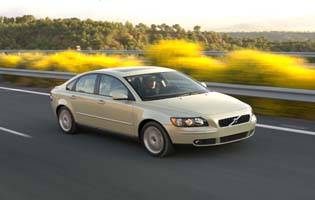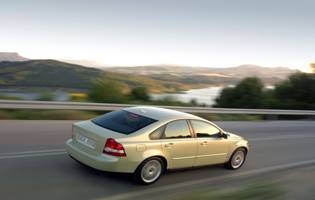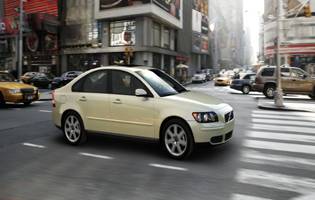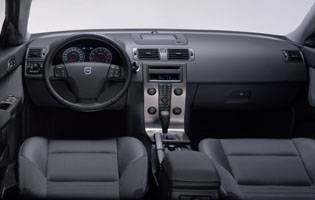 Overall rating

Likes:
Floating console concept is surprisingly effective
Amount of safety equipment included should shame others
Boot dividers keep bags and packages in place
Matchless on-road refinement and comfort
Gripes:
Bootspace lacks hatchback flexibility
Tiny glovebox can't swallow much more than the owner's manual
Too smooth to be a driver's tool
Sloping roofline causes tall passengers to struggle in rear
Volvo's mission to metamorphose from builder of tough workhorses to creator of premium modern motors is clearly in evidence with the latter-day S40. Improvements in quality and desirability go far beyond usual levels to create a car that is more than a match for other compact executive/family saloons.
Although 50mm shorter than the car it replaces, the S40 has grown immeasurably in terms of design, desirability and driving. Crisp lines, complete with the familiar Volvo 'shoulders' give it a certain classy minimalism, though a closer look reveals a good deal of clever detailing. As impressive as the actual design is the slide-rule accuracy of panel fit and shut lines.
Equal care has been taken with the interior - a long-time Volvo strong point. The most obvious innovation is the 'floating' centre console that links dashboard and transmission tunnel. Behind it is nothing but empty space, and though this itself is not particularly useful, it helps create a roomy feeling which is accentuated by the car's generous width in proportion to its length.
The S40 feels larger than it actually is in every respect. Impeccable build quality and material selection give the impression that this is a car from a much higher market sector, so that one subconsciously assumes it must be large. It's the automotive equivalent of squeezing a quart into a pint pot.
On the road, the S40 places its emphasis squarely on refinement. It rides with the sort of smoothness usually associated with Jaguar or Lexus, making it particularly effective on long motorway cruises. The body feels remarkably stiff through cornering and the wide stance helps avoid even a hint of lean, but in truth it could not be described as exciting to drive, even in high-performance T5 guise. It's far too soothing for that, even with a diesel engine aboard.
The S40 succeeds on so many levels that it is a viable alternative to numerous other cars, ranging from the more expensive BMW and Mercedes compact executive models to high-specification hatchbacks such as the VW Golf and Audi A3. However, it does lack the hatchback body-shape so beloved by Brits and many buyers will be aware that it shares many of its underpinnings with the Ford Focus and Mazda 3.
Our verdict on the Volvo S40 2.4i SE
The best principles of Swedish design and quality control combined. Only drivers who like their cars to have a keener edge will find much to complain about. Anyone looking for a compact executive model would be well advised to drive the S40.
Costs
Compared to similarly sized Japanese cars, the purchase price and running costs are fairly high. However, draw the same comparison with prestige German marques and it suddenly looks an altogether more attractive proposition. Volvo's reputation for safety and for attracting sensible drivers does help to keep insurance costs down. If costs are an issue, selecting a diesel engine is a swift way to economise without compromise.
Space and practicality
The 'big car' feel of the S40 is one of its greatest assets. Using a tape measure to gauge headroom, legroom and so on would produce only mildly impressive figures. But how the S40 uses its dimensions is what matters. Sitting inside, it is hard to believe that it sits on the same platform as the Mazda 3, yet offers almost as much room as its larger S60 sibling.
Controls and display
Apart from the floating console innovation, Volvo generally stays true to its tried-and-trusted method of displaying information to the driver. Too lacking in colour and variation for some tastes, others find it a model of clarity.
Comfort
While forward accommodation is good, things are a little more cramped in the rear. In a car this compact that's inevitable, but two average adults can sit there in comfort. All seats provide plenty of support without becoming harsh on long journeys. Only time will tell, but they feel durable and unlikely to develop 'soft spots'. The S40 scores highly for noise suppression. At cruising speeds, engines - including diesels - are barely audible and wind noise is almost eerily absent.
Car security
Standard features include an alarm, immobiliser, deadlocks, security tagging of parts and optional laminated side windows to deter car-jackings. The central console also makes it impossible to steal the stereo, thus deterring many would-be thieves.
Car safety
With an enviable reputation to maintain, Volvo has crammed the S40 full of safety equipment. Front, side and curtain airbags are joined by the company's famous side impact and whiplash protection systems (WHIPS and SIPS). That curved front bonnet pays dividends for pedestrian safety. Back seat passengers are reminded to belt up if they neglect to go 'clunk click' on every trip and the S40 gets even bossier with its Intelligent Driver Information System, which monitors the driver's inputs and disables non-essential functions when necessary. Traction control comes as standard.
Driver appeal
With its 'Dynamic Chassis' and enhanced exhaust note, the T5 variant offers considerably more scope for hard driving than other S40 renditions. But even that seems as if it's trying a little too hard to be naughty. The effortless momentum of the S40 has its own sort of driving appeal, more akin to a massage than a workout.
Family car appeal
For family-friendly practicality, the V50 estate makes far more sense. The S40 could be pressed into service as a weekend shuttle to drop the kids off at ballet lessons or rugby practice, but the cabin arrangement is more geared towards well-behaved adults than mischievous kids.
First car appeal
The S40 is unlikely to have much impact with first-time buyers. Though aimed at a slightly younger market than Volvo's traditional clientele, the badge lacks the excitement or street-cred of other makes. It's also quite expensive - buyers are unlikely to be on the lower rungs of the job ladder - and Volvo's upmarket direction means servicing isn't among the cheapest.
Quality and image
Quality is superb, but Volvo still has some way to go in terms of image. While style-conscious buyers are keen to be seen in 'lifestyle' vehicles such as the XC90, they are less likely to opt for a traditional saloon. Free-thinking junior execs will appreciate standing out from the ranks of BMWs in the company car park - it might even get them noticed by the boss as an 'early adopter'.
Accessibility
Multi-adjustable seats and a steering wheel that moves freely in all directions helps offset the accessibility problems inherent in the saloon body style. Volvo gives more thought to accessibility issues than most makers, but a definite step down into the driving seat is still required. Tall passengers may have problems with the way the roofline falls towards the rear.
Stereo and ICE (In car entertainment)
Having dabbled with branded stereo systems in the past with mixed results, Volvo seems to have realised the benefit of simply offering a good in-house sound system. The standard radio/CD is fine for most tastes but can be upgraded to a state-of-the-art 12-speaker unit if required. Volvo's satellite navigation system also merits consideration as one of the most reliable and easy-to-use.
Colours and trim
Pale pearlescent colours seem to suit the S40's rounded curves best - which is lucky, as that's pretty much all that's on offer, bar the hopefully-named 'Passion Red'. Metallic tones seem too harsh and are cost options. Volvo makes some of the best leather interiors in the world, so it's well worth stretching to SE specification if possible. It will also help the resale value considerably.
Parking
Having convinced you it's a big car, the relative ease with which it is possible to park the S40 comes as a pleasant surprise. The snub nose makes frontal positioning easy. Rearward vision isn't as confidence-inspiring, but still better than many coupes and saloons. Even so, rear parking sensors could prove handy.
Spare wheel
Space saver, for temporary use only.
Range information
Line-up comprises 1.6-litre (100bhp); 1.8-litre (125bhp); 2.4i (170bhp); T5 (220bhp); 1.6 D (110bhp); 2.0 D (136bhp). Plans include a bi-fuel powerplant. Trim levels are split into S and SE followed by Sport. Volvo offers numerous optional extras and accessory packs labelled as 'winter', 'convenience' and 'family'. Manual gearbox comes as standard, a Geartronic CVT transmission is available as an option.
Alternative cars
BMW 3 Series  often the default choice for junior execs. Good but not unbeatable
Mercedes C-Class  badge is attractive, but interior disappointing and options expensive
Toyota Avensis  terrific value with excellent build quality and reliability
Mazda 6  cheaper and more fun to drive but lacks prestige