February 2014
Volkswagen up! e-up!
At a glance the electric up! is indistinguishable from its petrol-powered stablemate
February 2014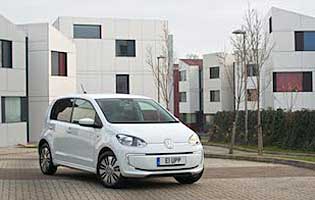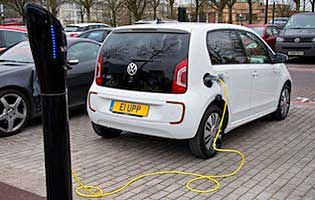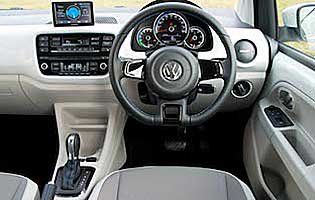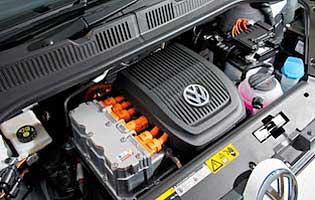 Overall rating

Likes:
Higher than standard specification
Keen pricing will encourage early adopters buyers
Easy to drive and more conventional than most EVs
Ownership compromises are few and far between
Gripes:
With no engine, road rumble is noticeable at speed
A-pillars sometimes block view around corners
Narrow access to boot and high load lip
Evolving charging infrastructure could be a barrier to ownership
City cars are nothing new but the recent growth in electric car production has seen some manufacturers approach the sector in a more conventional way than in the past. Volkswagen's take on electric motoring is a prime example, with it adopting a low key policy of using existing cars not developing costly all-new platforms and bodystyles. The electrified up! is a good example.
Keen to retain all the important attributes of the petrol-driven range, this e-up! electric variant is visually less dramatic than, say, Nissan's Leaf and Renault's Zoe. For many conservative buyers this will no doubt be viewed as a plus point. VW's conventional approach extends to the car's cabin, with only electric power-specific displays and a few extra switches giving the game away.
This conventional approach makes way for an advanced electric powertrain, however. The 81bhp electric motor proves more than enough in the real world, and there's the option of reducing its output in stages to stretch the car's operating range to the official 90-odd mile figure quoted by VW.
Driving the car couldn't be easier, with the process more straightforward than the petrol variants. The e-up! boasts a single speed transmission, while you can also dial in an increasing amount of automatic brake regeneration. The result is a car that can almost be driven entirely on the throttle around town at low speed, as the regeneration effect is sufficient to slow the car almost to a stop. This process also results in a small but welcome top-up charge for the car's battery.
With the car's focus on urban motoring, it's sub-100 mile range is unlikely to cause owners much in the way of any range anxiety. To counter any nagging doubts, VW has made the charging process an easy one. Overnight charging can be achieved when connected to a domestic mains supply, with faster times and rapid partial charging achieveable when connected to either a professionally fitted domestic wall box or public charging point. Crucially, save for the extra cost wall box, you get all the cables you need with the car.
Our verdict on the Volkswagen up! e-up!
With the regular up! delivering a well rounded driving and ownership experience, Volkswagen would have to have got the e-up! spectacularly wrong for it to disappoint. But by basing its unconventionally-powered city car on a proven, conventional platform VW has does much to enhance the appeal of electric motoring. The car stops, steers and goes as you'd expect, leaving only the financial calculations to determine whether the e-up! is right for you.
Costs
While the regular up! is among the cheaper cars to buy and own in the UK, you'll need to do the maths to ensure the electric e-up! is right for you. The low cost of 'fuel' should be offset against the car's above average purchase price, although you do own the complete package as VW has opted not to complicate matters by separating the car and forcing you to lease the battery separately.
Space and practicality
Predictably, cabin space has been prioritised over boot space, but the car's load area is still pleasingly practical and sacrifices only a litre to the battery pack. There's a split load floor, which is helpful when hiding valuables. In the cabin there are plenty of oddment storage spaces and two adults can comfortable sit up front. It's a bit more of a squeeze in the back, though.
Controls and display
The basic instrument cluster arrangement of a large speedometer in the centre with small auxiliary gauges on the sides of it is fine in a basic design sense, and VW has cleverly added a few electric-centric displays that blend in with the overall low-key theme. It looks subdued compared to the coloured dashboard, though. The 'maps + more' system, however, is excellent and forms the main attraction inside the car.
Comfort
Although the seats could be more supportive, they are among the best in the A-segment. They are typically firm, as in most German cars, but they are more than good enough for short and medium range journeys. The ride can get a little uncomfortable over rough surfaces, so potholes are best steered around.
Car security
There's nothing particularly special here but all the usual bases are covered. Remote locking and a sturdy rear load shelf are two obvious features. A locking mechanism for the electric recharging socket should result in a tamper-proof experience and, crucially, a charged car after hours spent connected to a household or public outlet.
Car safety
The up! exceeds the minimum standards required by Europe, and the e-up! gains City Emergency Braking is standard, which can mitigate or even prevent a simple low-speed crash. Both active and passive safety systems are comprehensive, especially for a car of this size.
Driver appeal
The e-up! is both fun to drive and easy to operate. There's no shortage of acceleration thanks to the 'instant-on' delivery from the electric motor, while a range of modes allow you to increase the car's range by cutting power without any major impact on the driving experience. Road noise is present as there's no engine to drown it out, but that's a small price to pay for an otherwise engaging experience.
Family car appeal
For a young family on a budget the regular up! makes a reasonable amount of sense and there are two Isofix child seat mounts in the back but you'd be wise to choose the five-door variant. Where it stumbles is in luggage carrying capacity. Pushchairs, boxes of nappies, wipes and other necessary accessories might not fit into the boot, or might need to be adapted or placed into different containers. If low miles are the norm, the electric e-up! could easily fit the bill, too.
First car appeal
Even in electric guise this is an ideal first car. It's small, cheeky, well built and good looking. The standard safety features are very encouraging, making it an attractive place for young or inexperienced drivers to be. It's one better suited for short trips, which goes well with the electric power set-up.
Quality and image
Volkswagen has an enviable reputation for quality among the general public, but has not previously done that justice in its city cars. The up! manages to feel a lot more solid regardless of model. In electric guise the car behaves just like a regular variant, which should please buyers wary of having to make significant ownership compromises.
Accessibility
The e-up! is tall enough to mean that front seat occupants can get in without any unusual risk of bumping their heads. As a five-door model it's considerably easier to get into the back than the three-door, although the available space is modest. At the rear, you sacrifice little as the battery pack barely impacts on the car's load area.
Stereo and ICE (In car entertainment)
The up! range doesn't have a particularly outstanding stereo sound-wise, but it does have an impressive information and entertainment system dubbed 'maps + more'. Standard for the e-up!, it's a removable tablet-like device that offers full navigation, internet-based services and dedicated recharging location information, making it indispensible in big cities for finding out about local places of interest, or where to park. Its capabilities are well beyond what is expected in A-segment cars.
Colours and trim
There are a number of common and popular colours available for the up! series. They aren't daring or unusual, but the essential bases have been covered. There's little to differentiate the electric model from it's more conventional stablemates, however, but as a higher-end model the cabin is more appealing thanks to the higher spec kit and trim.
Parking
The e-up! is one of the easiest to park of all modern urban-centric cars. Rear visibility is good enough to allow confident reversing, and a flat rear end means that judging the distance to a wall or post is very easy. Light steering, narrow dimensions, a responsive throttle and a small turning circle make it just about the perfect car for both parallel and bay parking.
Spare wheel
Temporary tyre repair kit supplied as standard.
Range information
Electric motor options - 81bhp electric motor. Transmission options: direct drive, single speed transmission. Trim levels: one trim level for electric up! variant.
Alternative cars
Nissan Leaf Most popular and rounded EV to date
BMW i3 Stylish, engaging to drive but a costly proposition
Toyota Prius Hybrid is potentially a compromise if you think long journeys will be a regular occurrence
Renault Zoe Similar to Nissan's Leaf but cheaper and lacking a few choice features