November 2010
Volkswagen Touran S 1.2 TSI
New front end links Touran with latest Passat and Polo
November 2010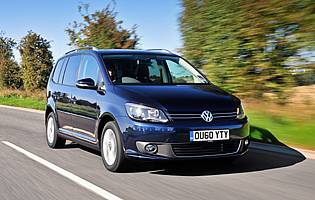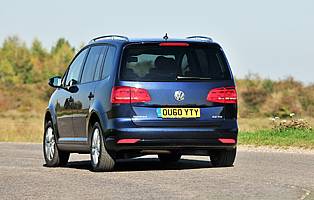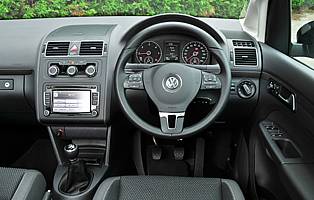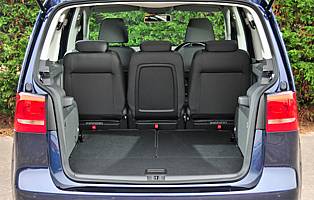 Overall rating

Likes:
1.2-litre TSI unit is clever and feels quicker than figures suggest
Slick controls, easy driving experience
Large windows all round give visibility and light
Quality feel throughout
Gripes:
Styling improved but still very conservative even compared to older rivals
Cabin is almost uniformly dark and dull grey
Long gearing for economy requires driver to work engine quite hard
Third row is less accommodating
Always one of the more straightforward competitors in the compact MPV segment, Volkswagen's Touran has historically been unfairly overlooked due to its conservative styling. It has never been short of practicality or quality, however. Nonetheless, it has been treated to a comprehensive facelift in order to raise its profile against more popular rivals.
Volkswagen entered the compact MPV segment in 2003 - after many of its competitors. With an ever-growing share in the market, Volkswagen's Touran has received a fresh face, revised engine line-up and increased technology and quality.
If the previous generation could be accused of anything it is being one of the more anonymous models in the Volkswagen range, but the facelift has clearly been designed to address that issue. The face is now in line with the new Passat, Polo and Touareg with a sharply-defined grille and bumper arrangement framed by smart headlamps. At the rear there are new tail lamps and a revised bumper arrangement, all of which help to disguise the Touran's boxy dimensions. It also benefits the perceived quality of the car.
Stepping inside reveals a subtly enhanced cabin too, once again benefitting from improvements made elsewhere in the Volkswagen range. Higher quality trim materials are used throughout, a smart three-spoke steering wheel inherited from the Golf is standard and the main instruments are now backlit in white, all of which helps to maintain the classy feel that is expected of a Volkswagen.
Mechanical changes to the Touran are more limited, although one key difference is the inclusion of the 1.2-litre TSI engine. Although the larger 1.4-litre TSI was available in the previous model Touran, this low capacity unit uses a high compression ratio and turbocharging to offer a remarkable blend of performance and economy. Offering acceleration on a par with a naturally-aspirated 1.8 engine but the fuel economy close to that of a small diesel, it provides a useful option for those not keen on switching to the black fuel.
Our verdict on the Volkswagen Touran S 1.2 TSI
Detail improvements make the Touran a more appealing car without sacrificing the humble practicality that made the previous model so attractive. Although some of its rivals offer more driving fun or even more practicality, the Touran is a nicely-rounded package and should appeal to a wide MPV audience.
Costs
Despite a sometimes considerable purchase price, the Touran is quite a strong economical proposition when judged over the course of its lifetime. Fuel economy is good (particularly with diesel models), the strength of the mechanical components should ensure a high level of reliability and Volkswagen has a tendency to ensure its vehicles achieve competitive insurance groupings.
Space and practicality
The front two rows are extremely spacious but the third row is inevitably less accommodating. However, as the third row will mostly be for occasional use it is more important that they stow neatly and quickly in the floor. The big windows all round give a feeling of space, and there are lots of useful storage areas throughout.
Controls and display
Like most Volkswagens the Touran is an excellent example of clear and simple dashboard layouts. The instruments are new and now illuminated soft white, the revised centre console is more neatly organised.
Comfort
Good refinement and low noise levels help the comfort factor as do good seats throughout, although the third row can't offer quite the same support as the others. Standard equipment levels have been improved too, and features such as heated electric door mirrors, hill hold function, cruise control and alloy wheels are standard on all models.
Car security
All models have remote central locking and engine immobiliser, while SE and Sport models also have an alarm as standard. The large number of storage areas means that if valuables do need to be left in the car for whatever reason, they can at least be hidden from view.
Car safety
The Touran's safety provision is comprehensive, with all models benefitting from ABS and ESP with traction control, four airbags in the front as well as curtain airbags down both sides and three-point belts in all seats amongst other features.
Driver appeal
For an MPV the Touran offers a pleasing driving experience, offering a slick, easy drive but also solid and consistent responses that are a nod to keener drivers. Even the 1.2-litre TSI model tested here has spirit, and although it requires exercising to extract the performance, it's worth the effort. The accurate steering, slick gearchange and lack of bodyroll make it a pleasing drive whatever the purpose.
Family car appeal
Inevitably the Touran has the role of family transport licked, with sufficient space, toughness, equipment and comfort. The wide door apertures will certainly be a plus point, while the ease of folding the seats up or down makes it a car that can switch roles easily.
First car appeal
Even though a new driver would have little trouble piloting the Touran, it is unlikely that they will need or want the space and would be better served by something smaller and cheaper from the Volkswagen range.
Quality and image
The high regard that Volkswagen products are held in regard to quality is maintained here, and the Touran feels like an expensive product from nose to tail. Image is perhaps more of an issue: although the VW badge carries its own kudos, within the range the Touran is seen as much less a model in its own right compared to Polo, Golf or even Touareg.
Accessibility
Where the squared-off exterior really pays is in terms of accommodation. With a high roofline and large doors, getting in and out is a cinch for front and rear passengers, even the tall or the less able-bodied. The same goes for the boot, which has a wide and square tailgate for easy access.
Stereo and ICE (In car entertainment)
All models get a factory-fit stereo with CD player. The possibilities for customising the Touran's in-car infotainment systems include satellite navigation and a six-disc CD changer mounted in the driver armrest.
Colours and trim
Even though brighter shades catch the eye a little more, the conservative looks of Touran are best served by more sober shades, although solid colours such as red and blue also look good. The cabin trim is largely of a very good quality; looking and feeling expensive although the mass of single-shade grey does make for a slightly dark cabin.
Parking
Large side mirrors help in the Touran, while the 'square' design at the back also enables excellent rear visibility. The ParkAssist technology uses a series of sensors to plot an ideal manoeuvring path into a parallel space. Once engaged (a simple push button located next to the gearstick), the system carries out the steering inputs necessary, while the driver controls the throttle and brake.
Spare wheel
A space saver spare wheel is fitted beneath the boot floor.
Range information
Petrol engine options: 1.2-litre (104bhp) and 1.4-litre (138bhp). Diesel engine options: 1.6-litre (89bhp and 104bhp) and 2.0-litre (138bhp and 168bhp). Transmission options: six-speed manual and seven-speed semi auto DSG gearbox cost optional. Trim levels: S, SE and Sport.
Alternative cars
Renault Grande Scenic One of the first and still better performers in the compact MPV sector
Citroen C4 Picasso Not as good to drive but well-equipped, stylish and boasting a spacious interior
Ford S-Max Offers the best drive of the compact MPVs and is competitively priced
Vauxhall Zafira Ticks all the boxes and is one of the older competitors in this class