August 2015
Volkswagen Touran 2.0 TDI SE
The Touran now fits with Volkswagen's latest styling trend
August 2015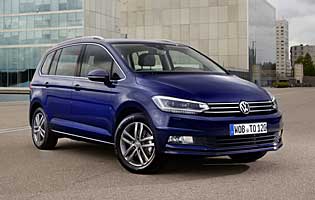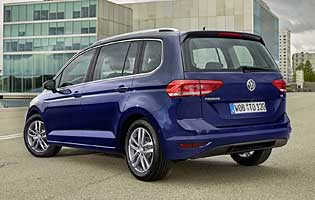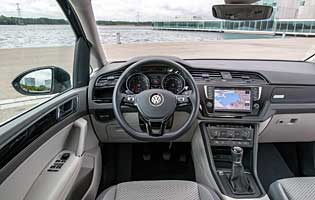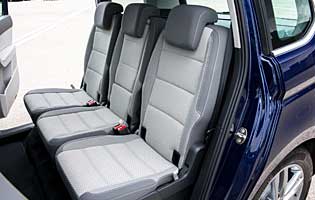 Overall rating

Likes:
Broad and spacious cabin offers lots of passenger room
Large number of interior storage compartments
Good ride quality provides stability and composure
Solid-feeling cabin gives an impression of high quality
Gripes:
Petrol and lower-powered diesel engines struggle to pull the car when loaded up
Dull styling inside and out fails to fire the imagination
Poor value for money against some alternatives
Old-fashioned technologies work well but feel immediately dated
While smaller five-seat MPVs have fallen out of favour with the British public with the arrival of a huge range of compact SUV and crossover models, there is still no better way to accommodate seven people. The Touran is the smaller of Volkswagen's two seven-seat MPVs, designed mainly for five people but with the capacity to carry two more.
The Touran has been given a new lease of life with an all-new chassis shared, in part, with the smaller Golf SV. Extensive parts-sharing across more than one model variant keeps costs down and allows Volkswagen to offer more options for parents than would otherwise be available.
This Touran is 12cm longer than the one it replaces, with 11cm of that coming from an elongated wheelbase. More interior space is the result, with rear passengers in particular benefiting from more legroom. Practicality has been boosted with extra storage compartments, and now there are an average of almost seven per seat; 47 in all.
Another reason for the Touran's continued existence in the face of unfavourable market conditions is that the competition has dwindled, so the shrinking buyer pool has fewer vehicles to choose from and sales figures among those that remain are less heavily affected.
Volkswagen is aiming the Touran at parents of young children, as well as grandparents who appreciate the Touran's sensibilities as well as the ability to carry up to six passengers. Potential buyers should be warned to look carefully at the prices of the models they are interested in, though, as there are huge financial jumps between trim grades.
Our verdict on the Volkswagen Touran 2.0 TDI SE
The Touran offers no surprises and a great deal of day-to-day practicality, with plenty of interior storage and all-round ease of use. Parents will thoroughly appreciate the spacious rear passenger area and high roof, which together make fitting a car seat easier. However, in too many areas it feels like an old car with outdated technology and disappointing levels of quality, and for the asking price that is not acceptable.
Costs
While the premium placed on seven-seat cars is industry-wide, the Touran is a very expensive car relative to its lack of prestige materials, forgettable driving experience and disappointing list of standard infotainment technology. It is little thirstier than an equivalent five-seat Golf SV, though, with which it shares engines. Insurance should be very reasonable and residual values, although not good, should be among the best in the class.
Space and practicality
As a compact seven-seater there is barely any boot space left when all seven seats are in place, but lowering the third row of seats creates a huge boot that can hold items as large as household appliances. It would also offer more than enough room to transport a large dog, as long as an appropriate divider was installed between the boot and the passenger zone. A total of 47 storage options for passengers is incredible.
Controls and display
In S and SE models the digital display in between the plain but functional speedometer and rev counter is a relic from old Volkswagens, and it simply has no place on a supposedly all-new model. The controls, too, feel adequate in their function and solidity rather than exceptional for the class, as should be expected for the price. Unless a touch-screen is added as an option, the tiny media interface screen is extremely poor by current standards.
Comfort
Although the seat backs throughout the car could be improved with more lumbar support, the overall impression is that Volkswagen has struck a good balance of seat width, leg support and positioning. There is no lateral support to speak of, though, so going around corners with any vigour is a potentially uncomfortable experience. Even third row passengers have just about enough legroom, although the higher floor there means shorter legs are more appropriate than adult ones.
Car security
The biggest security risk that could logically be attached to the Touran is not attempted theft of the car itself. As one of the industry's less exciting cars it does not rank highly on thieves' lists of target cars. However, it is just the sort of vehicle where children may have temporarily stored valuable electronic items, and criminals may want to break in to find out.
Car safety
Stability control and essentials like a full spread of airbags, a tyre pressure monitoring system and seven three-point seatbelts are all included. A tiredness monitor, standard only on Sport models, alerts a driver to potential signs of fatigue. A main beam assist feature is optional on all models, allowing the car to take control of activating and deactivating the main headlight beam - although sometimes it lets oncoming cars get too close before reacting, resulting in angry light flashing.
Driver appeal
Thanks to the new chassis and a longer wheelbase, this generation of Touran feels more composed and cohesive from behind the wheel than previously. Unfortunately the petrol engine, whose smoothness is ideal for slow-speed refinement, lacks the necessary muscle to power the car when fully loaded. The same criticism can be levelled at the noisy 1.6-litre diesel. There is little that is appealing here, unless it is the Touran's ability to simply do the job without fuss.
Family car appeal
Families are the Touran's bread and butter customers. They will love the ease with which the Touran fits into daily life thanks to its myriad storage options, high roof and spacious interior. Fitting a child seat is easy thanks to a high roof, but is hampered in tight car park spaces because of the hinged, rather than sliding, rear doors. If luggage space is a priority even with seven people on board, buyers should look at larger MPVs instead.
First car appeal
It is tough to imagine any reason that could compel a first-time car buyer to want to choose a seven-seat MPV. If a parent in a large family needed such a car it must be expected that they would have needed to drive beforehand for the benefit of their older children. The Touran is not a difficult or intimidating car to drive, and its outright dimensions aren't even all that large, but it just isn't aimed at new drivers.
Quality and image
Cars with two-tone interiors tend to look cheaper and less modern than their equivalents with entirely black trim. Likewise, if a buyer doesn't add an optional media screen the dashboard simply does not give off any impression of modernity or quality. The materials feel less premium than buyers may feel they have a right to expect at this price point, and while the Touran should be a dependable family car its image is dowdy and unfashionable.
Accessibility
The Touran scores highly in this area thanks to a particularly spacious passenger foor area and seats that are set at a close-to-perfect height. They are not so high as to make it difficult for children, either. Getting to the third row of seats is simple and by moving the outer middle seat forwards there is a modest gap for extra passengers to slip through. Accessibility could be improved only with sliding rear doors - a feature on several of the Touran's rivals.
Stereo and ICE (In car entertainment)
The stereo is, surprisingly in a car this expensive, controlled using an increasingly old-fashioned combination of dials, buttons and a small LCD screen. Audio controls are mounted on the steering wheel in a handy addition, but the look and operation of the various inputs feels like it was designed a decade ago. This may actually appeal to technology-shy parents, but for the smartphone generation there are small and large touch-screen upgrades that lift the drab dashboard's appearance somewhat.
Colours and trim
Solid grey is the standard colour, with solid white and all metallic shades available at an extra cost. None of the 12 options are particularly bright but the paler colours do add a little levity to the Touran's bland form. A dark metallic blue is the best option for those who want a balance of class and sobriety. The interior appearance is disappointing, with dated design throughout. Sitting in the car, it feels last-generation despite being an all-new version.
Parking
Drivers will find the Touran offers good visibility in all directions, but the higher seating position is offset by a high window line that gives more prominence to the standard rear parking sensors. A semi-automated parking system is also included at SE level as standard. Where some of the car's rivals use helpful sliding doors, which come into their own for children's use in bay parking spaces, the Touran has conventional hinged doors.
Spare wheel
Emergency tyre repair kit supplied as standard.
Range information
Petrol engine options - 1.2-litre (103bhp); 1.4-litre (138bhp). Diesel engine options - 1.6-litre (103bhp); 2.0-litre (138bhp, 174bhp). Transmission options: six-speed manual gearbox, plus six-speed DSG twin-clutch automatic (2.0-litre diesels only), seven-speed DSG (1.6-litre and 1.4-litre engines only). Trim levels: S, SE, Sport.
Alternative cars
Ford Grand C-Max Surprisingly good to drive thanks to Focus mechanicals, plus sliding rear doors
Renault Grand Scenic Simple, if bland MPV with a degree of quiet charm for relaxed drivers
Kia Carens Capable underdog is a left-field choice but has many good qualities
Mazda5 Looks great and has sliding doors for practicality, but lacks cutting-edge tech