November 2004
Volkswagen Touran 1.9 SE TDI 7 seat
Touran looks smart without turning any heads
November 2004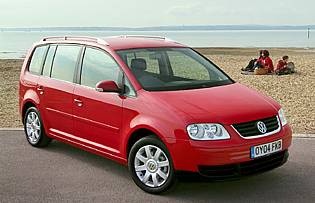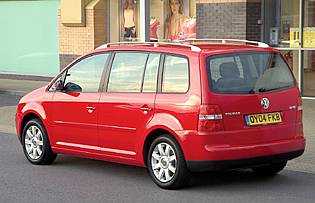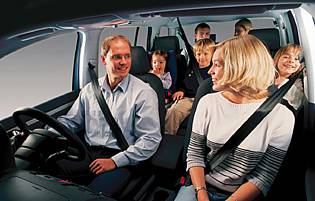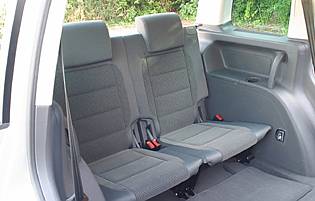 Overall rating

Likes:
Folding seats mean plenty of load space
Body feels exceptionally rigid
VW badge counts for a lot
Feels quicker than it actually is
Gripes:
Quite expensive in direct class comparison
Almost completely lacking in charisma
Ultra-conservative styling
Adapting second row of seats requires muscle
Volkswagen's hard-won reputation for reliability and solid interior construction pays dividends in the people carrier market. While the Touran is unlikely to win many awards for original thinking or radical design, it does seem particularly well suited to life as a family vehicle and feels like a professionally-executed, high quality product.
Offered with either five or seven seats, the majority of customers opt for the latter option. Size-wise, the Touran isn't as unwieldy as some seven-seaters and the rear rank folds completely flat. That makes it relatively easy to drive and practical about town, but it does also mean the rear two seats are better suited to children than adults.
Volkswagen claims the Touran is a value for money proposition, and it's possible to make a case in this regard given its advanced construction, but the hard facts and figures suggest this is one of the more expensive MPVs on offer. Still, if you want the reassurance and respect the VW badge commands, spending a little extra could well be worth it. Certainly when it's time to sell your Touran, its VW provenance will help you get a good price.
With the still-sensible Sharan and more charismatic Caravelle also in the VW stable, as well as models such as the Skoda Octavia estate and Seat Altea to contend with - which feature the same engines and equally impressive build quality - buyers aren't short of classy family vehicles to choose from.
Our verdict on the Volkswagen Touran 1.9 SE TDI 7 seat
As a default MPV choice, the Touran is a very safe proposition. Golf drivers who find they need a bit more space when kids arrive are the Touran's natural customers and are likely to love the vehicle's Golf-like ambiance, even if it is a less dynamic drive and surprisingly lacks a similar 'face'.
Costs
Despite a fairly hefty purchase price, the Touran is quite a strong economical proposition when judged over the course of its lifetime. Fuel economy is excellent (particularly in diesel models), the strength of the mechanical components should ensure a high level of reliability and Volkswagen consistently manages to ensure its vehicles achieve competitive insurance groupings. Resale values will also be among the best in its class.
Space and practicality
The straightforward manner in which seats fold means the Touran can quickly be transformed into a roomy van. VW claims there are 'up to 39 storage possibilities' in the Touran, which is a roundabout way of saying there are lots of nooks and crannies scattered throughout the cabin. Realistically, only around half of them are genuinely useful. The rest seem destined to spend their days accumulating sweet wrappers and parking tickets.
Controls and display
The execution could perhaps be described as 'modern Volkswagen'. Anyone who's driven anything from a Lupo to a Caravelle will immediately feel at home. Positioning of instruments is utterly conventional and all the better for it, with the trademark blue and red illumination. Somehow, Volkswagen readouts seem more dependable than other manufacturers'.
Comfort
Seats are firm - perhaps too firm for some tastes - though this suggests they will wear well and retain strength when others have sagged and become misshapen. A multi-adjustable seat and a steering wheel with a large degree of adaptability make finding a suitable driving position extremely easy. A long journey should present few problems to Touran passengers.
Car security
S-badged models have an immobiliser and remote central locking, but SE and Sport models gain the all-important alarm with interior protection. The large number of storage areas means that if valuable items do need to be left in the car for whatever reason, they can at least be hidden from the view of covetous eyes.
Car safety
Aware that safety is a prime concern among buyers of compact MPVs, VW has gone out of its way to provide a solid safety package. All seats feature three-point safety belts, ESP, brake assist and ABS plus curtain airbags for front and second row passengers. Crash test results confirm the Touran is among the first rank of vehicles in its class for safety.
Driver appeal
Golf GTI drivers may be disappointed, but everyone else is likely to find the Touran a pleasant enough car. It can feel a little remote, because throttle and steering inputs are electronically regulated, but it is never less than precise. Diesel engines feel quicker than they actually are because of the huge amounts of low-down torque offered. The Touran generally avoids leaning through corners, which is often the downfall of cars in this class.
Family car appeal
Families will love the Touran. It is robust enough to suffer the knocks that come with family use, yet also classy enough to give the whole family a glow of pride seeing it parked outside the house. The ability to seat seven in comfort and safety is likely to make parents very popular with whoever runs the school football or netball team.
First car appeal
Because it's not small, cheap or characterful, the Touran will not appeal to first time buyers.
Quality and image
The VW badge still carries a lot of clout, so anyone so inclined can look down their noses at most other makes while inside a Touran. They shouldn't get carried away though - it may be well made and respectable, but the Touran will turn few, if any heads. It is much less fashionable than an SUV parked outside the school gates of suburbia, if rather more practical.
Accessibility
Designed with quick and easy access in mind, doors operate easily despite their solid construction. All are hinged rather than sliding, which is pleasing to the eye but can be tricky in tight parking spots. The tailgate deserves a mention for its clever double-stage opening, which prevents the dangerous sudden movement that some competitor models exhibit.
Stereo and ICE (In car entertainment)
All models get a factory-fit stereo with CD player. Because it is part of the giant VW group, the possibilities for customising the Touran's in-car infotainment systems are virtually limitless and should be discussed with the vendor at length if anything other than the basic system is required. The most common upgrade includes a six-disc changer mounted in the driver armrest.
Colours and trim
Equipment levels are good, though lower-spec models do feel as if they are lacking in creature comforts because many of the more impressive features such as ABS and brake assist are 'hidden' items. As a result, SE and Sport badged models feel much classier than the entry-level S, which lacks items such as seat-back tables, rear electric windows and alarm. Only the Sport has alloy wheels as standard.
Parking
Despite their name, compact MPVs are among the most difficult cars to park. Bigger than a car and less manoeuvrable, getting used to judging distances to the rear can take some time. Well-designed side mirrors help in the Touran. Rear parking sensors are only available as an optional extra when some competitors include them as standard on higher-level models.
Spare wheel
All models come with a tyre repair kit and no spare wheel as standard. Buyers of the five-seat model - not seven-seat - can pay extra for an optional full size spare wheel.
Range information
Range consists of three petrol engines, 1.6-litre (102PS) and (115PS) 1.6-litre FSI; 2.0-litre FSI (150 PS), and two diesels: 1.9-litre (105PS) and 2.0-litre (140PS). All versions bar the entry level 1.6 petrol feature a six-speed manual gearbox, while a double-clutch DSG transmission is offered on the 2.0 TDI model. FSI models can be specified with a six-speed tiptronic system.
Alternative cars
Vauxhall Zafira Dated exterior, though interior remains innovative
Renault Scenic Highly adaptable, with five or seven seats
Fiat Multipla Well-executed, fun-feeling six-seater
Kia Sedona No-nonsense, if oversized, way to get seven cheap seats