March 2010
Volkswagen Touareg Bluemotion
Touareg remains a handsome and understated SUV
March 2010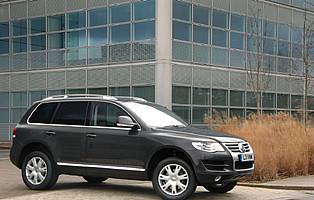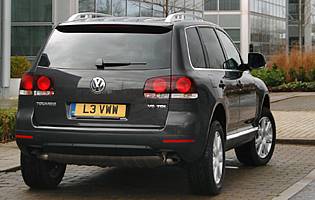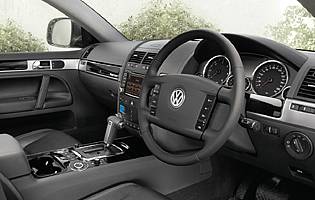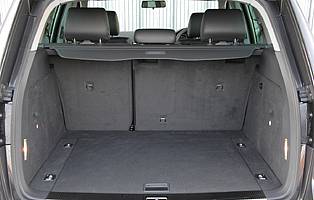 Overall rating

Likes:
Bluemotion enhancements result in no compromises for the driver
Cabin is high quality and good to use
Smart exterior styling
Impressive mix of abilities
Gripes:
Steering wheel can feel too large during parking
Vehicle bulk can be intimidating at times
Can be floaty over uneven surfaces
19-inch wheels have increased potential for damage
Already one of the most popular models in the SUV sector, 2007 saw number of improvements to Volkswagen's Touareg model in order to keep it ahead of its rivals. Ahead of an all-new model arriving late in 2010, Volkswagen has added a Bluemotion model for extra economy.
Although often the target of criticism from the green lobby, SUVs remain a popular choice for buyers thanks to their versatility, presence and perceived safety. The Touareg has been at the forefront of this sales success thanks to a successful blend of these essential qualities. The appeal of the Volkswagen badge puts it amongst its desirable rivals without straying into excess.
The exterior remains a subtle but handsome design, with smart bumpers front and rear, bringing the Touareg into line with other Volkswagen models. It remains an excellent example of stylish understatement, hinting at the toughness expected of an SUV but not aggressive or intimidating in appearance.
The Bluemotion model adds a number of tweaks as seen on other models in the Volkswagen range to enhance economy and reduce emissions. These include revised aerodynamics, lowered ride height, low rolling resistance tyres, reduced engine friction and revised gear ratios. They all help to reduce economy and improve emissions performance by as much as 20 per cent.
The cabin has always been a strong point of the Touareg, combining attractive design with functionality. All apart from entry-level models are fitted with leather upholstery as standard, while high specification models like the Altitude benefit from dual-zone climate control for additional comfort and luxury.
Our verdict on the Volkswagen Touareg Bluemotion
In terms of all-round competence, the Touareg is hard to beat. It is relaxing and enjoyable to drive on-road yet is far from compromised off-road, providing all the tough terrain ability that buyers could wish for. It also has the image and feeling of quality that is essential in this sector.
Costs
Running costs for the Touareg are competitive for a car of this size, and the efficiency gains are certainly a help in this respect.
Space and practicality
The Touareg's dimensions pay dividends here, with a good deal of space throughout. Front and rear passengers have plenty of head, leg and elbowroom, while the boot is large. It also has a useful divider system for securing objects. The four-wheel drive system increases its practicality, allowing for extreme conditions, and the ESP system has an added feature to reduce the risk of swaying when towing a trailer or caravan.
Controls and display
The layout in the Touareg is impressive, with controls that are easy to understand and operate. Despite the fact that it is a relatively complex vehicle with a number of extra systems, it is not intimidating for the inexperienced.
Comfort
The comfort levels on offer in the Touareg are impressive, especially the ride quality and low noise levels. The generous interior proportions allow large seats for good support and comfort, and the climate control works well both front and rear.
Car security
Fitted as standard is an alarm system, which incorporates the remote central locking plus an immobiliser, plus gives a good level of protection for a desirable car.
Car safety
A high level of safety is offered with the Touareg, particularly with the revised ABS system, which allows for varying surfaces. Combined with four-wheel drive, ESP and airbags, the Touareg undoubtedly offers impressive protection.
Driver appeal
The Touareg offers the commanding driving position that makes SUVs so popular, giving excellent all round visibility. The 3.0-litre diesel unit is more than adequate, providing impressive acceleration when required without excessive noise or vibration. The air suspension system also allows a smooth ride or minimal body roll when required, which makes it a truly versatile machine. Although no sports car, the Touareg can handle twisty roads just as well as urban streets.
Family car appeal
The Touareg would make an excellent family vehicle, with enough space to cater for a large family and their luggage as well as sufficient comfort and luxury to ensure their comfort.
First car appeal
The Touareg is an easy car to drive, but its size and expense would put it beyond the reach of most first car buyers.
Quality and image
The Touareg has a high quality feel throughout, from the understated design to the impressive use of materials. It also feels robust inside and out, and that it could cope with difficult terrain. The Touareg's image is built around this toughness and usability yet with enough class to put it amongst some luxury cars, and it is this mix of attributes that make it so appealing.
Accessibility
Gaining access to the Touareg is very easy, partly thanks to the large opening doors but also the optional air suspension, which allows the driver to lower the car. This puts it at the perfect height for passengers and leaves the boot floor at useful height too.
Stereo and ICE (In car entertainment)
Fitted as standard to SE models is a DVD-based satellite navigation system with a six CD autochanger. The sound quality is impressive both from the radio and CD and adds to the comfort and convenience levels inside the Touareg.
Colours and trim
Touaregs are best suited to sober exterior colours, which give them a restrained and dignified appearance. Inside is a similar story, with darker colours best suited to the wood and chrome used on the dashboard.
Parking
A car of this size would normally be quite difficult to park but the Touareg is aided by parking sensors front and rear and excellent visibility thanks to the large glass area and oversized door mirrors.
Spare wheel
Full size spare wheel fitted beneath the boot floor.
Range information
Petrol engine options - 3.6-litre (280bhp). Diesel engines options - 2.5-litre (174bhp); 3.0-litre (225bhp); 5.0-litre (313bhp). Tranmission options: Six-speed automatic gearbox, six-speed manual gearbox. Trim levels: Dependent on engine, with entry-level versions of the 2.5 and 3.0-litre diesel, SE, SE 5.0-litre, Bluemotion, Bluemotion SE, Altitude.
Alternative cars
Land Rover Discovery 3 Impressive ability, strong image
Porsche Cayenne Shares parts with Touareg but styling and badge very different
Mercedes-Benz M-Class High quality offering is highly desirable
BMW X5 Biased towards on-road but still attractive