March 2008
Volkswagen Tiguan SE 1.4-litre TSI 150 PS
The Tiguan's conservative styling will appeal to many buyers
March 2008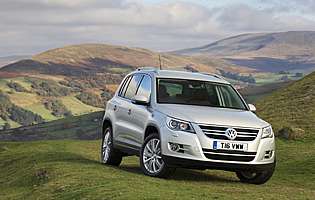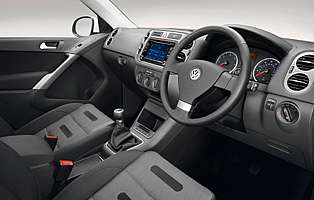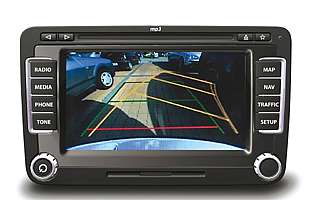 Overall rating

Likes:
The well-thought dials and controls
The Escape trim option for more serious off-roading
The surprising performance from the 1.4 petrol engine
Spacious cabin for occupants and generous boot
Gripes:
Escape model front styling looks awkward
Rear seats don't fold down flat
Unexciting to look at
Limited choice of exterior colours
The Tiguan is competing in the fiercely competitive compact 4x4 sector. The segment accounts for around one in every 20 cars purchased and the Tiguan is Volkswagen's first attempt at breaking into the market. It takes its visual cues, and some of its versatility, from its big brother, the Touareg. To broaden its appeal to customers, the Tiguan is offered with two different front-end styling treatments.
All Tiguan models are offered with four wheel drive as standard, but customers will be able to choose from two differently styled versions, one that has been designed with an 18-degree angle of approach and another, called the Escape, that has a 28-degree angle of approach and has a shorter overhang. The Escape trim, geared specifically to provide a greater degree of off-road capability is also equipped with additional protective elements, hill descent control and a compass.
Initially offered with a choice of two engines, a 2.0-litre TDI diesel unit and a 1.4 TSI petrol engine, Volkswagen is expecting the oil burning powerplant to be its best seller. However, it's the 1.4 petrol unit that is the real surprise, thanks to the firm's TSI technology. In short, the engineers have been able to produce a relatively small capacity engine that is able to deliver high power with low emissions. It is both supercharged and turbocharged, a feat which delivers fantastic driveability and performance throughout the range with no turbo lag.
Based on the 4Motion running gear of the popular Golf, the on-road handling characteristics of the Tiguan are, as expected, similar to the crowd-pleasing hatchback. It drives with good agility, handles deftly on twisting country roads and without suffering from too much body roll when cornering and is a capable and confident motorway cruiser. The wheels provide plenty of grip on the road while the steering is nicely weighted and responds with good levels of feedback.
The Tiguan's exemplary road manners complement its well-laid out and refined cabin. A high level of comfort has been achieved, but it is the intelligent manner in which the controls are laid out and their ease of use that provides the finishing touches to the accomplished vehicle.
Our verdict on the Volkswagen Tiguan SE 1.4-litre TSI 150 PS
The advantage of being one of the last manufacturers to arrive at the compact 4x4 party means that Volkswagen has had plenty of time to see what the competition is doing and respond accordingly. Consequently, the Tiguan represents a remarkably well-rounded vehicle, both on and off the road that should have no trouble meeting the motoring requirements of consumers in the compact 4x4 sector.
Costs
Buyers have a decent range of engines to choose from boasting good fuel economy so running costs should be manageable. The Volkswagen image and brand quality will also add to the value of the vehicle when it comes to re-sale and a reasonable insurance group rating means that the Tiguan represents good value for money.
Space and practicality
Despite being compact in size, the Tiguan is spacious inside and will accommodate four adult passengers comfortably. Boot space is decent even if all passengers are onboard, and the 60/40 split/fold rear bench can slide forwards or backwards by up to 16cms to provide more space for passengers or luggage. An easy to use lever folds the seats to create an almost level floor.
Controls and display
The dashboard is taken from the Golf Plus, so motorists who have driven Volkswagen's cars before will feel instantly at home in the cabin. The controls have been thoughtfully designed and placed, so that the driver uses them intuitively as opposed to searching for them. The main instrument panel is placed at the top so that the driver and front passenger can read the information easily, and the touchscreen technology is easy and quick to use with information displayed clearly.
Comfort
With the ability to adjust the height and lumbar of the driver's seat, there is no issue with getting comfortable behind the wheel and maximising driving visibility. It's a well equipped vehicle, even at entry level, so there are plenty of features such as semi-automatic air conditioning and a pollen filter which make the cabin a pleasant place to be in. The rear seats can also be reclined, individually, by up to 23 degrees which ensures the needs of rear passengers are met as well.
Car security
The Tiguan's conservative styling means it's not flash or brash enough to attract unwanted attention. There are plenty of storage options within the cabin, including under seat drawers in SE models and upwards, in which you can place items out of sight. A removable luggage compartment in the boot also boosts security and buyers can also opt for a tow bar that tucks away beneath the bumper as an extra security precaution.
Car safety
With six airbags as standard including a curtain airbag system, plus ESP, ABS and brake assist, occupant safety is well catered for. The car allso features intelligent functions such as illuminating hazard lights under heavy braking or if involved in a collision.
Driver appeal
As a road-biased 4x4, the Tiguan feels safe and solid on the Tarmac and handles with confidence. Using Passat-based suspension, added to Volkswagen's permanent 4Motion four-wheel drive, there is plenty of grip available yet with minimal pitch and body roll. The Escape model is fitted with hill descent control which gives it more off-road ability and it's a competent mud-wallower at a basic to intermediate level.
Family car appeal
It's practical, versatile and well priced so it should appeal to most families who need a little something more than a standard estate car. With frugal yet powerful engines it shouldn't be a financial burden to run and will easily meet the average family's motoring requirements.
First car appeal
Easy to drive and compact in size, the choice of a small engine and packed with handy features such as rear parking sensors and a rear view camera, it would make a good first car for a confident new driver. Although it's pitched at a fairly competitive price, it's still a lot of money for a first car, so it's probably best to go for something more budget friendly within the Volkswagen range.
Quality and image
This firm has no problems selling its products, thanks to Volkswagen's excellent reliability record and the high levels of quality apparent in each car. Often seen as investment buys with good residuals, Volkswagen vehicles are popular and generally sought after whether new or used. There's no snobbery associated with the brand and its image, Volkswagen's is a competent manufacturer of good quality cars.
Accessibility
Getting the correct ground clearance height is crucial to 4x4s, however the Tiguan's is not set so high that it makes climbing aboard a challenge. All the doors open wide to provide easy access into the cabin, and the Tiguan's load space is equally accessible and functional. The boot is a good shape and size, even when the rear seats are up.
Stereo and ICE (In car entertainment)
Standard equipment levels are high, so all models benefit from modern touches such as an MP3 compatible CD player. Better still is the touchscreen satellite navigation and audio system that even provides route guidance when off-roading. The system is within easy reach of the driver and equally as easy to use. The main instrument panel is located quite high up on the console centre so both the driver and passenger are able to see it.
Colours and trim
While it's not an unattractive vehicle it's no masterpiece, so consumers will have to rely on the exterior colours and trim options offered in order to make the most of the Tiguan's looks. Paint colours are limited and most of them can be described as different shades and hues of blue. Nonetheless, blue complements the Tiguan nicely, however it's shame there are no bright and more youthful colours available.
Parking
All models have an electronic parking brake with standard auto-hold function which automatically applies the parking brake to prevent the vehicle from rolling forwards or backwards - useful in stop start traffic. Best of all is the optional park assist function that is very easy to use in three simple stages. A push of a button is all that is required and the Tiguan will park itself into a parallel space to the left or right of the vehicle. The option also adds parking sensors while a rear view camera, with coloured orientation lines, guides the driver while reversing and is a separate option.
Spare wheel
Space saver fitted as standard.
Range information
Petrol engine options - 1.4-litre (147bhp). Diesel engine options - 2.0-litre (138bhp). Transmission options: six-speed manual gearbox, six-speed Tiptronic automatic transmission both driving all four wheels. Trim levels: S, SE, Sport, Escape.
Alternative cars
Toyota RAV4 Sharp handling but petrol engines noisy
Honda CRV Highly refined, but lacking in true off-road ability
Hyundai Tucson Attractive price tag undercuts rivals but doesn't buy refinement
Nissan X-Trail Capable off-roader but low equipment levels for entry-models