February 2006
Volkswagen Sharan Carat TDI 130
Stylish Sharan exterior hides a classy and spacious interior
February 2006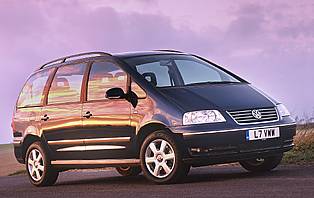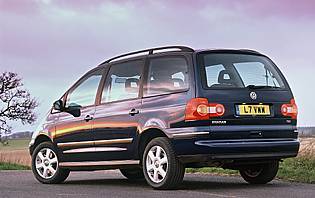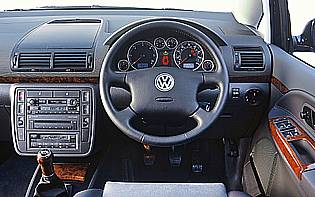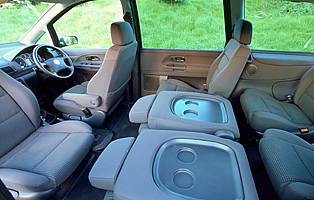 Overall rating

Likes:
Solid build quality and premium image
Attractive styling hides large cabin
Good driving manners for a full-size people carrier
Diesel engines make good financial sense and perform well on the road
Gripes:
Although practical, the privacy glass option makes the cabin very dark
Tiptronic auto gearbox is sometimes sluggish
Removing the rear seats can be a strenuous operation for one person
Rear luggage space is compromised if all the Sharan's seats are in use
Times have changed since Volkswagen launched its original Sharan. In the beginning the big, boxy people carrier was all the range, but in recent years more streamlined offerings have caught buyers' eyes. In the face of such a trend, the Sharan has done well to maintain a solid presence in the market. Part of this has been down to its straightforward design, good range of engines, versatile cabin and, of course, the VW badge.
For a time, the big three in the large people carrier sector - Ford, Seat and Volkswagen - had the market all to themselves. Well, that is if you chose to ignore Renault's Espace. Many buyers did just that because, while the French firm's car was clever and stylish, the brand wasn't noted for the durability of its products.
That the three aforementioned brands shared the same car thanks to a sensible collaborate deal helped their fortunes enormously. Volkswagen in particular did its best to trade on its brand's premium position, and that was reflected in the choice of standard equipment and marketing. Everything else mirrored that of its partners.
The same is true of the second generation Sharan; the modest facelift and cabin enhancements further distance it from the Ford and Seat alternatives. However, that's where the differences end. Look past the clever use of chrome highlights and prominent VW badges and you've got a large, conventional people carrier, albeit a well built and, for many, a highly desirable one.
While such an observation could be described as a cynical one, there's no doubting the Sharan's abilities. Three rows of seats, a lofty driving position and, in the case of the diesel variants, excellent performance, all add up to one impressive package. It may not be the most radical design on the roads, but Volkswagen's big MPV is far from past its prime.
Our verdict on the Volkswagen Sharan Carat TDI 130
To dismiss the Sharan on the grounds that it's too conservative is to miss the point of VW's large people carrier. Yes the market is full of more attractive models, but few do the basic tasks as well as the Sharan. For a large vehicle it handles surprisingly well and the cabin will seat six - or less with luggage - with ease. Not many 'form over function' MPVs can claim to be as good.
Costs
While not exactly on a par with a conventional family hatchback, the Sharan - and its rivals - should prove no more expensive to run on an everyday basis. Opt for one of the excellent diesel variants and you'll travel much further per tankful - assuming you do enough miles to justify the showroom price premium. Being a popular car, the Sharan's residuals are better than some, although the sector as a whole is feeling the pinch from lifestyle sports utility vehicles. Servicing and insurance costs should be manageable - you're dealing with a mainstream manufacturer, after all.
Space and practicality
With three rows of seats, easy access to the first two and all manner of oddment cubbyholes dotted around the cabin, it's fair to say that the Sharan is both practical and versatile. The two rows of passenger seats can be flipped, tumbled and removed to suit your needs. A word of caution: they are heavy and you'll need space to store them if you plan on routinely carrying more luggage than people. With all the seats in place, boot space is modest, making six people and their luggage an uncomfortable combination.
Controls and display
Anyone familiar with Volkswagen cars will instantly feel at home in the Sharan. The fascia is decked out with conventional, easy to use controls and the main dials are easy to read. Whether it's the standard audio unit or the optional sat-nav system, the centre console is easy to use without taking your eyes off the road for too long. Only the backlighting fails to impress, as its cool glow might look trendy but is often tiring to look at over the course of a long journey.
Comfort
Lack of passenger space is rarely an issue in the Sharan. Front seat occupants are the most pampered, and while it's unlikely those in the second row will feel the pinch either. On the move, road and wind noise is never usually an issue, which is impressive given the Sharan's bluff exterior profile. Engine noise is another matter though, with the diesels proving surprisingly vocal even at low speeds.
Car security
As with most aspects of the Sharan, its creature comfort list mirrors that of a conventional car. The same is true in the security department, where there's remote central locking plus an alarm and immobiliser. In addition, selected variants gain darkened exterior glass for the passenger compartment. This will prove its worth if you leave belongings in the car unattended for any length of time.
Car safety
There's nothing out of the ordinary in the Sharan's safety inventory, but it's comforting to know that all the basics are covered. Twin front, side and curtain airbags are all standard, plus anti-lock brakes. Standard on V6 and optional on all other models is ESP, while more powerful xenon headlamps are a cost option across the range.
Driver appeal
For a car as big as the Sharan, it is surprisingly nimble. Granted, it's not going to rival the experience offered by a conventional large family car, but the big VW rarely feels out of its depth. The steering is light but precise, and the ride is surefooted if a little firm at times. The lofty driving position helps, as do the punchy yet frugal diesel engines. The V6 petrol unit is a rapid alternative but can prove thirsty.
Family car appeal
This is where the Sharan proves its worth; with three rows of seats and ample oddment storage space, the big VW is surprisingly versatile. Isofix mounting points are present, while the rearmost seats will accommodate children and, at a pinch, adults. Next to a large estate car, there's little to match something the size of the Sharan.
First car appeal
The Sharan is hardly a car that novice drivers will have at the top of their shopping list - it's big and requires modicum of skill to pilot around town and park successfully. If a new driver found him or herself behind the wheel, it's a testament to the car that said driver would feel at ease in a short period of time. All-round visibility is good and the steering is light and accurate.
Quality and image
Although identical models from Ford and Seat exist, for many the presence of a VW badge makes all the difference and is why so many people opt for the Sharan. All credit to Volkswagen, the Sharan's cabin does have a more premium feel to it than its identical cousins. As a company, Volkswagen's products are always highly regarded. They might not be best in every class, but the recent and noticeable shift upmarket has been a welcome one.
Accessibility
Unlike more utilitarian offerings with sliding doors, the Sharan makes do with conventional items. This rarely proves a problem, but predictably the doors at the front open wider. The Sharan's tailgate is big and requires a little effort to open, and could prove a stretch for shorter users to close. However, the rear door's size means loading large items is simple - once you've folded or removed some of the backs seats. Don't forget that the Sharan's lofty stance will mean some people might struggle reaching their seat.
Stereo and ICE (In car entertainment)
The standard, unique fit, audio unit in the Sharan does a decent job, and its controls are pleasingly straightforward. Options include a CD changer and a pair of sat-nav devices. The more expensive navigation unit boasts a large, colour screen and is easy to programme, although it's not the fastest when it comes to calculating routes.
Colours and trim
There's no hiding the fact that the Sharan is a big car, so bright colours are great at emphasising the fact. Dark metallics do a better job of disguising the car's girth if that's what you want. Inside, the general ambience is on the dark side, which is no surprise for a VW Group car.
Parking
While the Sharan might be a big vehicle, with a little practice it shouldn't prove too hard to park. Sitting up high helps when judging distances, and the car's steering offers plenty of assistance at low speeds. Even if you are accomplished in the art of parking, rear sensors will prove invaluable.
Spare wheel
Full size spare fitted as standard.
Range information
Petrol engines: 2.0 (115bhp); 1.8T (150); 2.8 V6 (204bhp); 2.8 V6 4Motion (204bhp). Diesel engines: 1.9 TDI (115bhp); 1.9 TDI (130bhp). Transmissions: five and six-speed manual, plus Tiptronic auto gearbox on selected models. Trim levels: S, SE, Sport, Carat.
Alternative cars
Ford Galaxy Sharan's Blue Oval cousin is almost identical, although it lacks the premium badge
Renault Espace More glamorous than many rivals, the Espace is spacious and firmly biased towards comfort
Mitsubishi Grandis Space-age styled Grandis is good value and roomy. Diesel variant could be more refined
Peugeot 807 As one of the two Peugeot Citroen twins and like Citroen's C8, the 807 is spacious and affordable