May 2010
Volkswagen Scirocco R
Car's already striking looks enhanced by the R variant's subtle bodykit
May 2010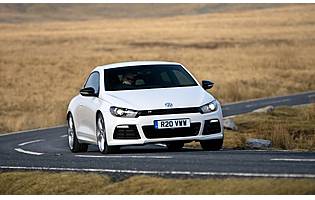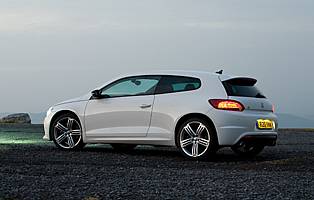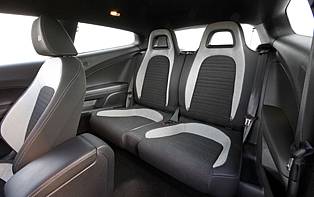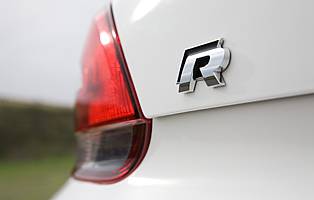 Overall rating

Likes:
Striking looks and good proportions help car stand out from the crowd
R model adds a welcome extra dose of performance
Build quality and cabin ambience second to none
Powerful and willing turbo petrol motor
Gripes:
Cabin design too similar to the Golf's contrasts with striking exterior
Boot might be a good size but there's a high load lip to contend with
Dual clutch DSG gearbox often too eager to reach sixth ratio - can hamper acceleration
Plenty of competition at this price - better genuine sports cars available
Understandably pleased by the return of the Scirocco name to Volkswagen's line-up, fans have been able to enjoy a well balanced and easy to live with sports coupe. This R variant promises to further enhance the performance element of the car's character.
Now a familiar sight on the roads, Volkswagen's Scirocco coupe is certainly an attractive one. And while it might share much a lot under the skin with the Golf, that's where the comparisons stop. Delivering a more sporting character and outgoing visual character, it not only raises its maker's profile but is guaranteed to turn heads.
This is amplified noticeably with the 'R' variant. This flagship model retains all the best bits of the regular Scirocco and adds a typically VW-esque subtle extra layer of performance and visual appeal. Building on the regular model's 200 horsepower petrol motor, the R ups the potential to a generous 265 horsepower.
Retaining the car's existing turbo petrol motor has allowed Volkswagen to keep costs to a relatively manageable level. Both consumption and emissions are also reasonable for something with the potential to reach 62mph in 6.5 seconds. Visually the car wears a modest bodykit, although this does a good job of fleshing out the Scirocco's otherwise undiscovered curves. Certainly the car's more aggressive nose is a welcome improvement.
On the road the Scirocco R is also a more rewarding experience than a regular mode, although you'd expect nothing less given the price premium. While the fundamentals of the car's suspension haven't been modified, the R version is a little lower and wider than standard. There's also some trick electronics to control the car's differential, without which putting all that power down would be a frustrating experience. In lieu of a traditional limited slip differential this system works well.
Our verdict on the Volkswagen Scirocco R
If subtle-looking performance cars are your thing, Volkswagen's Scirocco R could prove attractive. Visually it's a little more macho than the regular car, although not enough to attract too much unwanted attention. Easy to live with and to drive - fast or slow - it might lack the sparkle of some unruly rivals but as rounded performers go the Scirocco R is hard to beat.
Costs
Promising a similar performance to VW's Golf R, the Scirocco will cost more to purchase and run than a regular Golf GTi variant but it's unlikely to break the bank. Driven gently, the 2.0-litre turbo petrol engine is surprisingly frugal. It's only when driven hard will it deliver fuel economy in the mid teens.
Space and practicality
Far from being an awful compromise, the Scirocco is a car you could easily live with day-to-day, so long as you don't have a family. Cabin space is reasonable, as is oddment storage space. The boot is a surprise - you don't expect something this good in what is basically a sporting car despite the high load lip. Don't expect too many complementary remarks from adults sitting in the back, though. Even accessing the rear to secure children will be a struggle.
Controls and display
If you're a fan of the Volkswagen Golf, the Scirocco's interior will look and feel very familiar. Build quality is excellent and the various controls and switchgear feel solid and reliable. The various displays are clear and intuitive, while the optional touch screen sat-nav unit is easy to learn and simple to use. There are no surprises here, allowing you to have fun and focus on the road ahead.
Comfort
Once behind the Scirocco's wheel, the R variant's sports seats do an excellent job of supporting you. If you are wide of beam you might have a problem getting comfortable, though. For the most part road noise is low when driving normally, and is never obtrusive even when you're asking a lot from the engine. The car's exhaust is easily heard when you're pressing on, although this is actually a good thing.
Car security
Despite the Scirocco R's performance potential, this is one area where you'll be glad of its low-key profile. That said, the usual Volkswagen security measures should do the trick. Remote locking and an alarm and immobiliser combo should be more than enough. Ford added peace of mind you might want to invest in a visible deterrent such as a steering lock, as this will likely put off the casual thief - alternatively a tracking device if your insurance company recommends it.
Car safety
Rest assured that, being a Volkswagen, the Scirocco benefits from the entire VW safety parts bin. Airbags and all the usual electronic stability equipment are present. Crucially for the enthusiastic driver, the various electronic aids don't cut in abruptly - that way you can still have some good, clean and safe fun.
Driver appeal
The Scirocco R is more of a 'plus' model than a new and wildly different variant. With around 60 more horsepower than standard plus an electronically controlled differential, this front-drive coupe offers more thrills but remains a refined and composed proposition. The car's optional dual clutch DSG gearbox is a fitting inclusion over the regular six-speed manual 'box, and adds to the performance feel. On the road the car is surefooted in the dry but does command in the wet - trick electronics or not. The inclusion of VW's switchable damper control allows for a firmer ride when pressing on and a softer one for urban driving, further enhancing the car's all-rounder appeal.
Family car appeal
Despite the car's ease of use and driving appeal, there's little chance of the Scirocco gaining ground in the family car market. Rear seats are present, but rear legroom is severely lacking - even for children. Better to treat the Scirocco R as a second car, at least this way you can fold the rear seats to increase boot space, even if you still have to contend with a high load lip.
First car appeal
As far as ease of use goes the Scirocco R is an easy car to drive at sensible speeds. It's also easy to drive very quickly, which could be a problem for the novice driver. That and parking, as rearward visibility isn't that good. Then there's the overall expense and running costs to consider.
Quality and image
Presently it's hard for Volkswagen to put a foot wrong. In recent years it has developed a highly desirable range of cars, and the appearance of the Scirocco has done much to bolster the firm's sporty character. As usual, build quality is first rate, and the brand carries a lot of weight in the marketplace.
Accessibility
It's always swings and roundabouts with the coupe body shape. The car's two wide doors open to give occupants plenty of room to get in and out, although the car's low stance might deter those who are less than agile. Access to the rear seats isn't bad, but adults will likely think twice. The car's boot is a good size but you'll end of dropping stuff down into the space available thanks to the high load lip.
Stereo and ICE (In car entertainment)
The standard fit unit is hard to fault, although predictably there's also scope to upgrade to something better with more features. More money will get a comprehensive touch screen sat-nav and multimedia player that's equally easy to use and can accept MP3 and iPod inputs. A Bluetooth phone option is also available.
Colours and trim
It's surprising what you can get a way with, as the Scirocco's bold looks appear to be able to tolerate most colour options - even white. However, the signature deep metallic blue of the R variant really does look good. Inside, the car is very much in the traditional VW mould: dark plastics abound, and along with the dark headlining help to maintain a sombre but upmarket ambience.
Parking
While not a large car, the Scirocco is deceptively wide thanks to its curvaceous wheel arches. Parking sensors are a must as rearward vision isn't great - a common issue with coupes. That said, with its light and accurate steering, the Scirocco can be confidently guided into a parking space with ease.
Spare wheel
Emergency inflation kit is supplied.
Range information
Petrol engine options - 1.4-litre (122bhp, 160bhp); 2.0-litre (210bhp); 2.0-litre (265bhp). Diesel engine options - 2.0-litre (140bhp, 170bhp). Transmission options: six-speed manual as standard with six-speed DSG optional - seven-speed DSG for 1.4 160bhp model. Trim levels: base, GT, R.
Alternative cars
Mercedes-Benz CLC-Class Softer-edged coupe that's not particularly sporting - nice and refined, though
BMW 1 Series Coupe Unusual looks but performance potential is high if you choose the right engine
Mazda MX-5 Slower, but closer to that of a genuine sports car - more affordable, too
Volvo C30 Blurs the line between hatchback and coupe - fun to drive but no sports car