Volkswagen Scirocco GTS
Dynamic looks
January 2017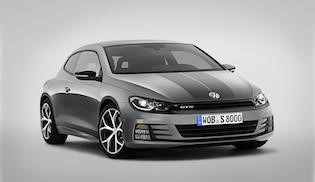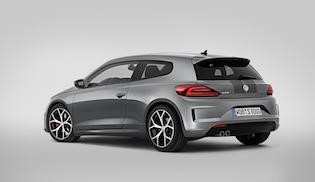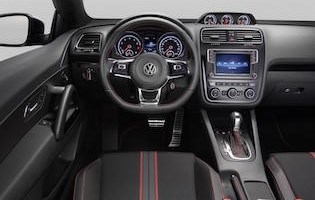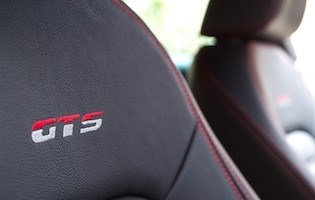 Overall rating

Likes:
Strong performance
Good build quality
Dynamic looks
Slick gearshift
Gripes:
Lack of rear space
Doesn't have the dynamic capability of rivals
In-car tech is beginning to date
Wild styling may not be for everyone
There are few cars that have remained as instantly recognisable as the Volkswagen Scirocco. It first appeared in its current form in 2008, but it's worn its years since then with pride. Now we come to a special-edition car, the GTS. Packing a powerful 2.0-litre turbocharged engine, it produces as much power as a Golf GTI but housed within that attractive Scirocco shape.
The Scirocco GTS isn't a hard car to recognise. Thanks to a sports bodykit, as well as boy racer stripes along the bonnet and roof, it's not a car for shrinking violets. Thankfully, these can be deleted as a no-cost option if you don't quite fancy the outlandish looks that come with the car as standard.
Underneath the bonnet sits a turbocharged 2.0-litre petrol engine, which produces 217bhp. However, whereas GTI cars get a mechanical limited-slip differential, the Scirocco GTS has to manage with a purely electrical one – though this is an optional extra, should you want it. The sprint to 60mph takes a respectable 6.3 seconds, which is enough to get the pulse racing.
The Scirocco has, as we mentioned, been around for some time now. However, it's always been able to provide a stylish alternative to the traditional Golf hatch. Practicality is down, of course, with the GTS's boot a fair amount smaller than the Golf's – though it's still plenty usable for most occasions.
The GTS certainly isn't bad in terms of efficiency however, with a claimed consumption of 46.3mpg on a combined cycle. You'll struggle to see that day-to-day, but it isn't half bad for a car with a powerful 2.0-litre engine. However, this car really isn't one for if you're truly worried about economy.
Our verdict on the Volkswagen Scirocco GTS
The Scirocco GTS is certainly starting to show its age. Mechanically, it feels quite behind modern hot hatches, but that's probably down to its lack of mechanical differential. However, it's still a hoot to drive, and it definitely looks the part with its sports body kit and lowered suspension. If you're looking for practicality then a Golf is a better choice, but if you're looking for a car to enjoy, then you'd be hard-pressed not to consider a Scirocco GTS.
---
Costs
Despite being able to reach 60mph in just 6.3 seconds, the Scirocco GTS can still achieve up to 46.3mpg, as well as emitting a respectable 142g/km CO2. This means that both fuel costs and taxation won't be as bad as with other sporting cars of this price. Tyres will cost more to replace thanks to the larger alloy wheels, but other consumables such as brakes won't be all that costly to replace.
Space and practicality
The Volkswagen Scirocco GTS is based on the same platform as the Golf which is, as is well documented, a very practical car. Given its coupe layout, the Scirocco is able to offer 312 litres of space, which can be expanded to 1,200 litres – not half bad for a car of this size. The rear seats can be split in half and folded, which means that you're able to carry one passenger in the back of the car as well as additional items in the boot.
Controls and display
As a Volkswagen, the Scirocco benefits from all of the well-made components found within other cars in the range. The interior is tastefully laid out, with clear dials and controls spread logically throughout. You also get a trio of performance gauges, giving readouts for items such as boost pressure and oil temperature. It may be a little gimmicky, but it certainly helps give the Scirocco GTS's cabin a sporting edge.
Comfort
Much like the GTI, the Scirocco GTS manages to maintain a compromise between a comfortable and sporting drive. It's firm, there's no question about that, but it never feels too stiffly sprung for day-to-day driving. Inside, the car's sporst seats do provide plenty of support, which makes longer journeys less of a hassle than in a more stripped-back hot hatch. The Scirocco GTS is a good car if you're looking for something that can be used every day, but it is still a lot of fun when the roads get twisty.
Car security
With its sports bodykit and go-faster stripes, the Scirocco GTS certainly draws attention to itself. From some angles it appears just like a standard Scirocco, but if you're worried about your car being noticed, then you can have the stripes deleted as a no-cost option. It certainly doesn't stick out quite as much as a Golf GTI, so you really shouldn't be worried about leaving it out on the street.
Car safety
When it was first tested, the Scirocco gained a five-star rating by Euro NCAP. It was given 87 per cent for adult occupant protection and 73 per cent for child protection, which means it's a very safe car to be in. You can also specify a driver alertness sensor, which can warn the driver when they need to take a break, should it notice that the person behind the wheel isn't paying enough attention. It is, however, a £70 option.
Driver appeal
With its sporty bodykit and large alloy wheels, the Scirocco GTS is a car that you really want to get out and drive. It may not have the all-out appeal that you find with the Golf GTI, but it's still a hugely likeable car, especially when it comes to driving it. The 2.0-litre engine makes a relatively sporty noise, and the performance on tap is decent enough. When specified with the excellent six-speed gearbox it's a hoot to drive, though the six-speed dual-clutch automatic suits the character of the car as well.
Family car appeal
Though a coupe, the Scirocco could be a relatively good family vehicle. As mentioned earlier, its boot is quite respectable in size, which means there's a good amount of room for all manner of clutter. You also get ISOFIX child seat anchor points fitted in the rear as standard, so if you're looking to take kids around then it's a perfectly safe car in which to do so. Though on the face of it the Scirocco may not be the ideal family car, it may not be as unsuited as you'd think.
First car appeal
Because of its powerful 2.0-litre engine, the Scirocco GTS isn't perhaps the best car for first- time drivers. Also, given its low-down driving position, it's not the easiest car to get to grips with the rules of the road in. It's also the least economical Scirocco in the range, which means it'll be more to tax and, because it has a high power output, it won't be cheap to insure, either.
Quality and image
There's no doubt about Volkswagen's position as one of the major manufacturers of robust, well-built but affordable cars. and the GTS is certainly an extension of this, as the interior feels excellently put together, and each knob and button appears to be solidly made. You also get this sense from the infotainment system, which makes connecting and using a smartphone through the car's system very easy. The overall build quality is spot-on in general, with only some lower-quality plastics further down the cabin letting the effect slip.
Accessibility
As a coupe, accessibility isn't the best with the Scirocco GTS. However, those doors are quite large, which makes getting in and out of the front of the car relatively hassle-free. Gaining access to the back is another story, with the folding seats only moving just enough to grant entry to the rear seats. Once you're in, however, it's not difficult to get comfortable, with plenty of adjustment available for the seats and steering.
Stereo and ICE (In car entertainment)
Inside, you get all of the toys you'd expect to find in a car in this price range. There's satellite navigation, which is controlled via a 6.5-inch colour touchscreen, as well as DAB digital radio and Bluetooth connectivity. A multifunction leather steering wheel makes altering the audio while on the move easy, and a multifunction colour display in the centre of the instrument binnacle gives quick and easy readouts to the driver.
Colours and trim
As one of the top-specification cars in the range, the Scirocco benefits from a wide array of standard equipment. There are six colour shades to choose from, ranging from white to bright red. Alloy wheels are included as standard, as is a sports bodykit, which helps give the Scirocco GTS more impact on the road, as does the unique GTS badging. Inside, leather comes as standard, too, alongside aluminium pedals and chrome sill protectors.
Parking
Given the Scirocco's raked-back appearance, it'll come as no surprise that rearward visibility isn't the best. Indeed, the view behind is eaten into by the headrests of the rear seats, which can make positioning the car a little tricky. However, you do get parking sensors for both the front and rear of the car, which helps when parking the car up, as well as when positioning it into tighter spots.
Spare wheel
Emergency tyre repair kit supplied as standard.
Range information
Petrol engine options: 2.0-litre turbocharged petrol; Transmission options: Six-speed manual, six-speed dual-clutch automatic. Trim levels: GTS.
---
Alternative cars
Golf GTI A true contender here, and a popular one at that.
Seat Leon Cupra Fast and extremely capable.
Audi TTS Fantastic build quality, though expensive.
BMW 2 Series Modern and up to date, but it commands a premium.