Volkswagen Polo Beats
Luxe interior with a fabulous sound system
August 2017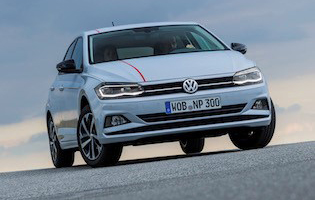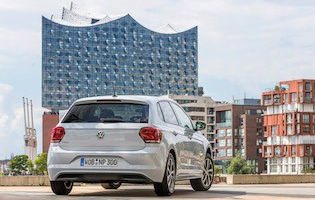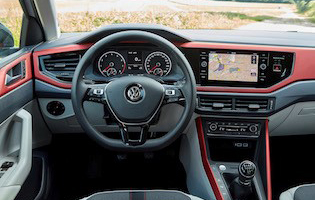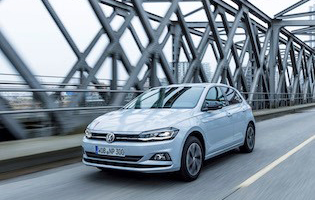 Overall rating

Likes:
Extrovert styling makes it looks like a race car
Uprated parts are all very high-spec and do a fantastic job
Addresses all of the standard car's grip issues
A worthy addition to BMW's lightweight track car legacy
Gripes:
Dull styling
Lack of seat support
Body-coloured stripe
Light steering at speed
The new Volkswagen Polo is built on a totally new architecture for the model – VW Group's MQB A0 platform. A refreshed, yet familiar design features on the Polo. Although the basic VW DNA remains, thanks to the new platform's longer wheelbase, the Polo has a more brash stance than before.
First of all, the Polo excels at its main purpose – city driving. Light steering, great visibility and a whole host of safety assists make cruising around urban areas a dream. The 1.0-litre engine and manual gearbox took everything thrown at them with ease, proving extremely versatile and requiring few gear changes.
A little more steering response at higher speeds would be ideal, but for a car primarily built for urban driving, it was never going to be the most direct driving experience – at least not in lower trims. Hopefully (and presumably) the GTI will be a different story.
Boot capacity is up by 25 per cent, going from 280 litres to 351 litres, making an already practical car even more capable. It's slightly under the Seat Ibiza though, which boasts 355 litres despite being based on the same platform, but can pack notably more than the new Fiesta's 292 litres.
VW hasn't announced prices yet, so it's hard to judge how much bang you're getting for your buck. However, the Polo comes rather generously equipped, regardless of the chosen trim level. The Beats version we tested featured 16-inch wheels, a partial leather interior, an infotainment system, rear tinted windows, body decal stripes and a 300-watt sound system.
Our verdict on the Volkswagen Polo Beats
Volkswagen's Polo is a great urban runabout and It's certainly capable of longer distances too, although it could grow tiresome after a while. You get that premium Volkswagen feel, although without knowing the price, it's hard to compare it to its rivals yet. A lot of Polos will sell when it arrives in the UK, deservedly so, but can it challenge the Fiesta for the supermini crown? Time will tell...
---
Costs
Prices have yet to revealed for the new Polo, so it's hard to say how much you'll pay up front. It's likely to be cheap to run though, thanks to small, efficient engines that will mean low road tax and fuel consumption. It should be cheap to insure too, as it's packed with safety assists and has small displacement engines.
Space and practicality
A new platform for the Polo has resulted in a lot of extra space, making a class leader for practicality. Boot capacity has increased by 25 per cent, from 280 litres to 351 litres, which is certainly a welcome gain. It still falls slightly short of the Seat Ibiza's 355-litre boot, but trumps the latest Fiesta's 292-litre storage capacity by a considerable margin.
Controls and display
The Polo's controls and displays are extremely well designed for use on the move. The Active Info Display available in higher trims allows the driver to access plenty of information, including navigation, without looking away from the road. The infotainment's controls are easy to reach whilst driving and the system itself is simple to navigate, reducing the time taken to use it. Voice control is also available for basic functions.
Comfort
Although the Polo uses premium materials throughout the cabin, it's not the cosiest of vehicles. The increased cabin space does allow for plenty of passenger room, but the seats can become a bit uncomfortable after a couple of hours of driving. A smooth ride does soften this blow a little though, as does very little wind noise.
Car security
In terms of security, the Polo is practically theft-proof. Keyless entry features, making it difficult to be stolen if you keep the keys on you. Remote central locking is also included, which can also be controlled via a wireless remote.
Car safety
The new Polo comes with a whole host of safety assists. These include traction control, blind spot monitoring, rear traffic alert, front assist (which monitors the area ahead of the car, pedestrian monitoring, a driver alert system which warns drivers of a loss of concentration and a proactive occupant protection system that initiates hard braking when a potential accident is detected.
Driver appeal
Those looking for a pure driving experience may be better off looking at the Polo's platform mate – the Seat Ibiza – or waiting for the Polo GTI. Although the Polo is fantastic for city driving, it feels a little disconnected at higher speeds and certainly doesn't deliver a dynamic driving experience. If you're simply looking for something to hop around town in, though, you can't go wrong with a new Polo.
Family car appeal
The Polo would be a great option for a small family. It's spacious, meaning plenty of shopping, holiday gear and kids can fit inside. A family of more than four may be better off with a larger car, though, as the Polo is still a supermini, despite its class-leading space. Anyone with one or two children should be just fine, as there's easily enough rear room for two adults.
First car appeal
If you've got deep enough pockets to afford a brand-new car, the Polo would be a pretty good choice. Small, efficient engines will keep insurance, tax and fuel costs low and the car is packed with safety equipment that will help new drivers greatly should they get into a sticky situation. Plus, if you go for the Beats edition, you get a 300-watt sound system to impress your mates.
Quality and image
As you would expect with a Volkswagen product, the build quality of the car is fantastic for its segment. Premium materials are used throughout the cabin, with high quality seats also featuring. Visually, although the new Polo has more visual impact compared with its predecessors, it's still fairly understated. It holds a pretty good street image, but it's not a vehicle to go for if you want something that grabs attention.
Accessibility
Thanks to the new MQB A0 platform, the Polo is more spacious and as a result, it's easily accessible. Sills are low slung so there's no awkward climb to get in the car, and with plenty of legroom, there's a lot of space to manoeuvre. The boot floor is also level with the sill, meaning any cargo should be easily loadable into the back of the car.
Stereo and ICE (In car entertainment)
The new Polo features a range of infotainment options. Sizes for the central screen start from 6.5 inches and can increase to 8 inches depending on the trim level. Although the base system works very well and is easy to use, it's disappointing to see a lack of Android Auto or Apple CarPlay support. Some models also feature Active Info Display, which displays key information in front of the driver. Those who opt for the Beats model also get a 300-Watt stereo system.
Colours and trim
Fourteen body colours and eight interior trim options are available for the new Polo. Primarily dark colours feature in the range, but some bright tones appear, such as Energetic Orange, Flash Red and Reef Blue. It would be nice to see some more vibrant colours added as options in future, as currently, the selection overall is a little dull. Four trims levels are on offer: Trendline, Comfortline, Highline and Beats.
Parking
Parking the new Polo is a breeze. First of all, the car has great visibility and still retains relatively small dimensions, making it good to put in most spots. Then comes Park Assist, which effectively parks the car itself. It can automatically guide the car into parallel or perpendicular spaces, as well as pull out of tight parallel spots. It really couldn't get much easier to park.
Spare wheel
Spare wheel included as standard.
Range information
Petrol engine options: 1.0-litre MPI (64bhp, 74bhp),1.0-litre TSI (94bhp).
Diesel engine options; 1.6-litre (79bhp, 94bhp).
Transmission options: Five-speed manual, seven-speed automatic.
Trim levels: Trendline, Comfortline, Highline and Beats.
---
Alternative cars