April 2011
Volkswagen Phaeton 3.0 V6 TDI
Biggest changes have been made at the front
April 2011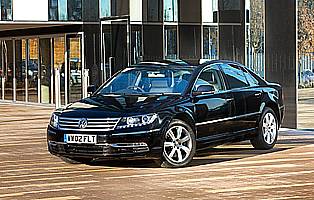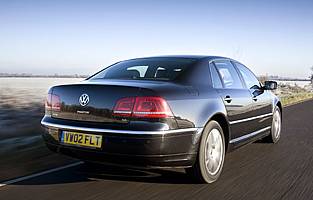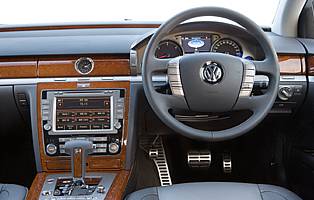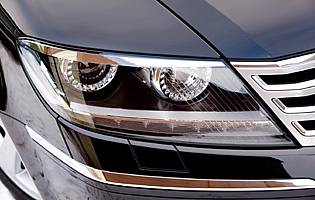 Overall rating

Likes:
High standard of fit and finish
Understated appearance
Excellent comfort for all occupants
Good value compared to competition
Gripes:
Lacks distinction
Likely to offer poor residual value
Standard specification has some unusual omissions
Relatively high running costs
Volkswagen's Phaeton occupies unusual ground for the German manufacturer as it competes against other luxury saloons in a segment usually occupied by manufacturers further up the premium scale, including its in-house partner Audi. Despite it being a niche product, Volkswagen has given the Phaeton a subtle update to keep pace with its contemporaries.
The Phaeton fits the template for a high luxury saloon perfectly. It is big - over five metres long even in short wheelbase form - powerful, opulently appointed and exceptionally well constructed. And it is a car with undoubted presence, although the exterior design is conservative, as most buyers prefer.
To distinguish it further the Phaeton benefits from some of the changes seen elsewhere in the Volkswagen range. All Phaetons now have a distinctive chromed grille, similar to that seen on the latest generation Passat, as well as bi-Xenon headlights with LED running lights incorporated for the first time. This helps to give the front end a more distinguished appearance. New rear lights are placed above a redesigned rear bumper, and although subtle the changes are welcome.
Interior build quality remains a key strength of the Phaeton, and a series of detail enhancements are designed to improve the quality and appearance of the cabin further still. A wider choice of trim colours and finishes are available, while the standard-fit satellite navigation system is improved with full colour display and the option of Google searches for easier navigation. A multi-function steering wheel also makes it easier to access the Phaeton's numerous systems.
Mechanically the Phaeton range remains as before, although the range has been slimmed down to a choice of one petrol and one diesel offering, with a choice of long or short wheelbases in the diesel version. All models are equipped with the Volkswagen 4MOTION four-wheel drive system as standard for extra traction and stability at high speeds.
Our verdict on the Volkswagen Phaeton 3.0 V6 TDI
This mild update improves the Phaeton overall and it remains a highly competent luxury saloon, but has little to tempt buyers away from its key rivals other than a five-figure price saving, all of which could be wiped out by depreciation.
Costs
This is not a cheap vehicle by any means, but when compared on a like-for-like basis with its rivals, the Phaeton is a relative bargain thanks largely to its superior specification and industry-leading engines. It's a lot of car for the money. However, it's not nearly as good a deal as used buyers will enjoy. The Phaeton loses value much more quickly than its competitors.
Space and practicality
Generous dimensions outside translate into excellent space on the inside. Front seat passengers are spoilt for space while those in the rear have stacks of legroom, even in the short wheelbase version. Boot space is also vast and likely to be sufficient for even the most demanding buyers.
Controls and display
Though still recognisably a Volkswagen treatment with its perfectly aligned symmetry and underlying sense of order, the Phaeton's dash is characterized by beautiful wooden inlays, alluring chromed dials and some subtle lighting effects that simply ooze class into the cabin.
Comfort
This is the Phaeton's key strength, and the effort put in during the design process to maximise refinement has clearly paid off. Despite being one of the older cars in the segment it is very smooth, quiet and refined, and a long motorway journey will not tax the driver or passengers.
Car security
The Phaeton offers a very high level of security, with laminated glass all round, a sophisticated alarm system and engine immobiliser all as standard.
Car safety
Every Phaeton is fitted with eight airbags - two in the front, four in the side, plus two curtain airbags as well as active front head restraints, ABS; ESP; and HBA. The aluminium doors are also exceptionally rigid, and contain side impact bars for further protection. There are numerous more minor but no less ingenious safety features such as washer jets for the headlights that clean each unit one at a time to minimise loss of illumination of the road ahead.
Driver appeal
The Phaeton's driving experience is best described as undemanding, with the refined diesel engine offering relaxed torque delivery and the smooth automatic gearbox minimising stress on the driver. Should you decide to press on a little more the Phaeton is happy to oblige, although it is best suited to covering large distances with the minimum of effort.
Family car appeal
The Phaeton has little or no family appeal. As well as being too big for many a modern suburban driveway, the interior is simply too nice to subject to the rigours of family use. In its favour, it is exceptionally safe.
First car appeal
It is highly unlikely that a new driver would be interested in the Phaeton, never mind able to afford one.
Quality and image
There's no denying that the Phaeton is a top-quality car, but despite Volkswagen's best efforts it is perceived as having an image problem. Whereas the Touareg off-roader has been accepted as a luxury 4x4 - partly because it shares its underpinnings with the Porsche Cayenne - the Phaeton is still regarded with some suspicion in the executive car park. But choosing a VW over a more obvious BMW or Mercedes at least proves the owner is independently minded.
Accessibility
A clever easy-entry system works in conjunction with memory functions in the front seats so that steering wheel and seats stay out of the way as the driver gets in, then move back into place once he or she is seated and ready to go. Boot access is achieved using an effective powered system. When a finger is placed across the base of the 'V' on the rear VW badge, the lid is electronically released and rises automatically. It can also be activated by either the key or by a button on the driver's door. A button on the inside of the boot lid allows the process to take place in reverse.
Stereo and ICE (In car entertainment)
The standard fit audio system includes a CD/tuner with DVD playback and satellite navigation, although bizarrely this does not include Bluetooth as standard which leaves phone or audio connectivity to the options list. That said the sound quality is impressive and the optional upgraded system is superb.
Colours and trim
Perhaps unsurprisingly the Phaeton is best suited to sober colours, although when finished in black it can suffer the common fate of looking a little like a funeral car. Inside the various trim options allow a high degree of personalisation, but either way the quality and design are of a high order.
Parking
Whilst undeniably a large car the Phaeton is relatively easy to park. Standard fit parking sensors are a great help and its square cut lines make it straightforward to judge its size.
Spare wheel
Full size alloy spare. An electronic tyre pressure monitoring system is an option.
Range information
Petrol engine options: 6.0-litre (444bhp). Diesel engine options: 3.0-litre (237bhp). Six-speed tiptronic automatic gearbox fitted as standard on all models. No trim levels.
Alternative cars
Audi A8 In-house rival is still understated but very satisfying all-rounder
Jaguar XJ Very stylish and capable, some question marks over build quality
Mercedes-Benz S-Class Inevitably expensive but classy throughout
BMW 7 Series Most sporting drive and a technological showcase