May 2005
Volkswagen Passat SE 2.0 TDI
Bold grille makes the Passat stand out from the crowd
May 2005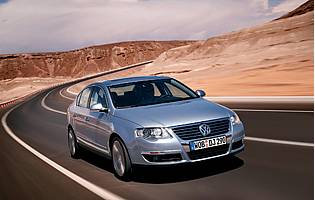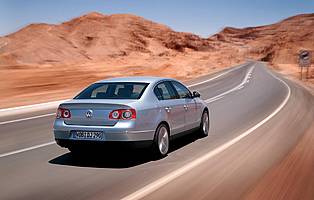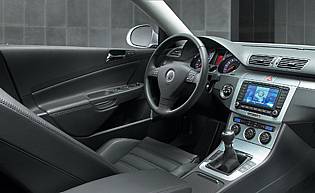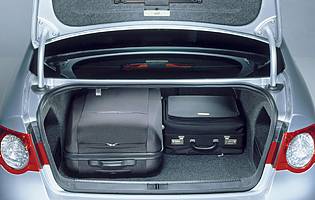 Overall rating

Likes:
Bold looks should attract younger buyers
Noticeably more enjoyable to drive than old car
Diesel engine line-up is impressive
Increase in size has meant more room for passengers
Gripes:
Some may find the car's grille a little over the top
Certain interior trim combinations cheapen the feel of the cabin
1.6 FSI petrol motor a little underpowered in a car of this size
Options list is long, and potentially expensive
Volkswagen's Passat has always been a desirable car. Its success has been helped by its good looks, above average build quality and wide choice of engines and equipment levels. However, at a time when making bold design statements in a bid to stand out from your rivals has become the norm, s finally changed its approach. What you see here is a more daring, outgoing Passat. It's also bigger than before and comes with even more standard kit.
Volkswagen used to be a conservative car maker, making conservatively-styled cars. Not any more: it has realised that to get the attention of buyers in today's fiercely competitive market you need to offer something bold and different to the opposition.
With the Passat, that's exactly what the German car maker has done. Although a perfectly competent - and successful - car, the old Passat lacked the sparkle of some of its main rivals. Thanks to a bold new grille and sharper styling, a generous spread of standard kit and a chassis that allows the keen driver to have fun, the latest model couldn't be more different.
What this means is that the Passat can go head-to-head against the likes of Honda's Accord, Lexus' IS range and lower-order variants of the likes of Audi's A4, BMW's 3 Series and Mercedes' C-Class without feeling inferior.
In fact, in some important areas, the Passat comes out on top. With the car now bigger than before, cabin space is no longer at a premium - something certain rivals still struggle with. And don't forget that, with the might of the Volkswagen Group behind the car, it can be had with some of the best diesel engines around.
Our verdict on the Volkswagen Passat SE 2.0 TDI
As far as transformations go, this Passat must rank as one of the most radical. Granted, there was nothing really wrong with the old car, but buyers have become more demanding in recent years. They wanted more standard equipment, better safety provision, cars with more cabin space and cars that are more entertaining to drive. Most of all, canny buyers don't won't to pay more for all this. With the Passat, VW has aced all these issues, and has done it without slapping a huge premium on the asking price.
Costs
Pitched at roughly the same price as the car it replaces but offering more equipment, this Passat can be viewed as good value for money. Opt for a diesel model and your running costs will be further reduced. In general, VW has a good reputation when it comes to reliability, and there is no outrageously fast variant so insurance should be affordable. But, given that the car will be sold in substantial numbers, don't expect it hold its value like models from the likes of Mercedes and BMW.
Space and practicality
With the Passat, VW clearly aspires to join the executive club. Only the firm is trying to offer something the others don't, namely extra space. Unlike some of its rivals, the Passat doesn't feel cramped when it's full of adults. This attitude spills over into the generous number of storage spaces in the cabin, plus the usefulness of its boot and the ability to fold the rear seats. It's not quite as practical as a hatchback, but it's pretty good for what it offers.
Controls and display
All the car's major displays are object lessons in clarity. The various switches, knobs and vents operate with a smoothness that wouldn't feel out of place in a car costing twice as much. The fascia houses major controls like the ventilation and audio equipment, and everything is within easy reach. Commonly used audio controls are duplicated on the steering wheel, while it's nice to report that the car's gearbox boasts a short, snappy shift - a very un-VW-like characteristic.
Comfort
The old car was always known to be a bit of a softy, but its plush ride was also its downfall. It didn't like corners much and, subsequently, rolled a fair bit. The latest variant strikes a decent balance - there's little roll but the odd severe urban imperfection can rattle through the cabin. Elsewhere, the car's seats are supportive but a little firm. Cabin noise is minimal, and the extra cabin room is welcome and instantly noticeable.
Car security
You get the usual immobiliser and remote central locking package from VW when you buy a Passat. Depending on the model, this expands to include an alarm and interior intrusion sensors. The car's unlikely to feature on a thief's 'must have' list, but theft from a vehicle is always going to be a problem and it's good to see a number of covered storage areas.
Car safety
Twin front, side and head airbags are standard fit on even the base model Passat. This is backed up by the usual ABS, ESP and other electronic stability programmes. Staying with braking, the Passat's stylish brake lights are of the fast-reacting LED type. Back inside the cabin, and the rear seats get a pair of Isofix child seat mounting points. The car's push button, electromechanical parking brake boasts a function whereby you press the button and the car will come to a controlled stop in an emergency.
Driver appeal
As far as transformations go, this one can be filed under 'night and day'. This Passat is willing and able to take corners at speed with out upsetting passengers. The spongy, rolling trait of the old car has been replaced by behaviour that puts it surprisingly close to the likes of BMW's 3 Series and even Ford's acclaimed Mondeo. Responses are sharp, but not at the expense of low speed refinement. And if you have to ask, the diesel engines are indeed the pick of the bunch. The firm's optional direct shift gearbox (DSG) is also worth a look.
Family car appeal
For most demanding families a Sharan or Touran would be the better choice, but if you've got to have a Passat then at least you've got size on your side. Noticeably bigger than the car it replaced, this Passat will swallow a few rowdy children and the boot is big enough for the weekly shop and then some. Alas, the flexibility of an MPV is missing, something which could cramp your style on day trips and holidays.
First car appeal
Any novice in the market for a new Volkswagen is more likely to plump for a Golf over a Passat, not just on cost grounds but because the Passat is a much bigger car. A young driver will find a Golf or Polo more fun to drive and own, too.
Quality and image
The previous generation model was classy, well built and conservatively styled, ensuring that it appealed to a wide audience. This model is a lot more outgoing, yet the basic elements - refinement, strong kerb appeal and solid build quality are still present. On that subject, this Passat feels good enough to last for years and years as fit and finish levels are higher than even some of the traditional 'premium' car makers.
Accessibility
As saloons go the Passat is a decent performer. Access to the front is good and you slide onto the seats - not drop down into them. Rear seat occupants fare better than you'd expect, thanks in part to the car's expanded dimensions. At the rear, the Passat's boot opens with little fuss thanks to the remote release, although the boot aperture will appear modest to anyone coming from a hatchback
Stereo and ICE (In car entertainment)
Depending on the model, the entertainment provision runs from a basic four-speaker, radio/CD set-up to more powerful units boasting eight speakers and bigger amplifiers, all the way to a separate CD changer and sat-nav complete with a fascia-mounted colour screen. The sound quality of the various units is good, and the controls are easy to understand. Certain basic functions can also be accessed from buttons on the steering wheel.
Colours and trim
In what will come as a surprise to some VW diehards, this Passat looks rather fetching in light exterior shades. Darker colours tend not to be so flattering. They also draw a lot of attention to the car's large, chrome grille. The choice of materials for the Passat's cabin is wide and varied but it's best to stick to traditional combinations - dark woods and the sporty carbon fibre options. The various lighter treatments, including seat fabrics, tend to reduce the quality ambience a few notches.
Parking
Saloons always demand that you be extra careful when parking. The Passat is no different, however the car's mirrors are a good size and the various controls are light and easy to use at slow speeds. Parking sensors are available, and worth it for a stress-free life.
Spare wheel
A standard size spare is located in the boot.
Range information
Four petrol engines: 1.6 FSI (115bhp); 2.0 FSI (150bhp); 2.0 FSI (200bhp); 3.2 V6 FSI (250bhp) plus three diesels: 1.9 (105bhp); 2.0 (140bhp); 2.0 (170bhp) make up the range. Transmissions range from five and six-speed manual to six-speed Tiptronic and direct shift DSG gearboxes depending on the engine. Four-wheel drive 4MOTION is also offered with selected engines. Trim levels: S, SE, Sport and SEL.
Alternative cars
Peugeot 407 Larger than life 407 is good to drive but no Volkswagen in the quality department
Ford Mondeo Default fleet favourite for some. Lacks premium image but is well equipped for the price
BMW 3 Series German wundercar is incredibly popular, but is a pricey alternative
Honda Accord Japanese exec saloon is classy, refined, well built and a decent drive