March 2012
Volkswagen Passat Alltrack 2.0 TDI 170
Familiar Passat is largely unchanged for the Alltrack variant
March 2012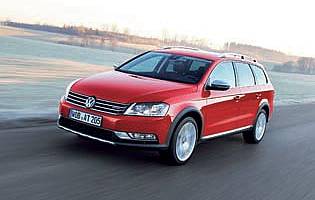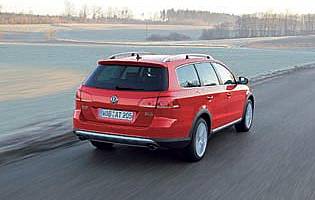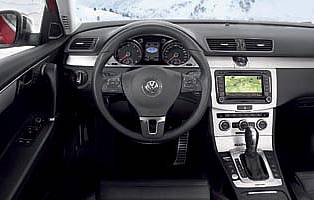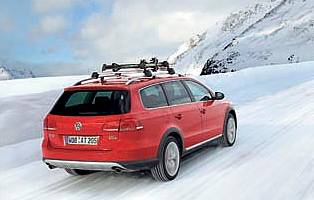 Overall rating

Likes:
Conservatively styled inside and out
General refinement and noise levels are impressive
Extra grip delivers safe and aecure driving experience
Excellent ride comfort largely unchanged despite increased ride height
Gripes:
Low-key design inside and out might be too subtle for some
Only availabe in estate bodystyle
Diesel only choice for the UK market
A brisk car in the right hands but not one for keen drivers
With so many of the industry's traditional market sectored reaching saturation point, savvy car makers have turned to creating niche markets in a bid to attract or retain buyers. With the leisuire market having mushroomed in recent years, the SUV has become a popuular choice. But what if you don't want a high-rise hatchback? Volkswagen's hopes it has the answer with its Passat Alltrack.
For many the SUV or 'soft-roader' is a great choice if you lead - or aspire to - an active lifestyle. However, not everyone wants to grapple with the extra bulk, no matter how inviting the lofty driving position is, despite the desire for a car with some level of total traction. The Passat Alltrack aims to combine the best of both worlds: all-wheel drive with a more managable driving and ownership experience.
The Passat Alltrack isn't the first car made to challenge the SUV's supremecy. Subaru's original Forester and Audi's Allroad - first the A6, then joined by the smaller A4 -are all masters at the 'estate on steroids' look. Volkswagen's offering isn't a s rugged as the old Forester, and sits below the Audi products in terms of price and brand image.
Cynics will say this is an Allroad lite, and to a certain extent they will be correct. This is no bad thing, however, as it's easy to spend a small fortune on one of the Audis. The Passat, on the other hand, strikes a sensible balance between affordability and refinement. Inside it's just like a regular Passat, which means exceptional build quality and refinement. Add the car's clever all-wheel drive system and a modest hike in ride height and there's potential for measured driving over rutted and slippery terrain and confidence inspiring towing.
In every other respect, the Passat Alltrack is no different to a regular estate variant. There's plenty of load space with the rear seats up or down, and the tailgate opens high to make loading straightforward. Up front there's no shortage of space for occupants and the cabin ambience easily matches more expensive cars even if it's a bit on the dark side.
Our verdict on the Volkswagen Passat Alltrack 2.0 TDI 170
By offering a modest, diesel-only line-up, Volkswagen has concentrated on the Passat Alltrack's strengths. For some this will be an 'anti SUV' as a car with a regular driving position and on-road dynamics, but with plenty of interior space and the all-important four-wheel drive is what they need. For others the Alltrack offers all-weather, all year round safe and refined motoring without the Audi price premium. Whichever whay you look at the Alltrack, it's a niche car with considerable appeal.
Costs
For a car of this size, the diesel-only Passat Alltrack boast respectable fuel economy thanks in part to the switchable all-wheel drive system, although this will be depleted slightly when carrying a full load of passengers and luggage. Modest insurance groupings are good for this size of car, and the level of standard equipment is high.
Space and practicality
It's no surprise that the Alltrack is an estate car-only option, as the regular Passat load-lugger offers a good lvel of practicality and versatilty. Ideal for leisure pursuits or gerneral load-lugging when the conditions turn sour, the Alltrack is a good compromise between estate car and 'soft-roader' SUV. Up front in the cabin it's just like a Passat, which means plenty of oddment storage and covered sace for valuable items.
Controls and display
Like with so many Volkswagen models, this is an area where the Passat Alltrack excells, thanks to a combination of good design and intuitive controls. The fascia layout is clear and straightforward, requiring little familiarisation. All the major controls require little effort, with the steering offering a good level of assistance at low speeds.
Comfort
Just like the rest of the Passat range, the Alltrack delviers above average levels of refinement and space. Exterior noise is pleasingly low, while there's little chance of occupants clashing elbows in the front or the back. Supportive seats and easy to use controls complete the package.
Car security
With its sturdy-looking load cover, the Passat Alltrack offers a good level of protection for valuables stored in the car's boot. In the cabin there's enough covered oddment storage space for most people, while Volkswagen's usual electronic anti-theft system ensures all-round protection.
Car safety
As a potential family car the Passat Alltrack has a high standard of safety, with design elements and safety systems designed to provide maximum protection. There's no shortage of airbags and electronic traction aids, plus don't underestimate the value of the car's aprt-time all-wheel drive system, which offers an intelligent approach to grip control.
Driver appeal
The Passat range boasts a level of refinement and comfort that's hard to beat in its market sector. And while keen drivers might be dssapointed, this is its trump card. The Alttrack variant retains these attributes and adds a modest level of off-road capability due to a slightly riased ride height, while the part-time all-wheel drive system allows drivers to tow or traverse wet and low grip surfaces with greater confidence. And in diesel-only form, the Alltrack offers good levels of torque and economy.
Family car appeal
As a compromise between an SUV and a conventional estate car, the Passat Alltrack is a reasonable alternative choice fr families. The car's go (almost) anywhere ablilty matches some of the more popular SUVs out there, while its load area offers a similar level of versatility. Only the car's plush interior is at odds with the sticky fingers and dirty shoes of very young children.
First car appeal
Given its size, the Passat Alltrack is unlikely to be popular amongst first time buyers. It is, however, an easy car to drive and a medium insurance grouping would make it a viable car for more affluent first timers.
Quality and image
With the passing of time the Passat has evolved into a premium car in all but name. From the dignified exterior appearance to its high quality cabin, the intelligence choice of trim materials tops off an experience that easily rivals more expensive cars. And this subtle but effective policy appears to be a hit with buyers, especailly those seeking an upper class experience without having to pay over the odds for a comparable rival.
Accessibility
With its four wide-opening doors and generously dimensioned tailgate, access to all areas of the Passat Alltrack is straightforward. The relatively high roofline and wide footwells allow adults of all sizes to gain entry easily, while the boot space is long and wide, and the tailgate is free from awkward shapes hindering access.
Stereo and ICE (In car entertainment)
The rcombined adio/CD unit fitted as standard to the Passat is simple to operate, thanks to a large display screen. The sound quality is also very good, while the sat-nav option is intuitive thanks to the touchscreen controls. Factor in Bluetooth and MP3 connectivity and all the bases are covered.
Colours and trim
With its familiar glossy paint finish and sublte bash-proof plastic wheel arch protector, the Passat Alltrack cleverly blends the premium touches we know with the necessary accessories to ensure the Alltrack is protected when you leave the main road. There's no hint of its rugged personality in the cabin though, as the car's plush seats and upmarket fascia are pure Passat.
Parking
The Alltrack's default estate bodystyle does give it an advantage over a regular Passat saloon, as the straight-down tailgate offers better rearward visibility for parking. Add the steering's high level of assistance at low speeds plus the parking sensors and the optional self parking function and it's an easy car to live with despite its size.
Spare wheel
Emergency repair kit located under the boot floor.
Range information
Diesel engine options - 2.0-litre (140bhp, 170bhp). Transmission options: six-speed manual gearbox for 140 variant and six-speed DSG gearbox for 170 variant. Trim level dependent on engine choice.
Alternative cars
Skoda Octavia Estate body and all-wheel drive offers a similar experience
Vauxhall Insignia Sport Tourer Conveional car with 4x4 option good for towing and British winters
Audi A4 Allroad Similar principal but you sacrifice some space for for the premium badge
BMW X1 Conventional compact premium SUV alternative