Volkswagen Passat Alltrack
Good off-road capability
April 2017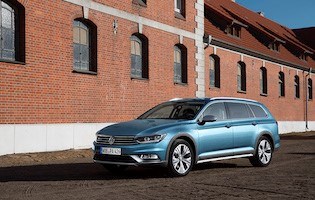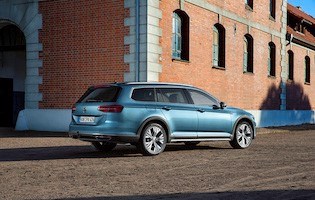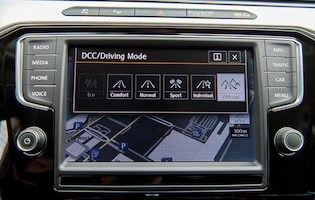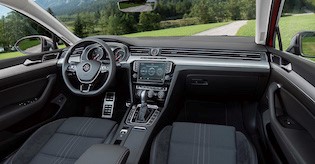 Overall rating

Likes:
Chunky looks
Good off-road capability
Low running costs
Solid build quality
Gripes:
More expensive than standard Passat
Engine sounds gravelly when cold
Interior lacks excitement
Can't quite match standard Passat for economy
In a time where crossovers and SUVs are becoming the norm, the humble estate car is having to work harder than ever to compete. Enter the Passat Alltrack. With better off-road capability and chunkier looks than the standard car, it should appeal to those who have a more active way of life. However, it still offers good levels of efficiency and practicality.
The Passat Alltrack takes the standard estate car, and offers better off-road handling and more rugged looks. It also gets raised suspension and bigger front and rear bumpers designed to give it a little more presence both on and off the road. It also receives part-time four-wheel drive, which should offer more than enough capability for the average driver.
Inside, it's trademark Volkswagen. Everything is put together impressively well, though we can't say it's hugely exciting. All elements inside the cabin work how you'd want them to, while the infotainment system is simple to use and responsive, too. It's a good looking cabin, and one that those who drive any current-generation Volkswagen car will be familiar with.
In terms of powertrains, there's not a huge amount to choose from. There's just one engine on offer, though it can be had in either 148bhp or 187bhp power outputs. The former is only available with a six-speed manual gearbox, and the latter with a DSG automatic. That said, both get four-wheel drive technology as standard.
As mentioned earlier, the car's ride height has been raised – by a hefty 28mm over the standard car. You also get 18-inch alloy wheels exclusive to the Alltrack, and these help give the car a bit more of a visual impact. It's a good looking car in general, though the base Passat wasn't an ugly car whatsoever.
Our verdict on the Volkswagen Passat Alltrack
If you're looking for a comfortable, smart and well-specified alternative to a crossover, then you could do much worse than choose the Passat Alltrack. It's very practical, and thanks to four-wheel drive and a raised ride height, it's more capable off-road than you'd think. Yes, it does cost slightly more than the standard Passat, but it also offers just a bit more than the base car. The 2.0-litre diesel engine that comes with the car gives the Passat good economy levels, too.
---
Costs
Running costs for the Passat Alltrack won't be too high. Yes, the larger alloy wheels will mean that tyre replacements will be more common than usual, but for the most part there won't be too many shocks. Volkswagen claims that it will return 57.6mpg on a combined cycle, which is ideal for those who want to keep fuel costs down. Replacing consumables like brake pads won't be extortionate, either.
Space and practicality
As an estate, it'll come as no surprise that the Alltrack is a very practical car. That said, it can't offer quite as much space as the standard Passat thanks to its four-wheel drive system. It can offer 639 litres of boot space with the rear seats in place – 11 litres less than the standard Passat – and this rises to 1,769 litres when you fold the rear seats flat. The load area that comes when you do fold down the back seats is flat and square, making it ideal for larger items like flat-pack furniture.
Controls and display
All of the controls in the Passat Alltrack are very solid. The large rotary dials that control heating and ventilation are easy to operate, while the buttons at the side of the touchscreen have plenty of ruggedness to them. A neat touch is the clear analogue clock at the top of the central column – a refreshing change from the usual digital readouts.
Comfort
The Passat Alltrack is a very comfortable car. As mentioned earlier, it does suffer from a harsh ride at some points, but for the most part it's an ideal long-distance cruiser. The seats offer plenty of support, while the engine – though a touch grumbly when cold – soon calms down and makes very little noise. Overall, it's a quiet and refined car to drive, which is good for those who are planning on using it to travel a lot of miles.
Car security
As standard, the Passat Alltrack gets an electronic engine immobiliser, as well as central locking and an alarm with interior motion detector. It's a very secure car, which means that there shouldn't be too much anxiety related to leaving it parked on the street. The Passat is somewhat of a household name, too, and are regularly seen on the UK's roads. As such, the Alltrack shouldn't draw too many unwanted glances towards itself.
Car safety
The standard Passat was awarded five stars in the Euro NCAP crash tests back in 2014. It did very well across the board, scoring 85 per cent for adult occupant protection and 87 per cent for child protection. Pedestrian protection scores were somewhat lower, though, at 66 per cent. It's worth remembering that even since 2014, the crash tests have become more thorough, which could mean that the Passat wouldn't perhaps score as well when compared to modern cars.
Driver appeal
Though good to look at and easy to access, the Passat Alltrack isn't a car that you feel a strong urge to drive. That said, when you do get behind the wheel, it proves to be slightly more entertaining than you'd think. There's a good amount of weight to the steering, while the torquey engine provides loads of shove – ideal for overtaking. The ride isn't too bad either, though it translates a surprising amount of inconsistencies in the road through to the cabin – blame the large alloy wheels for this.
Family car appeal
The Passat Alltrack is a great choice for families. It's practical, well-made and should be able to live up to the rigours of daily family life. Greater off-road capability means that it should be better suited to weekend adventures too, while its standard roof bars give greater levels of storage flexibility.
First car appeal
The Passat Alltrack may not be the best choice for first time drivers. Firstly, its 2.0-litre turbocharged diesel engine is relatively powerful, which will mean high insurance premiums for those who have just passed their tests. It's also quite large, making it a bit more of a challenge to drive for those who have been used to smaller learner-friendly cars. All in all, it's a difficult car to recommend to those who are just starting out on the roads.
Quality and image
The Passat's image is a dependable one. Though Volkswagen's reputation has been tarnished somewhat by recent emissions-related scandals, there's no questioning that the German manufacturer is still making reliable, well-built cars. The Passat Alltrack is no different – each element of it is solidly put together. Most of the interior materials feel of a good quality, though there are some harder plastics used lower down the cabin.
Accessibility
Thanks to that raised ride height, getting in and out of the Alltrack is pretty simple. The seat bottoms are relatively flat, too, meaning that there aren't any substantial bolsters to clamber over, either. All of the doors have relatively large apertures, which give good levels of accesbility to both the front and rear of the car.
Stereo and ICE (In car entertainment)
As standard, Alltracks get a 6.5-inch touchscreen system, housing satellite navigation, media functions and smartphone connectivity. The system is easy to operate – as we've come to expect from Volkswagen infotainments – and inputting destinations is a breeze. Pairing your phone is simple too, and this allows you to play music directly from your device through the car's system wirelessly. It's a very user-friendly system, and one which takes little time to get accustomed to.
Colours and trim
The Passat Alltrack costs from £31,915, but comes with a good amount of equipment as standard. Even without ticking any option boxes, it comes with 18-inch alloy wheels and matt chrome-plated roof rails. It's a chunkier looking car than the standard Passat, and there are plenty of colour options to choose from if you'd like to liven up the car's exterior even more. The raised suspension helps beef up its appearance even further, too.
Parking
As standard, the Passat Alltrack comes with front and rear parking sensors, which give audible and visual alerts about potential hazards. Our test car came with an optional extra that really benefits parking – Area View. This uses front, side and rear cameras to generate a 360-degree view of the car's immediate area, allowing you to see clearly the entire exterior of the vehicle. It's an option well worth picking, though it is expensive at £780.
Spare wheel
Emergency tyre repair kit supplied as standard.
Range information
Petrol engine options: 2.0-litre turbocharged diesel, (148bhp, 187bhp). Transmission options: Six-speed manual, DSG automatic. Trim levels: Alltrack.
---
Alternative cars
Skoda Octavia Scout Good looking, and a well-priced option too.
Seat Ateca Entry-level SUV with good off-road capability.
Subaru Levorg Good practicality levels, but no diesel option.
Audi A6 Allroad A more premium offering, yet feels worth the money.