April 2006
Volkswagen Jetta 2.0 SE TDI
Stylish Jetta mirrors the conservative styling of the larger Passat
April 2006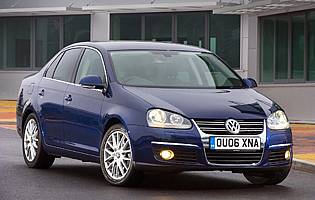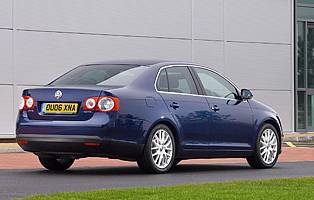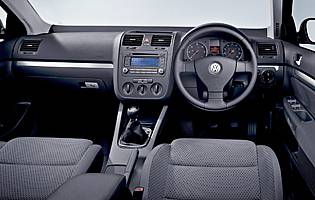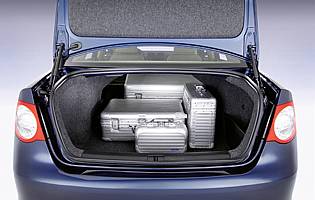 Overall rating

Likes:
Impressive build quality
Spacious boot boasts easy access
Rear seat occupants don't feel cramped
Diesel engine performance easily shades that of the petrol variants
Gripes:
It's still a Volkswagen despite the premium touches
Some might perceive the Jetta to be too similar to the Passat
Cabin design is modest and ambience is the usual dark VW affair
Compact saloon format not universally popular
To replace the Bora, Volkswagen returned to a name from the recent past for its Golf-like compact saloon. The German company's latest generation Jetta boasts premium sector levels of refinement, yet manages to distance itself from the cutthroat battle between BMW, Audi and Mercedes with their compact executive offerings.
The compact saloon has been something of a minority player in the UK market. Unless it's sported a premium badge, few potential buyers shown any real interest in the concept. One such car that has, relatively speaking, bucked this trend is Volkswagen's Jetta and the Bora before it.
The Jetta name has become synonymous with the compact saloon sector, although not so long ago VW chose the Bora moniker to spearhead its low-key challenge to the likes of BMW and Audi. This latest iteration has reverted back to the Jetta name, in deference to VW's decision to promote the Jetta as a 'world car' and bring it into line with the more prosperous North American market.
What you get is essentially a Golf with a boot. While that has largely been the case in the past, this time the transformation positions the Jetta closer than ever to the only slightly bigger Passat. Like the Passat, the Jetta shares the larger car's trademark bright and polished grille. And in a more modest way, the Jetta also shares the version of the Passat's sculpted rear and circular light clusters.
The Jetta's cabin sees influences from the Golf - a car closer to the compact saloon's roots. The interior space is, despite the usual VW dark ambience, a welcoming place thanks largely due to the room available. Compact in name only, the Jetta is a sizeable car and this is also true of its capacious boot.
Our verdict on the Volkswagen Jetta 2.0 SE TDI
If you are attracted to high levels of build quality and refinement but don't subscribe to the trend for putting badge above ability, VW's Jetta makes a compelling proposition. It's closer in character to the traditional small executive saloon offerings than VW might want to admit, but it carries none of its rivals' badge snobbery baggage.
Costs
As far as compact saloons go, the Jetta could never be described as a bargain. That said, it is well built and should boast good resale values. Reliability is another VW strong point, ensuring maintenance is of the scheduled kind. Opt for a diesel variant and further savings can be made.
Space and practicality
Feeling very much like an extended Golf from the inside, the Jetta boasts enough room for four adults. Oddment space is also good; door bins are a good size as is the glovebox, while the centre console can also store a few small items. The Jetta's boot opens wide with little effort, and reveals a deep loadspace able to swallow enough luggage for a full complement of adult passengers. An added bonus is the ability to fold (almost) flat the rear seats.
Controls and display
In typical VW fashion, all the major controls are clear, intuitive and placed where you'd expect them to be. The car's main dials are large and bright and, where fitted, the trip computer is comprehensive and useful. The manual gearshift is short and precise, while the handbrake requires little effort. Only the over-complex optional sat-nav unit is the exception to this rule.
Comfort
Plush but supportive seats plus a general absence of road and wind noise make the Jetta's cabin a relaxing environment. Granted, the 1.9 TDI diesel engine can make its presence felt at high revs, but that's the only real criticism. Cabin room up front is good while those in the back will rarely feel the squeeze either - the Jetta is only a fraction smaller than a Passat after all.
Car security
Remote central locking is standard on the Jetta, along with an immobiliser package. A clever detail includes concealing the door locking buttons, so as not to alert the presence of an unlocked car to thieves. A visible deterrent such as a steering lock is a sensible addition, although VW does offer various extra cost tracking devices for added peace of mind.
Car safety
The safety provision in the Jetta mirrors that of the larger, more upmarket Passat. Twin front, side and curtain airbags are all present, along with the predictable bundle of anti-lock brakes and electronic stability aids. In reality the car is not the type that will prompt a driver to 'push the envelope' but it's reassuring to know help is there if it all goes wrong.
Driver appeal
For all Volkswagen's bravado about being a producer of stylish cars boasting a premium feel, the driving experience lags a little behind. There is a slight aloof feel to the Jetta, be it through the steering or throttle response. There's no questioning the car's ability to isolate road imperfections - Sport models fair less well, though - while the diesel engines are both frugal and willing.
Family car appeal
A Touran might be a better bet for transporting a family and their stuff, but the Jetta is not completely out of its depth in this situation. Its boot is a good size and rear cabin room is acceptable, although loading and retrieving pushchairs from the former might sometimes prove a little tricky. And unlike a Touran, you don't get any fancy folding seats or over-large oddment storage spaces.
First car appeal
Although not an obvious first car, the Jetta should prove easy to drive, while it boasts good forward visibility and can be had with modestly powerful engines to keep running and insurance costs down to sensible levels.
Quality and image
It's difficult to ignore the achievements made by VW in the quality department in recent years. More Audi-like in construction, modern Volkswagens are exceptionally well built - and the Jetta is no exception. Image-wise the brand is a popular one, a factor that's been helped by upmarket and sophisticated advertising campaigns.
Accessibility
Front seat occupants should have no problems - the Jetta's doors open wide, its roof is not too low and the seats can be adjusted so you slide across not down into them. For a so-called compact saloon, rear seat passengers benefit from decent access. The doors don't open quite as wide but entry and exit is a largely dignified affair. At the rear, the Jetta's boot sill is at an acceptable height and the loading aperture is a good size.
Stereo and ICE (In car entertainment)
The standard audio package works well, and the controls are intuitive and easy to use. Sound quality is also good, as is the unit's location - high in the central fascia. Upgrades include a CD changer and satellite navigation. The latter boasts a large colour screen and clear map graphics, but the button layout and control logic could be better.
Colours and trim
As with any modern Volkswagen, classy, subdued metallic exterior colours work the best. Such a choice will also do no harm to future residual values. It's worth remembering that lighter shades better compliment the car's grille. Inside the Jetta is a typical VW - there's lots of dark plastic in the cabin.
Parking
The Jetta is not an overly large car, making it relatively straightforward to manoeuvre in small spaces. However, the saloon format means that reverse parking requires extra care as you can't quite see where the boot ends. Thankfully, the speed related steering increases its assistance considerably at low speeds. Parking sensors are model dependent cost options.
Spare wheel
Space saver fitted as standard.
Range information
Engine options - 1.6-litre (115bhp) petrol; 2.0-litre (150 and 200bhp) petrol; 1.9-litre (105bhp) diesel; 2.0-litre (140bhp) diesel. Six-speed manual gearbox is standard fit (five-speed for 1.9 diesel). Auto gearbox is optional: conventional six-speed unit for 150bhp 2.0-litre petrol, semi-auto DSG for all others - not 1.6 petrol. Trim levels: S, SE, Sport.
Alternative cars
Lexus IS Well built and equipped premium alternative. Good value, too
Ford Focus saloon Mainstream alternative lacks premium feel and is not as spacious
Honda Accord Polished performer boasts impeccable build quality and engaging driving experience
Volvo S40 Compact S40's cabin is small and ambience is a little stark