Volkswagen Golf R
4WD gives exceptional traction
May 2017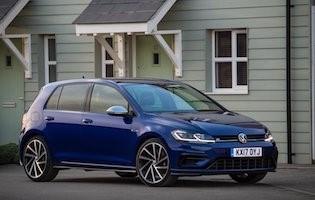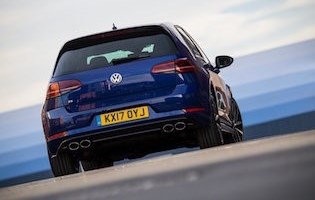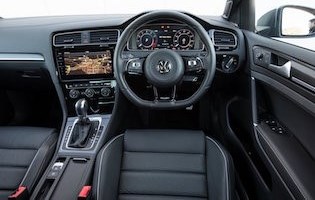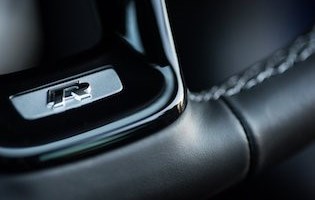 Overall rating

Likes:
Accessible performance
Understated looks
Four-wheel-drive gives unparalled traction in slippery conditions
Good levels of practicality
Gripes:
Some may find looks too plain
Exhaust note isn't as exciting as it could be
Lacks excitement offered by rivals
Some may find the ride a touch too harsh
There are few cars as accomplished in all conditions as Volkswagen's Golf R. Using a four-wheel-drive system, it offers huge amounts of grip in a practical and good-looking package. Now, the German manufacturer has updated the R, bringing its interior up to date as well as pushing the engine's output over the 300bhp mark. However, can these changes improve the already successful package? Let's find out.
The Volkswagen Golf R is designed to be all things to all people. This latest model is now faster, more efficient and laden with more technology than the previous generation. At the heart of the changes lies a performance boost. Whereas the older car had a considerable 296bhp, this new version packs 306bhp and, though this may not sound like much, it's enough to shave the R's 0-60mph time down from 4.8 seconds to 4.3 seconds.
Inside, the R now benefits from the excellent TFT screen housed within the main instrument binnacle that we've seen on other Volkswagen Group cars. It's a system that impresses in every car it's fitted to, and gives quick and easy access to functions such as satellite navigation and media controls. Our test car also came fitted with the optional 9.2-inch colour touchscreen system in the centre of the car's dashboard and this, as are the majority of the controls inside the R, is a delight to use.
The exterior of the R remains relatively unchanged compared to the previous-generation car. It now benefits from LED lights at the front and rear, as well as redesigned bumpers and side skirts. In truth, the Golf R's styling was always a masterclass in subtlety, and this new car is just the same. It's difficult to tell apart from a standard Golf – save for the four menacing-looking exhaust pipes at the back of the car.
The Golf R is available with either a six-speed manual or dual-clutch automatic transmission. While the auto shifts sweetly and reduces the car's 0-60mph time, we'd advise sticking with the manual. It's a smooth and easy to operate 'box, and gives a greater sense of connection between driver and car. It's just over £1,000 cheaper, too.
Our verdict on the Volkswagen Golf R
The previous-generation Golf R was a superb all-rounder, and this updated version is just as good. With four-wheel-drive on offer, it's well suited to British weather, and the level of performance it has to offer is sure to put a smile on your face regardless of the road you're on. It's a touch soulless at times, but for an everyday performance hatch it's hard to beat.
---
Costs
Given its performance, costs for the Golf R shouldn't be too high. Volkswagen claims that you'll see 40mpg on a combined cycle, though in a reality this figure is likely to be closer to 35. The Golf range has a strong reputation for reliability and the R should be no different, so servicing costs will only be for routine work. Cars fitted with larger wheels will command higher replacement tyre costs, of course.
Space and practicality
This is where the Golf R has a secret card up its sleeve. Though its boot space is cut slightly by its use of four-wheel-drive, the R still has plenty of room for luggage, while there are all manner of cubbies and water bottle holders up front. As a five-door it's well suited for carrying five people at a push, though it's far more adept at taking four. It does mean that the Golf is more rounded than you'd think, and better suited to day-to-day life than you'd expect.
Controls and display
All of the controls fitted to the Golf R exude the robustness that you expect to find in a Volkswagen product. The screens are also impressively sharp, clear and easy to read at all times. The main TFT screen ahead of the driver is also very easy to operate, with controls mounted to the steering wheel ensuring that entering postcodes or changing a song remains a simple task.
Comfort
Thanks to its lowered ride height and large alloy wheels, it'll come as no surprise that the Golf R's ride is really rather firm. It can feel especially brittle around town, but becomes more composed when travelling at speed. It deals well with undulations in the road, though tyre tracks left by lorries in the road can see it tramlining at times. The sports seats are hugely supportive, however, and this means that you have few aches and pains after even longer journeys.
Car security
The Golf R comes fitted with central locking and an internal alarm. Its understated looks will also do well to keep prying eyes away from it. When parked up at night, it looks pretty much like any other Golf in the range, which will do well for its security levels.
Car safety
The 2012 Golf, upon which the current car's platform is based, scored very well in the Euro NCAP crash tests, returning five stars. It also scored highly for adult occupant safety with 94 per cent, along with 89 per cent for child occupant safety. In terms of assistance safety systems it did well, returning a score of 71 per cent. Volkswagen has also worked to update the systems included in the Golf, meaning that it's still a very safe place to be.
Driver appeal
Despite its understated appearance, the Golf R is a very appealing car to drive. The driving position is spot-on, aided by a steering wheel with plenty of adjustment. The gearbox has a slick action to it, while the pedal weights are well-judged, too. The level of grip that the R can generate is barely believable, and this is regardless of the conditions. Even in the wet, the Golf refuses to become unstuck, and this makes it into a car that you'll drive harder each and every time.
Family car appeal
With five seats and a good amount of luggage space, the Golf R is a pretty good family car option. It's only downside comes in its economy. In everyday driving you'll struggle to see over 35mpg, and this could mean that running costs will be high for those who need a car for a variety of family journeys. However, if you do need more space then there is an estate version, offering better levels of practicality.
First car appeal
Though Golfs have traditionally been a go-to first time car, the R really can't be included in this. With its powerful 2.0-litre engine it'll command very high insurance premiums, while its performance will be at a level that may catch many a first-time driver unawares. Though it's practical, it's simply not a realistic car for those who have just passed their tests.
Quality and image
The Golf's image is one of rock-solid dependability and build quality. Yes, Volkswagen's reputation has been dented by the company's emissions cheating scandal, but it's still creating cars that look good, drive well and are very well made both inside and out. The R is an extension of this. It's interior is well built, with all of the controls and dials working with a level of robustness that you don't find in other cars in this segment.
Accessibility
The Golf R, particularly in five-door layout, is a very easy car to access. With wide door apertures, getting in and out isn't tricky. The car's slightly lowered ride height may make it slightly trickier to enter for some people, but in truth it isn't any more difficult than in a standard Golf. The boot is easy to access too, with a lid that isn't too heavy and therefore simple to open.
Stereo and ICE (In car entertainment)
As standard, the Golf R comes with lots of in-car technology. There's the previously mentioned 12.3-inch TFT screen in the dashboard, and this incorporates a range of customisable menus designed to aid the driver without making them look away from the road for more than a few seconds at a time. There's also Bluetooth connectivity included as standard, allowing for easy synchronisation between a smartphone and the car's system.
Colours and trim
As with any Volkswagen, the R is available with a wide variety of options for both the interior and exterior. It also benefits from unique bumpers at both the front and rear of the car, as well as a small boot spoiler that helps give an indication of the car's sporting nature. Subtle 'R' badges are dotted across the car's body, too, though they do little to make the R stand out against other Golf cars.
Parking
As the R is based on the conventional Golf platform, parking it is really rather easy. It's quite square in design, and large wing mirrors and good levels of all-round visibility ensure that positioning it doesn't take too much thought. It comes with parking sensors at both the front and rear as standard, too, with a visual display accompanied by audible alerts both making reversing or parking the R simple.
Spare wheel
Emergency tyre repair kit supplied as standard.
Range information
Petrol engine option: 2.0-litre turbocharged petrol. Transmission options: Six-speed manual; dual-clutch automatic. Trim levels: One trim level.
---
Alternative cars
Mercedes-AMG A45  One of the most powerful hatches on sale, but interior is starting to show it's age.
Seat Leon Cupra 300 Similar layout to the Golf, but cheaper.
Honda Civic Type R Wildly overstyled looks, but replacement is on the horizon.
Audi RS3 Hugely powerful, and packs four-wheel-drive too.