June 2013
Volkswagen Golf GTD 2.0 TDI 5dr
GTD offers best of both worlds: performance and sensible running costs
June 2013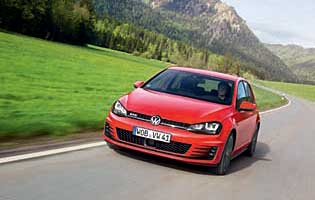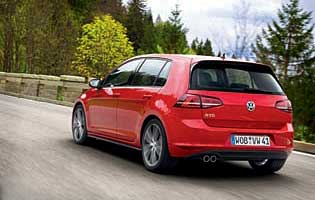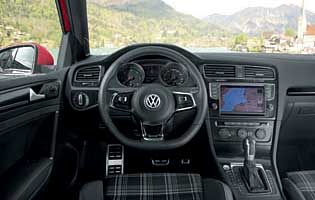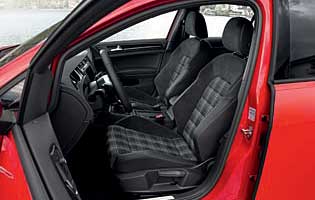 Overall rating

Likes:
Frugal and powerful engine is impressive
High level of cabin refinement
Good standard specification
Strong mix of abilities makes for good all-rounder
Gripes:
Sports suspension can harm ride quality on urban roads
Looks may be too plain for some
Sombre cabin lacks visual sparkle
Petrol GTI potentially a niche choice given GTD?s talents
In its seventh generation, Volkswagen's Golf has evolved into a strong all-rounder. VW has also boosted the range's environmental credentials while continuing to increase performance across the range. Nowhere is this more obvious than with the firm's diesel GTD variant, a sensible but no less potent alternative to the iconic petrol-powered GTI model.
With the supremely capable GTI as a stablemate, VW has created a sporty feel for the GTD to mark it out from regular diesel-powered Golfs. Visually a discreet choice, the differences are most notable from the front, with the GTD gaining a GTI-esque nose, plus a subtle bodykit and GTI trademark large alloy wheels.
Inside, the GTD's cabin is closer to that of the GTI, what with the presence of check upholstery, sports seats and a chunky steering wheel. In reality all that's missing is the GTI badge. As you'd expect, the remainder of the cabin meets the high standard of quality and design seen in other Golf models.
Available in three and five door form, the GTD can also be had with VW's super-slick direct shift DSG gearbox. In this application it also comes with paddles mounted on the back of the steering wheel, allowing the driver to shift manually without touching the gearlever.
Overall, the GTD delivers a smooth yet deceptively rapid driving experience without the usual quirks of a high-revving petrol hot hatch. Cabin refinement and the general lack of noise is pleasingly good, while the 2.0-litre diesel engine's ample power and torque reserves ensure you never have to work hard to drive enthusiastically. Furthermore, the car's firm but compliant suspension set-up ensures a high level of comfort on all but the poorest of urban roads.
Our verdict on the Volkswagen Golf GTD 2.0 TDI 5dr
There's no denying that the seventh generation Golf is a supremely competent car. In GTD guise this is raised a few notches thanks to the flexible and refined nature of the car's smooth diesel engine and transmission. That the performance is easily accessible encourages the driver to regularly exploit the motor's rich seam of torque. Factor in the car's frugal behaviour, even when driven hard, and the GTD also makes financial sense for thrill-seeking business users.
Costs
In isolation the GTD isn't a cheap option but it offers most of the GTI?s abilities for less in terms of fuel consumption, emissions and, crucially, reduced running costs. Business users seeking a performance car can confidently choose the GTD knowing they'll pay less than for a GTI equivalent, for example.
Space and practicality
As you'd expect, the GTD is just as practical as a regular Golf, with good levels of head, leg and elbowroom for front and rear passengers thank to its generous sized cabin. There are also useful storage areas throughout the interior, while the rear seats easily fold to liberate extra rear load space when required.
Controls and display
As the Golf has evolved its various cabin displays and controls have also improved. This seventh generation car boasts a dominant touchscreen infotainment system plus clear and crisp dials for the driver. Everything operates with a reassuring slickness, and the touchscreen proves to be an intuitive interface. On the whole, exactly what you expect a Golf to be.
Comfort
Good quality sports seats deliver a high level of support, and although road noise is unlikely to disturb passengers, there is a little wind noise at higher speeds. The firm suspension means that the ride quality on broken roads can be a little bumpy, but this never becomes a major discomfort. Cabin width is such that you're unlikely to be bumping elbows with fellow passengers.
Car security
The usual suite of kit is present here, which means a convenient remote central locking system plus comprehensive anti theft protection in the form of an immobilizer and cabin intruder-sensing technology.
Car safety
No corners have been cut in this department, with the Golf GTD benefiting from a comprehensive range of passive and active safety kit. Given its performance potential, it's good to see the focus is on maintaining stability and traction, although keen drivers can turn things off if they're confident of their abilities.
Driver appeal
In diesel form the GTD offers remarkable acceleration thanks to the high torque output, and it is very easy to make rapid progress. This also makes urban driving pleasurable, as very little effort is required to sail along on the engine's ample torque. Choosing the DSG gearbox over the manual item reinforces this experience. The firmer suspension benefits the handling, reducing roll and increasing grip, although the penalty for this is a less absorbent ride on poor quality urban roads.
Family car appeal
As with any modern Golf variant, an important attribute of the GTD is its ability to combine performance and practicality in one package. It might not be able to complete directly with a people carrier, but there is sufficient passenger and luggage room, and it has the ability to cover distances briskly with ease and in comfort. Indeed, the GTD's strength is that it can perform the family role while still being an entertaining drive when conditions allow.
First car appeal
The GTD's performance and expense over that of a regular variant may make it prohibitive for new drivers. That's not to say it?' a hard car to drive - far from it thanks to intuitive controls and good forward visibility.
Quality and image
VW's usual reputation for high quality is maintained in the GTD, with high standards of fit and finish throughout. A strong sense of good design is also evident, giving the car an aura of high quality. The GTD's image benefits from that of the GTI, although in diesel guise this car will no doubt be perceived as the sensible option.
Accessibility
In five-door form the GTD is a simple vehicle to enter and exit from, for both front and rear passengers. Wide door openings are a big help, as is the relatively high roofline. With more room inside the cabin, it's noticeably easier to access the rear seats. At the back the car's tailgate requires little effort to operate.
Stereo and ICE (In car entertainment)
The standard audio unit fitted to the GTD is simple to operate and provides clear reception and good audio playback. Controls on the steering wheel and a display between the instruments also make the unit easy to operate on the move. The touchscreen is responsive and, if you opt for the premium unit, is a vast display.
Colours and trim
Much of the interior is identical to that of the regular Golf GTI, and it's good to see both quick petrol and diesel models treated equally. Externally the usual choice of colours is available, with the most flattering being the brightest and boldest hues.
Parking
The Golf GTD is no more difficult to park than a regular Golf, with only the thick rear pillars that restrict vision slightly worth noting. Parking sensors are a welcome addition, as is the car's light steering at low speeds.
Spare wheel
Tyre mobility kit fitted as standard.
Range information
Petrol engine options - 1.2-litre (85bhp, 105bhp); 1.4-litre (122bhp, 140bhp); 2.0-litre (220bhp). Diesel engine options - 1.6-litre (90bhp, 105bhp, 110bhp); 2.0-litre (150bhp, 184bhp). Transmission options: five-speed manual, six-speed manual, six-speed DSG, seven-speed DSG. Trim levels: S, Bluemotion, SE, GT, GTD, GTI.
Alternative cars
Ford Focus Strong diesels and fine chassis but no sporting diesel combo
Vauxhall Astra Radically styled Astra is fun to drive but cabin lacks visual appeal
BMW 1 Series Premium choice delivers for keen drivers and penny-pinchers alike
Audi A3 Behind conservative looks lurks an impressive all-rounder