Volkswagen Golf GTD Reviews
Style and substance in equal measure
February 2012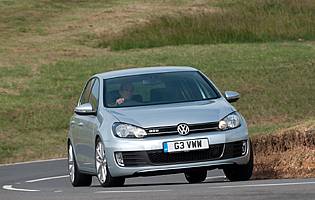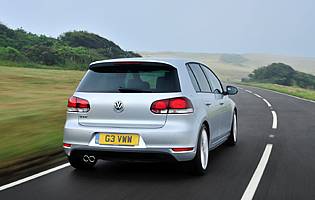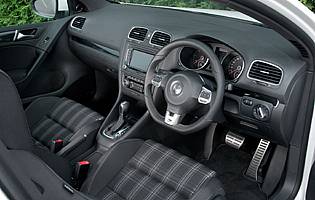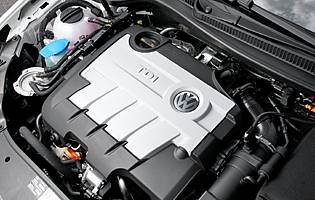 Overall rating

Likes:
Quiet, refined diesel engine even from cold
High-quality interior feels extremely solid
Suspension offers a good balance of control and comfort
Comfortable seats also offer good lateral support in corners
Gripes:
Fascia and centre console look a little dated
Powerful engine suffers from lag at lower revs
Modest equipment list for the price
More expensive than Skoda and Seat sister cars
The Golf GTD arrived just as the British public's demand for diesel cars finally began to dominate the market, and during a period of sustained success for the Golf. The move was masterfully timed, and while the car has been marketed to make the most of its association to the petrol GTI, it's a remarkable machine in its own right.
The Golf range is one that encompasses a number of body styles, engine options and gearboxes. The one thing the range was missing prior to the launch of the GTD was a flagship diesel model, and with diesel becoming first choice for millions of motorists the opportunity to plug the gap was too obvious for Volkswagen to ignore.
It's effectively a standalone model, but under VW's 'performance Golf' umbrella that also includes the GTI and the R. There is just one engine and one trim level, to which a full spectrum of options can be added at the buyer's behest. There is a choice of gearboxes but the standard specification of the GTD is all but fixed.
The model follows the trend set by many sporty diesels down the years, being bought by people who want to combine a degree of driving enjoyment and sporty styling with higher fuel economy and generally lower running costs. The obvious flaw has always been the diesel noise, but Volkswagen's engineers have very cleverly fixed that.
The Golf range, and the high-end models, have become noticeably more upmarket in recent years and the overall quality of the GTD is testament to the steps taken by VW to separate the brand from other mainstream competitors. It's expensive on paper, but VW has done its best to justify that with style and substance in equal measure.
Our verdict on the Volkswagen Golf GTD
Remarkably refined, remarkably adept and remarkably easy to live with are all comments that could be levelled against the GTD. It isn't particularly well equipped for the price, though, and luxury technology is quite scarce. There are cheaper Skoda and Seat equivalents available that offer greater value for money, but the Golf GTD offers ownership satisfaction that's hard to rival among its competitors.
---
Costs
The 2.0-litre common rail turbo-diesel engine in the Golf GTD is an advanced unit, and despite its high power output it achieves low emissions and is relatively cheap to tax as a result. With careful driving it's possible to exceed the claimed fuel economy and all in all the GTD's running costs are very good value. As a halo Golf model its residual values will be solid and it's not an expensive company car to choose, either.
Space and practicality
The Golf is sized according to the needs of one of the biggest sectors of the car-buying market, so for many people it will be ideal. It is fair, however, to say that large families or those with pushchairs and the like might find the Golf's boot too small. Inside the cabin there are cup holders and a useful glove box. It can be difficult to fit A4 documents conveniently into the door pockets, though.
Controls and display
All Golf models, the GTD included, manage to achieve a significant feat in being extremely intuitive to use. The layout and function of the dials and buttons, even where a large colour screen is not installed, is very easy to learn and master. The optional touchscreen satellite navigation and media display does significantly improve the control interface and readout, though, and is a very worthwhile option to add.
Comfort
Refinement is one of the Golf's strongest suits, cosseting front and rear occupants in a fashion more fitting of an executive saloon. The engine noise is reduced to a pleasant background accompaniment, and the suspension copes admirably with all but the sharpest of bumps. Broken surfaces can pass a significant shake through the cabin and some tyre roar intrudes through the rear wheel arches. There's very little wind noise, though, and ample legroom will keep almost all adults happy.
Car security
Tinted rear windows mean visibility into the rear passenger area is reduced, which is good for warding off prying eyes. A sophisticated immobiliser and alarm system makes it difficult to steal the GTD without the key. Security experts Thatcham award the GTD a maximum five stars for prevention of theft of the car, and four stars for preventing theft from it.
Car safety
Volkswagen includes ABS, ESP and an electronic differential lock called XDS as standard, which together help ensure stability under acceleration, braking and cornering. Front, front side and full-length curtain airbags are also standard fit, along with headrests optimised to avoid whiplash. There are no cutting-edge safety devices, though, like lane-departure warning, blind-spot warning or low-speed automatic braking systems, which some of the Golf's direct rivals have now begun to feature.
Driver appeal
Typical buyers of sporty diesels understand that the performance on offer is not comparable to petrol counterparts, so the significant outright shortfall in pace compared to the petrol GTI won't be a worry. But for a diesel the GTD's engine sounds great, and its ample torque and impressive refinement are commendable. It handles reasonably well, too, although it doesn't have the communicative chassis or agility of the best petrol hot hatchbacks. That said, as an enjoyable everyday drive the GTD is impressive.
Family car appeal
The Golf is a family car at heart, but there are certain limitations with the GTD. Being an upmarket trim level it would be worse affected by interior damage, and the special seat fabric design is part of the car's appeal. This, then, isn't the most practical or family-friendly Golf where very young children are concerned, but there are Isofix child seat mounts on the outer rear seats if needed.
First car appeal
For someone who would like to keep their first car for many years, the Golf makes a very good case for itself. The GTD is as easy to pilot as any other Golf, so needn't be intimidating to inexperienced drivers. Insurance is relatively expensive, though, and while it will have strong appeal for first-time buyers the purchase price is beyond all but a very small percentage of people looking for their first car.
Quality and image
Volkswagen has taken large strides in distancing itself from other mainstream brands by upping quality -both physical and perceived. Volkswagen is correctly seen as a more expensive - but better - brand to choose among the middle-of-the-road options, and all the physical evidence in the Golf GTD supports that perfectly. The plastics are extremely solid, and the absence of any creaks or rattles even on rough roads speaks volumes.
Accessibility
Available in both three- and five-door versions, the accessibility depends on which bodystyle is in question. With five doors the Golf is very easy to get in and out of, partially thanks to a consistent roofline. As a three-door the longer doors make it harder to get in and out in bay parking spaces, and the rear passengers have more of a job to get in. It's not difficult to do so, but if rear passengers will be in the car regularly a five-door is the better option.
Stereo and ICE (In car entertainment)
The Golf platform boasts excellent usability in many ways, one of which is the stereo interface. It's a simple buttons-and-dials affair as standard, offering a basic range of adjustability and acceptable output for listening to the radio. Upgrading to an optional touchscreen satellite navigation system means that some of the audio controls shift onto the screen, which then offers clearer feedback on settings and makes it easier to use effectively.
Colours and trim
The Golf is available in a subdued but classy range of colours that fit with its upmarket aspirations. With a subtle, factory-fitted body styling kit it's good looking, striking a balance between poised sportiness and general accessibility. Inside, the fascia styling is too square and ungainly to be called pretty, but the look and feel is, at least, high quality. Dark greys are prominent and if nothing else the cabin is inoffensive.
Parking
Benefitting from a fairly standard hatchback shape, the Golf is nicely intuitive to manoeuvre and to reverse into parking spaces. The GTD doesn't have standard parking sensors to help, instead charging extra for them. The variable-assistance power steering goes light at low speed, making manoeuvres very easy. Good all-round visibility helps in all cases. The five-door model has shorter doors and makes a better partner for bay parking.
Spare wheel
Space saver spare wheel fitted as standard.
Range information
Diesel engine options - 2.0-litre (168bhp). Transmission options: six-speed manual or six-speed twin-clutch DSG. Trim levels: GTD only.