Volkswagen Golf BlueMotion 1.6 TDI
Exceptional economy
July 2013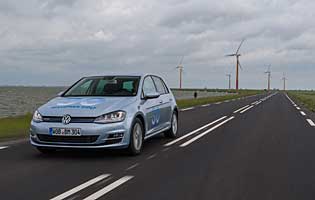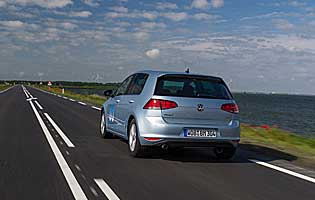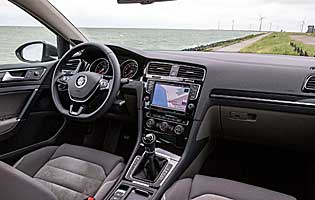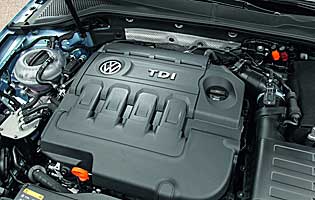 Overall rating

Likes:
Bodykit improves looks still further
Exceptional economy and emissions performance
Drives with the same assurance and control as the standard car
Demands little effort from the driver to deliver impressive economy
Gripes:
Slightly firmer ride may not suit all
Further choice of trim would be welcome
Minimal weight saving from removal of spare wheel
Long gear ratios require careful selection to maintain progress
The latest generation of Volkswagen's evergreen Golf aims to be the most refined, comfortable and capable version ever. But in keeping with these eco-conscious times the popular BlueMotion version is one of the most keenly-anticipated models in the range, promising even better fuel consumption and emissions performance than before.
Having appeared on numerous Volkswagens for a number of years the BlueMotion tag is one that has become popular in its own right, promising above average fuel consumption performance compared to its siblings and with a modest increase in cost. Volkswagen has succeeded in improving this third generation Gold BlueMotion in this respect, and it now claims consumption figures way in excess of the original model.
The BlueMotion uses a new 1.6-litre TDI unit that also appears in other Golf models, although here it benefits from a number of enhancements to maximise its economy. Longer gear ratios, lowered sports suspension, low rolling resistance tyres and improved aerodynamics all play their part, as does a number of weight saving measures.
Under the bonnet the BlueMotion has a stop-start function, stopping the engine automatically when the car is stationary, the gearlever is in neutral and the clutch is released. Pressing the clutch restarts the engine immediately, requiring no extra effort on the part of the driver but improving fuel consumption significantly in city traffic. Regenerative braking also helps to reduce drag on the engine when under power, while a gearshift indicator keeps the driver informed about when to change up or down for maximum efficiency.
Although the Golf BlueMotion commands a reasonable premium over the standard model, this would be recovered over a number of driven miles through road tax savings and with reduced fuel consumption. Under current regulations the Golf BlueMotion is exempt from Vehicle Excise Duty, although the standard 1.6-litre diesel Golf also achieves this.
Our verdict on the Volkswagen Golf BlueMotion 1.6 TDI
For a relatively modest additional outlay the Golf BlueMotion offers a better specification, arguably improved appearance and even better fuel consumption and emissions. The true achievement of the Golf BlueMotion is that it is capable of such thrift without any compromise in terms of driving dynamics or comfort, and as such it is an excellent all-rounder.