February 2006
Volkswagen Beetle Cabriolet 1.8T
New headlights, indicators and front bumper add to the Beetle's looks
February 2006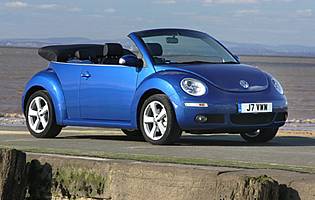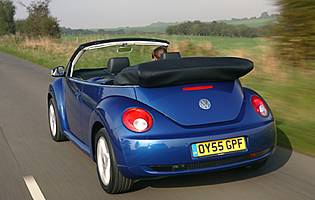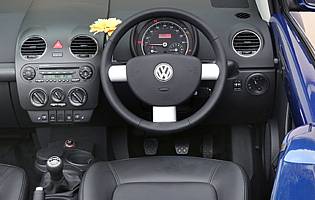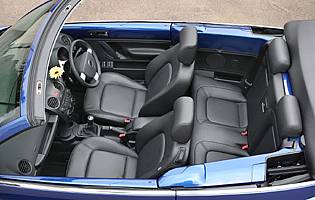 Overall rating

Likes:
Turbocharged engine is refined and responsive
Interior is high quality and attractive
Excellent space for front seat passengers
Distinctive exterior design improved by minor revisions
Gripes:
Restricted rear seat space only suitable for short journeys
Cabriolet roof means tiny and odd-shaped boot space
Old generation suspension means average driving performance
Restricted rear visibility with roof up or down
Creating a new Beetle for the modern era generated a huge wave of interest for VW, and a part of the Beetle legend is the Cabriolet. Both the Beetle and Beetle Cabriolet have been updated for the 2006 model year, with subtle changes inside and out. It also has more competition than before, as more and more manufacturers enter this segment.
From the outside the Beetle Cabriolet appears largely unchanged even to an educated eye, but the subtle modifications do improve the its appearance. Restyled front and rear bumpers give it a sharper look, as do the wheelarches which now have flatter profiles. The headlights and front indicators are also revised, contributing to the improved appearance. There are also a wider range of exterior paint colours available, allowing more individuality for buyers.
Mechanically the Beetle is unchanged, and uses the same engine range and suspension from the previous generation VW Golf. In the most powerful 1.8-litre turbocharged form, this means quite impressive performance for a convertible, and the power and torque on offer is useful in town as well as on longer journeys. The Beetle is not a performance car however, partly due to its weight but also due to its convertible roof reducing body stiffness.
The roof itself is a fabric item, with electric operation on all models bar the 1.4-litre base version. Lowering the roof is simple, requiring only a pull and twist of a lever, then holding down a button for a few seconds. In addition, a single switch allows all four windows to be raised or lowered at the same time, as well as a useful system which gives an audible alert if the roof cannot be operated. Raising the roof is a reversal of the lowering process, although the handle does require a firm pull and turn to lock it in place.
In most other respects the Beetle is as easy to live with as a conventional hatchback, but the unusual styling and convertible roof do mean reduced rear legroom, a small boot and restricted rear vision, although for many drivers these factors are a worthwhile sacrifice for a stylish and individual car such as the Beetle Cabriolet.
Our verdict on the Volkswagen Beetle Cabriolet 1.8T
While there are other stylish cabriolets in the marketplace at a similar price, the Beetle's unique looks will make it the only choice for many buyers. With a good specification and respectable performance from the 1.8-litre turbocharged engine, it is a satisfying car to own.
Costs
Running costs for the Beetle Cabriolet are mainly determined by its engine. Thrifty buyers may want to consider the smaller petrol options or the diesel, all of which are cheaper in manual form. Otherwise the running costs are reasonable, thanks to a sensible insurance group and the likelihood of good residual values.
Space and practicality
The Beetle's unusual shape has a significant effect on the amount of space on offer. Headroom is generous even with the roof up, and front seat passengers also have lots of legroom. Rear seat passengers will be more cramped however, and the boot is small and narrow, accessed through a small hatch, which only opens to a shallow angle. Inside the cabin however there are more storage areas, including a centre armrest which can hold a CD autochanger.
Controls and display
All the Beetle's instruments are grouped in a single circular pod, with the large, attractive speedometer dominating the display. The smaller fuel and rev counter gauges sit below it, but all three are easy to read. The main controls are grouped closely together in the centre of the dashboard, and are clearly labelled and easy to use.
Comfort
The front seats fitted to the Golf are very comfortable, and have a wide range of adjustment, so drivers of varying heights should be able to get comfortable with ease. Rear seat passengers however have smaller seats with upright backs, and with less legroom they are not as comfortable as in the front.
Car security
Cabriolets are more susceptible to forced entry than conventional cars thanks to the fabric roof construction, so the Beetle has an alarm with interior sensors fitted as standard, operated in tandem with the remote locking key fob. An electronic engine immobiliser is also fitted as standard, making it even more difficult to drive the vehicle away.
Car safety
The Beetle Cabriolet comes with a comprehensive set of standard safety equipment, including ABS, front and side airbags and ESP. In addition, the Cabriolet has rollover protection in the form of a reinforced windscreen frame and pop-up rear rollover bars, which automatically deploy if a potential rollover is detected.
Driver appeal
Underneath, the bodyshell the Beetle is based on components from the previous generation Golf, so it does not benefit from the sophisticated rear suspension. However, the Beetle does a good job of combining ride comfort with respectable handling, although it is best suited to cruising at more sensible speeds than brisk cross-country drives. The steering is accurate and well-weighted, although it does lack a little feel. The brakes, gearshift and pedals are all smooth and easy to operate.
Family car appeal
A smaller family could enjoy the delights of open top motoring, as long as the rear seat occupants were smaller than the average adult. One downside is the relatively small boot, which may not be large enough to cope with the requirements of an average family.
First car appeal
The Beetle is certainly an attractive car for first time buyers thanks to its style and ease of driving, though they may well be better served by a cheaper version with a smaller engine. The only issue is the lack of rearward vision, which may cause problems for inexperienced drivers.
Quality and image
VW has a strong reputation for producing good quality cars, and the Beetle reflects this with the high standard of finish inside and out. Paint finishes, plastics and fabrics are all of a good quality, and all the controls operate in a smooth and positive fashion. The Beetle's image trades heavily on the status of the original Volkswagen Beetle, and its unique styling gives it an advantage over many of its more conventional rivals.
Accessibility
Front seat passengers will have no trouble gaining entry to the Beetle, as the curved roofline results in plenty of headroom. The doors are long and open wide also. The front seats tilt and slide when the release is operated to ease entry, but there is little legroom for rear seat passengers.
Stereo and ICE (In car entertainment)
Standard on all Beetle Cabriolet models is a 10 speaker CD and radio tuner. An added benefit is an auxiliary socket, allowing external sources such as an MP3 player to be connected. The sound quality is good, and even with the roof down at higher speeds it is powerful enough to be audible.
Colours and trim
Standard fitment on 1.8-litre models and up is a leather-covered steering wheel and gearknob, plus cloth trim. All the interior fabrics and surfaces are well finished and comfortable, and while the dashboard itself is quite dark there are areas finished in the exterior colour which are a pleasing addition to the cabin.
Parking
Roof up or down, parking the Beetle Cabriolet can be a little tricky due to the restricted rear vision. The fabric hood only has a small rear window, and although most blind spots are removed with the hood down, the height of the folded roof makes it difficult to see. The optional parking sensors are worth considering, but in other respects the Beetle Cabriolet is easy to park.
Spare wheel
A full size spare wheel is mounted underneath the boot floor.
Range information
Petrol engines: 1.4-litre (74bhp), 1.6-litre (101bhp), 2.0-litre (113bhp), 1.8-litre turbocharged (148bhp). Diesel engine: 1.9-litre (104bhp). All are fitted with a five-speed manual transmission, with the option of a six-speed tiptronic gearbox on the 2.0-litre petrol. Trim levels are dependent on engine size: 1.4 and 1.6-litre petrol models are badged Lunar, while subsequent versions have no trim designated.
Alternative cars
Mini Cooper S Convertible More enjoyable to drive but even less room for passengers and luggage
Peugeot 307 CC Metal folding roof a bonus, retains some practicality but less attractive
Renault Megane Coupe Cabriolet Average driving experience offset by glass-panelled folding roof
Saab 9-3 Cabriolet Smart design inside and out, performance is good but expensive in comparison