August 2011
Volkswagen Beetle 2.0 TSI Sport
Familiar looks but a new direction for the Beetle
August 2011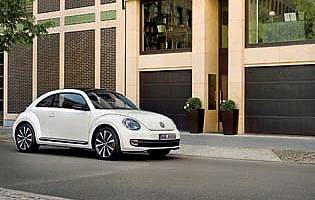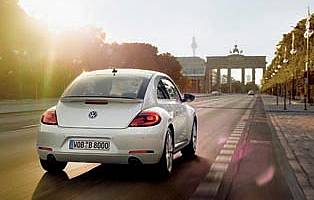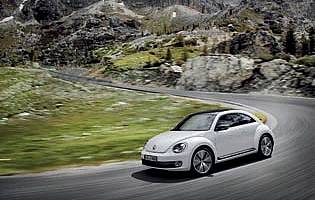 Overall rating

Likes:
Flagship turbocharged engine is refined and responsive
Cabin build quality is high
More room for rear seat passengers is welcome
Distinctive exterior design has been retained
Gripes:
Space in the rear is still modest
Lots of generic switchgear - would be nice to have seen more original designs
Don't expect the low power engines to make the car shine
Rear visibility could be better
Keen to capitalise on the valuable Beetle brand, Volkswagen is persisting with new models. After a less than stellar performance with the 1990s version, the German firm is keen to secure a slice of the action more recently, and successfully, mined by BMW's Mini line-up.
With Volkswagen's executives regularly dropping 'sporty' into the Beetle conversation, it's clear that the focus of this version has stepped up a gear. Although a little longer and wider than previously - increases that noticeably improve the cabin experience - the car has designed to be more agile and fun on the road.
Under the bonnet is a range of familiar VW family engines, both petrol and diesel. At one extreme there is the now predictable low CO2 and mpg options, while the sporty remit is taken care for with the inclusion of a 200 horsepower turbo petrol motor.
Like Mini, Volkswagen has stayed faithful to the basic shape of its iconic original and there's no chance of mistaking this Beetle for anything else on the road. The car's profile is a little more streamlined than before, though, in a bid to emphasise the performance angle. Look closely and the various subtle design cues - headlights, pseudo running boards, bonnet line - do a good job of paying homage to the car that started it all.
Volkswagen has been careful to not emulate the Mini too closely, though. Unlike BMW's wonder car, the Beetle's level of customisation is modest although the exterior colour palette is a bold one. Detailed changes are available, plus there's a nod to the old car with this model's colour coded fascia plate. And if you were in any doubt as to this Beetle's target market (North America), Volkswagen's decision to use the Fender branding for its premium audio system is the biggest clue you'll get.
Our verdict on the Volkswagen Beetle 2.0 TSI Sport
A more rounded and competent performer than its predecessor, this generation of Beetle offers drivers a more engaging experience that goes some way to affirming Volkswagen's 'sporty' aspirations for the car. Backed by a strong and proven engine line-up, the Beetle should also deliver sensible running costs. It doesn't quite match a conventional three-door hatchback in practical terms but that's not why the car will be bought - you'll buy a Beetle because you want a Beetle.
Costs
The car's modest entry-level price should make this Beetle an affordable proposition. Factor in the frugal engine range, especially the diesel units, and there's no financial penalty for choosing this car over a Golf or similar-size hatchback. Equipment levels are good, which should mean less time spent browsing the options catalogue.
Space and practicality
Headroom is generous thanks to the car's unusual but distinctive profile and front seat passengers also have lots of legroom. Rear seat passengers are dealt a better hand in all areas thanks to the car's slightly larger dimensions. Oddment space throughout the cabin is good, and while the car's boot might be a little shallow it's wide and the rear seats fold to increase carrying capacity.
Controls and display
Despite the overall emphasis on design individuality, the Beetle's cabin contains many familiar displays and controls. In reality this is a good thing as Volkswagen is very good at designing intuitive control systems, and there are no surprises here. Aside from the occasional tweaks to the detailed design of the main dials, you could be in any one of VW's current models.
Comfort
With its plush seats and insulated cabin, the driving and riding experience is very good. Road, engine and tyre noise is minimal, while there's plenty of room up front for two big adults. Those in the back are better served than in the past thanks to the car's extra length.
Car security
Although a distinctive car the Beetle is no more or less expensive than a Golf, and that's why you get a similar level of protection - the immobiliser and remote central locking should do the trick alongside a sturdy load cover for the boot.
Car safety
Like the rest of the modern Volkswagen range the Beetle comes with a full compliment of airbags and electronic driver aids. The flagship turbo petrol variant also boasts a trick electronically controlled differential to better manage the engine's extra power - a good thing to have especially when it's slippery underfoot.
Driver appeal
Volkswagen would like you to think of this Beetle as being a sporty car. Certainly, it feels more agile and willing than its predecessor although it's no Golf GTI despite the inclusion of a range-topping 200 horsepower petrol engine. In reality it's more engaging than before and the ride quality has improved considerably but it remains more of an all-rounder than outright sports car.
Family car appeal
In the early years of a growing family there's no reason why the Beetle couldn't be the only car in your life. You'd need to plan ahead occasionally regarding available bootspace but it's nothing that would prevent you from having a good time. Belting in an infant in a rear child seat might prove a chore thanks to the car's two-door layout, though.
First car appeal
There's no question that the Beetle could be an ideal car for a novice driver. And although bigger than, say, a Polo, it could be viewed as a more desirable and fun choice by fashion-conscious buyers. It also has the potential to be inexpensive to buy and run, too.
Quality and image
The Beetle is a strong brand in its own right but Volkswagen has struggled to reinvent it in recent years. The previous 'new' model wasn't exactly a runaway success, but this car shows more promise - especially in emerging markets with no previous experience of the Beetle brand. Up close, the car is built to the same exacting standards as other VWs, which is no bad thing.
Accessibility
In two-door, coupe form this Beetle offers a good level of access to the front seats. The car's doors open wide and the seats are mounted at a good height. Rear seat occupants will need to be reasonable agile despite the fold-forward front seats, and those big doors could be a hindrance in tight parking spaces.
Stereo and ICE (In car entertainment)
Standard fit is the familiar VW Group audio unit, which can be seen throughout the family. It's simple to use and delivers a good quality output. Upgrades include the equally familiar touchscreen colour sat-nav, MP3 connectivity and a Fender-branded upgraded audio system, which is unashamedly tailored towards the important North American market.
Colours and trim
The ability to attract attention is guaranteed, thanks in part to the Beetle's bold colour palette. Dark, sensible hues exist but you'd be missing the point f such a car if you didn't opt for something brighter. Some of this sentiment makes it through to the interior alongside VW's trademark dark plastic default cabin, as you can opt for a colour coded fascia plate - just like the original car.
Parking
With its slightly raised driving position and airy cabin, all-round visibility is good. Light and accurate steering helps, as do the parking sensors and reversing camera when fitted. If two adults sit in the back your view rearwards won't be so good, however.
Spare wheel
A compact spare wheel is located underneath the boot floor.
Range information
Petrol engines options - 1.2-litre (105bhp); 1.4-litre (160bhp); 2.0-litre (200bhp). Diesel engine options - 1.6-litre (105bhp). Transmission options: six-speed manual gearbox with six-speed DSG an option on selected models. Trim levels: Beetle, Design, Sport.
Alternative cars
Mini Cooper Benchmark car in many areas and a tough rival to beat
Audi A1 Physically smaller but another premium, stylish and compact car
Volvo C30 Quirky-looking C30 is another left-field, three-door choice
Alfa Romeo Mito Lifestyle-themed compact hatchback is Alfa's response to the likes of Audi's A1