November 2007
Vauxhall VXR8 VXR8
Menacing styling hides a surprisingly easy car to live with
November 2007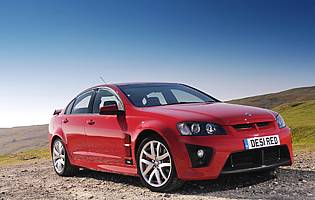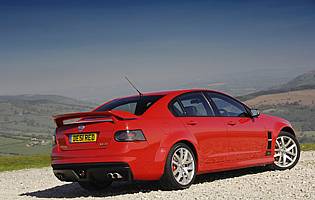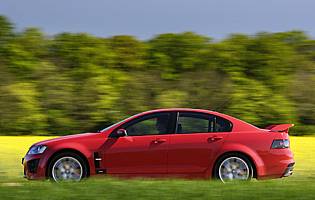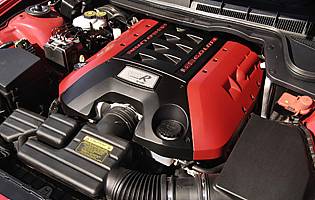 Overall rating

Likes:
Affordable rear-drive high performance saloon to rival offerings from Germany
Supremely willing and wonderful sounding V8 engine
Well-equipped, comfortable and spacious cabin
Practical saloon body includes a capacious boot
Gripes:
When driven as intended, fuel consumption can be eye watering
Manual gearshift requires a firm hand, especially from first to second
Despite the car's performance credentials, Vauxhall badge could be a deterrent for some buyers
Looks can be deceptive and the VXR8 is a big car, which means taking care in tight car parks
After the success of the Monaro coupe, Vauxhall's attempts to grow its performance range flourished. VXR-badged Vectras and the like have added a new layer of credibility to Vauxhall's otherwise regular product offerings. Taking things a step further is the VXR8; like the Monaro it's essentially an Australian import, only this time it's a more practical four-door saloon.
Unlike a modestly styled Vectra, it's difficult to miss Vauxhall's VXR8. For one thing it's a big car - Vauxhall historians should note that it's a little longer than it's spiritual predecessor the Lotus Carlton.
Like the Lotus Carlton and, more recently, the Monaro, the VXR8 sets out to offer Mercedes, Audi and BMW levels of high performance for a relative fraction of what the German opposition charge. Boasting 417 horsepower from its 6.0-litre petrol V8 engine, it's fair to say that the VXR8 can walk the walk.
This be-spoilered, lowered, rear-wheel drive and menacingly styled four-door saloon is a product of the Australian high performance saloon scene. Thanks to the sprawling nature of General Motors, Vauxhall and the Australian Holden company are more than just distant cousins. Although called something different down under, the switch to Vauxhall branding hasn't done the car any harm image-wise.
In fact, the presence of the Griffin badges appears to have elevated the car to mild cult status - along with the previous Monaro - within enthusiast circles. That fact, along with the car's affordable price tag (European rivals can cost upwards of GBP60,000), its practical and sensible saloon layout plus generous levels of standard equipment make the VXR8 something of a steal.
Our verdict on the Vauxhall VXR8 VXR8
Brutal and sometimes intimidating when pushed to its limits yet no more fearsome than a Vauxhall Corsa around town, the VXR8 is a car that could never be accused of being a one trick novelty. Well equipped, handsome in a typically Australian no-nonsense fashion and always entertaining, the big Vauxhall is a left-field but worthy alternative to something with an RS or AMG badge. That is, if you're willing to put performance above badge and brand image.
Costs
There's no way of hiding the fact that the VXR8 is a costly car to run. Sure, regular servicing should be straightforward, but fuel, insurance and tyres will factor heavily in your table of outgoings. And the VXR8 will use a considerable amount of fuel; anything powered by a 6.0-litre V8 petrol engine will, but get ready for low teens mpg around town as it's very much the norm.
Space and practicality
As you would expect, the VXR8 is a pretty spacious vehicle. Cabin space is generous up front and rear seat passengers also fare well. At the rear the car's boot is a good size, and access is straightforward. Inside the car there are plenty of storage options for mobile phones, maps and the like.
Controls and display
It's standard stuff in the VXR8, which is always good in a car capable of serious speeds - you don't want any unnecessary distractions after all. The main dials and supplementary controls in the centre console are clear and intuitive respectively.
Comfort
Greeting you as you enter the cabin are the VXR8's generously proportioned front seats. Wide and supportive, they do a fine job of keeping you in place and making long motorway journeys comfortable. Elsewhere, cabin space is pretty good and rear seat occupants also get to experience supportive seats. The only downside is the car's road and tyre noise, which can be a little intrusive at high speed or on poorly surfaced roads.
Car security
Although hardly an inconspicuous car any thief targeting the VXR8 will have to live with its head-turning qualities. Factor in the car's exclusivity and it's fair to think that most opportunists will leave it well alone. Thankfully the car's defences are more sophisticated, what with the usual central locking plus alarm and immobiliser making an appearance.
Car safety
Like all big, premium saloons, the VXR8 is equipped with al the usual safety features. From airbags to ABS and electronic stability control - a vital component considering the car's performance - you can feel safe in the big Vauxhall.
Driver appeal
The VXR8's powerful V8 motor, traditional rear-wheel drive layout and no-fuss handling characteristics make the big Vauxhall hugely entertaining to drive. A real enthusiasts' car, the VXR8 demands concentration at high speed and prefers wide sweeping turns to bumpy B-roads. The engine sounds great whatever your speed, plus the steering and brakes both deliver positive and direct responses to your inputs. At more run of the mill speeds the car is easy to drive and is quite happy to assume the role of family saloon, although as you'd expect the car's ride quite firm.
Family car appeal
It may surprise you but the VXR8 is a pretty good family car. Granted it's no people carrier, but it can accommodate adults and children with ease. It's also got a practical boot, which should make it easy to stash both the weekly shopping and the pushchair without any hassle.
First car appeal
The VXR8 is pretty much the last car a first time driver should be thinking about. It's big, fast, rear-wheel drive and expensive to run. Even if you could afford the substantial fuel and insurance costs - the latter is likely to be particularly eye-watering - the car's brutish performance potential is best left to buyers with more experience of similar cars.
Quality and image
This car is really for the enthusiast; Vauxhall's previous Monaro was little different in terms of image - you either 'got' the V8 muscle car vibe or you didn't. Luckily, those that did were rewarded with a cut-price alternative to the few high performance German coupes out there. Now it's a case of the VXR8 beating the likes of BMW's M5 on price. It won't be able to topple it when talk turns to image, though. The German and Italian competition have it licked in this department - although you will pay a hefty price for the privilege.
Accessibility
Being a conventional four-door saloon, the VXR8 presents no problems for occupants. The front doors open wide, the rears better than you think and the design of the boot makes it easy to load and unload heavy objects.
Stereo and ICE (In car entertainment)
The regular system is pretty good, boasting good sound quality and intuitive controls. The central display is large and clear, plus there are secondary audio controls on the steering wheel. Equally useful is the Bluetooth handsfree telephone function. Sat-nav is a welcome option.
Colours and trim
The VXR8 is something of an extrovert, which makes recommending the bright red exterior colour option that bit easier. However, if you don't want everyone to know what you're driving, more subdued colours are available. The big Vauxhall's interior is more conservative, also. Save for the bright stitching on the leather seats the ambience is actually quite sombre.
Parking
The VXR8 is a big car, but with the help of good-size mirrors plus the parking sensors you shouldn't have a problem. The car's turning circle is surprisingly good, and the steering is light at low speeds. Parking head-on into kerbs requires a little skill so as not to damage the car's front lip spoiler, though.
Spare wheel
Full size spare included.
Range information
Petrol engine options - 6.0-litre V8 (417bhp). Transmission options: six-speed manual gearbox is standard, a six-speed auto gearbox is a cost option. No specific trim level for this car.
Alternative cars
BMW M5 Better built and packing more technology but a lot more expensive
Mercedes-Benz E-Class High power E 63 AMG variant is hugely impressive but is another very expensive German alternative
Audi S6 V10-engined A6 is plush and rapid but lacks the character of its main rivals
Maserati Quattroporte Left-field Italian is a visual delight but is over double the price of the VXR8