Vauxhall Ampera electric/1.4 petrol review
Modern, stylish design inside and out
July 2011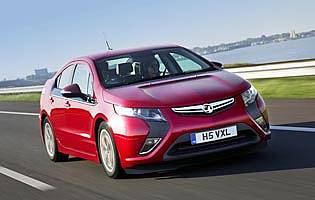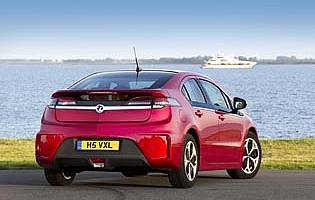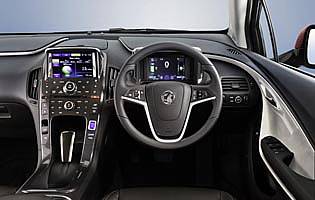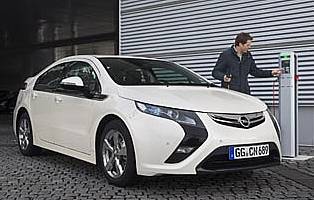 Overall rating

Likes:
Modern, stylish design inside and out
Clever technology achieves excellent performance with little effort
Comfortable ride with respectable handling too
Highly economical and very low emissions promise low running costs
Gripes:
High purchase price even with government grant included
Only two rear seats at launch although three seat version is planned
Touch pad controls on centre console are sometimes fiddly to use
Unusual engine operation cycle can be distracting
Arguably the most important car to come from Vauxhall in decades, the Ampera is the first mass-produced electric vehicle to come from the firm but is also the first so-called 'range extender' vehicle to come to market. This gives it a range equivalent to a conventional combustion-engined car and should result in a clear market advantage.
Almost all the world's car manufacturers are either already producing or in the process of developing electric cars as an alternative to petrol and diesel power. As a part of an industry-wide attempt to lower carbon dioxide emissions, electric cars have the advantage of zero tailpipe emissions with benefit to the environment and consumers alike. But the key problem with electric vehicles is a lack of range, and Vauxhall's Ampera employs new technology to address this problem.
As well as a typical battery pack and electric motor powertrain, the Ampera uses a 1.4-litre naturally aspirated petrol engine tuned for maximum efficiency, and this dual set-up allows it to operate in several different modes, selected by the driver. In pure electric mode the petrol engine stays off and the Ampera can travel as far as 50 miles or more before the battery becomes drained. At this time the petrol engine kicks in and provides charge to batteries rather than driving the wheels.
In addition, the car can be switched to a petrol-only mode in order to preserve the battery charge for zero emission zones or densely-trafficked areas which suit electric power better. This control allows the driver more scope to use the vehicle just like any other car, and although the battery can be charged by plugging in it is not essential to complete a journey.
Although the use of a petrol engine does mean that the Ampera can only be zero emission for a limited number of miles, the state of tune and the manner of operation means it is still remarkably clean, emitting 40g/km in range-extending mode. Despite the amount of technology, the driver is still able to climb aboard and let the car control the power delivery.
Our verdict on the Vauxhall Ampera electric/1.4 petrol
A remarkable car in many ways, the Ampera succeeds in overcoming the key issue of range in a clever and efficient way. Perhaps more importantly is that it is an impressive car in its own right with good dynamics, attractive design inside and out and decent practicality. The biggest question mark hangs over the price, but it does offer a unique proposition for the moment.