August 2014
Toyota Yaris Icon 1.0 VVT-i 5dr
New front design language is striking without going too far
August 2014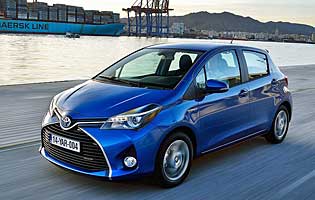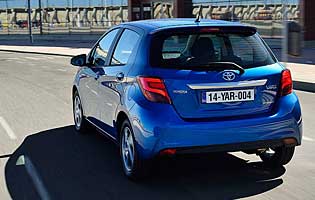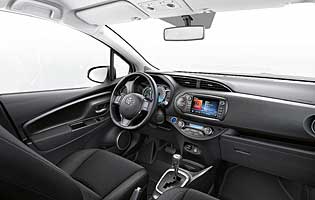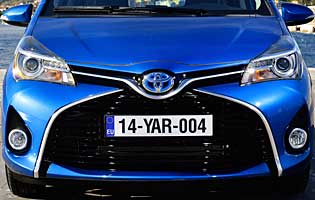 Overall rating

Likes:
Well designed new interior space is easier and more enjoyable to use
Styling sets the car apart from increasingly homogeneous rivals
Boot large enough to hold small families' weekly shops
More comfortable ride quality versus outgoing model
Gripes:
Small engine is fine in traffic but struggles out of town
Thick rear windscreen pillars obstruct rear corner visibility
Touch-screen media interface not available on entry-level model
Steering remains too vague and lifeless compared to some rivals offerings
The third-generation Yaris never made much of a dent in the supermini market, lying tens of thousands of annual sales short of the class best-sellers. Bosses at the firm have concluded that it's because the Euro-centric Yaris was too Japanese-feeling and not European enough. A huge mid-life update, much bigger than normal, has addressed that.
Designers and engineers from Europe have led the process for what amounts to a GBP70 million re-fit of the whole interior, with new materials, a redesigned dashboard, new trim colours and updated engines. Noise, vibration and harshness have been addressed as well, while the chassis has been strengthened in tandem with softer suspension.
The Yaris has traditionally been a little dull to look at; reserved enough to appeal to some but not youthful enough to really have mass appeal. After all, many older buyers wish to feel young at heart. This significant update brings with it looks inspired by the controversial new Aygo, but toned down to the benefit of the Aygo's mass appeal.
Against competitors like the Ford Fiesta and Vauxhall Corsa, the 2015 model-year Yaris maintains its reliability advantage and combines it with a darker and more cohesive interior space that is much more akin to a Ford or Volkswagen product. Toyota's hope is that rather than making the Yaris blend into the background it will bring the car to the fore.
Newly central to the car's appeal is a large touch-screen control interface on hgher trim grades, which is used for media playback, car settings and trip readouts. Toyota is letting its small cars lead the way in terms of new-age in-car technology before it develops it further for use in future replacements for models including the Auris, Avensis and Rav4.
Our verdict on the Toyota Yaris Icon 1.0 VVT-i 5dr
The Yaris has a great deal more appeal than the last one, and it had desperately needed just such an injection of character. It can now compete with the class leaders in most regards except outright driving enjoyment, and it should be a relatively trouble-free ownership prospect. Importantly, its styling is less divisive than the smaller Aygo's, and its sales may see a significant upswing versus its predecessor.
Costs
The development of the 1.0-litre petrol engine used in this car achieves even lower emissions figures than its predecessor, complying with the stringent Euro 6 emissions regulations. Its fuel economy will depend heavily on its usage patterns, though, and will suffer heavily in repeated bursts of acceleration between traffic lights. Insurance isn't likely to be the cheapest in the class, but it should still be affordable for young drivers.
Space and practicality
Cup holders are placed in the front and rear passenger compartments, while the glove box is a useful size and the door pockets are large enough for most typical daily oddments. The boot is generous, too, with a broad surface area and good depth for stacking cases. A small family's weekly shop should fit in without problems. A considerable load lip, typical for the class, is a downside when it comes to loading and unloading heavy objects.
Controls and display
New dials are less adventurous than the outward styling of the car, but they are clear and easy to read at a glance. The blue ring inside the central dial on hybrid models is a stylish touch. The larger news is the new Toyota Touch 2 media interface, which combines excellent functionality with bright colours and fresh graphics. The only black mark against it is that touching the correct part of the screen can become difficult while driving, particularly on bumpy roads.
Comfort
There is a surprising amount of room in the Yaris, in any of the five seats. The floor is flat across the rear footwell, making it easier for three to get comfy, although the central console does extend backwards past the front seats and impinges on the legroom for the centre passenger. The seats are at the softer end of the spectrum for the class, but the fronts in particular are thoughtfully shaped for back comfort.
Car security
As well as the expected alarm and immobiliser, the Yaris features engine parts marking, where almost all the individual engine's components are traceable back to that particular car. Remote central locking is standard, but this is upgradeable to keyless entry as part of an options pack.
Car safety
All Yaris models share exactly the same safety technology, with seven airbags very welcome in this class. There is also a tyre pressure monitoring system to ensure drivers know about poorly inflated tyres that could impact on safety, and there are child-proof rear door locks. Seat belt reminder warnings are linked to all five belts. Furthermore, under emergency braking the hazard warning lights will flash quickly to warn following traffic of your actions.
Driver appeal
This 1.0-litre engine is the cheapest in the range, included for budget-conscious buyers who rarely leave the city limits. Its off-beat three-cylinder character adds to the Yaris' charm in the city, and its torque-rich nature makes it good at getting the car up to urban speeds with minimal fuss. It struggles beyond that, though, as weight and aerodynamics overwhelm its power. Numerous additional spot welds have stiffened the body, allowing the suspension to be softened and ride comfort to be increased noticeably.
Family car appeal
There is no reason why the Yaris couldn't be a perfectly usable everyday family car for those with younger children. In five-door guise it can carry two child seats with better access to them than in the three-door, along with the potential to mount a rear-facing child seat on the front seat. A clear light on the dashboard denotes whether the front passenger side airbag is on or off. The boot isn't big enough for extended family holidays away, but it's plenty for days out.
First car appeal
The Yaris is a perfect choice for a novice driver, being affordable, easy to drive and reliable. That it now boasts more appealing style and lower running costs is a bonus that will be hard to ignore. Parents may look at this car as an option for their teenager after they have passed their test, and they can rest assured that safety is well catered for, and that the small petrol engine is unlikely to allow anyone to get into trouble easily.
Quality and image
Toyota's build quality and reliability are frequently reaffirmed in ownership and warranty claim studies, and the general dependability of its cars, the Yaris included, is beyond reasonable doubt. The biggest upswing in this model's fortunes comes in the interior upgrades, which transform the general ambience, whether from the driver's or the passenger's point of view, into a much higher-quality environment. It feels classier and more expensive, which will boost its showroom appeal.
Accessibility
Front seat occupants of this five-door car will find themselves able to get in and out of the car with complete ease. The floor level is low enough for general comfort, and the seats are perhaps higher than many people will expect, allowing an easy transition from standing to sitting and vice versa. Those getting into the back might need to tuck their feet in a little to get past the base of the door pillar.
Stereo and ICE (In car entertainment)
As standard the Yaris gets an impressive spread of stereo functionality, with six speakers connected to an AM/FM radio, as well as inputs for USB devices, iPods and other MP3 players. This Icon version adds Bluetooth connectivity to allow wireless music streaming. Spending more on the Sport model brings with it DAB digital radio. On the Icon grade and upwards, the media interface is a touch-screen unit that is quick to respond to touch, with great colours and graphics.
Colours and trim
There aren't as many colour options as you might expect for the revitalised Yaris, with the mix of blue, red, white, silver and black covering only the basics. It will come down to taste, but red and blue look particularly good on the new styling. On the inside, a complete redesign has created a much more cohesive environment that is instantly more welcoming, with simpler shapes and more upmarket-looking materials marking a significant improvement.
Parking
While the Yaris cannot match the outright parking-friendliness of Toyota's smaller Aygo model, its dimensions are still compact enough to ensure an easy time of it in urban spaces. Its turning circle is good rather than excellent, but it will still be able to handle the tightest public car parks with room to spare. The wide rear windscreen pillars do affect rearward visibility, but with short overhangs at both ends the Yaris holds its own even in the hands of nervous parkers.
Spare wheel
Emergency tyre repair kit standard. Space saver spare optional.
Range information
Petrol engine options - 1.0-litre (67bhp); 1.33-litre (99bhp); 1.5-litre hybrid (97bhp). Diesel engine options - 1.4-litre (89bhp). Transmission options: five and six-speed manual gearbox depending on model, plus automated manual gearbox (1.33-litre petrol only) and continually variable transmission (1.5-litre hybrid only). Trim levels: Active, Icon, Sport, Excel.
Alternative cars
Ford Fiesta A great all-round performer that's good to drive
Skoda Fabia Fabia is extremely good value and has excellent engine options
Vauxhall Corsa Inoffensive styling and big dealer discounts, but questionable interior quality
Volkswagen Polo Conservatively styled, but an intuitively laid out cabin makes it popular