September 2012
Toyota Prius+ T Spirit
The Prius+ follows recognisable Prius design cues
September 2012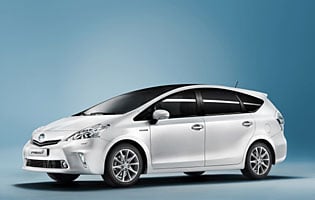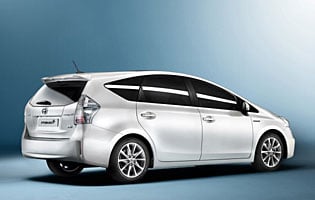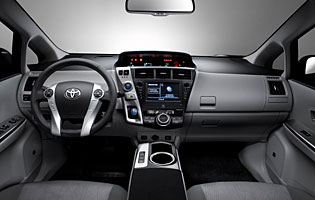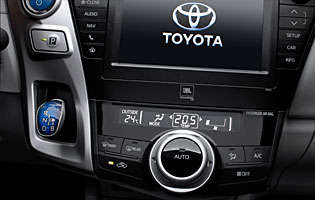 Overall rating

Likes:
Efficient and refined drivetrain is smooth and quiet
Continuously variable transmission keeps engine revs low
Flexible rear seat arrangement creates a versatile cabin
Generous equipment list creates a luxurious car for long journeys
Gripes:
Off-centre reversing camera can mislead drivers when parking
Drivetrain struggles to provide enough power on faster, more open roads
Lightweight chassis and suspension components reduce body control
Some interior plastics are sub-standard for European expectations
Toyota spotted a niche in the European market for a seven-seat, hybrid-powered family car. Acknowledging that Prius is a bigger brand in global green motoring even than Toyota itself, the Prius name was donated to this new, larger option. While families are important, many businesses may also take advantage of its extremely low carbon emissions and tax grouping.
The Prius+ is unique in the European marketplace as a seven-seat hybrid car, and finds itself competing with a flecking of estates, MPVs and some of the latest wave of SUVs. It's built to be not just a very economical family car but also to give user-choosers an option that would function as a cost-effective everyday all-rounder.
An efficient hybrid drivetrain was already at Toyota's disposal, so in developing the Prius+ practicality was the number one priority. The process did, however, require a new type of battery to be made to ensure the boot floor stayed low enough to mount seats on. A compact lithium-ion unit sits between the front seats instead of under the boot.
It's a fully-enclosed hybrid system, meaning that electricity is used and regenerated in smaller quantities, therefore being almost always available but in smaller doses than in its plug-in hybrid cousins that don't recharge themselves. The system achieves extremely high efficiency ratings that eclipse all other existing seven-seat cars, and creates a package that offers big-car practicality with supermini running costs.
The Prius range has seen a large expansion in 2012, with a plug-in version and the Prius+ added to the line-up. With a combination of the lowest-possible company car tax banding, always-available electric power, all the benefits of ultra-low CO2 emissions, a quiet drive and lots of space, this is an ideal company car for many users.
Our verdict on the Toyota Prius+ T Spirit
Efficiency and people-carrying ability are givens thanks to the hybrid technology and the cleverly arranged seats. Versatility is a natural by-product, with impressive load capacity and solid materials. The drivetrain is rather better-suited to urban driving and cruising than it is to open A-roads, but used in its intended environment the Prius+ is on the whole convincing, if not without many small niggles.
Costs
The running costs are set to be very low, with excellent official efficiency statistics. Full hybrid Toyotas tend to achieve their best fuel economy around town, where the increased amount of energy that can be regained from braking makes more of a difference, and where under electric power alone the battery drains slower. The Prius+ is in a very favourable position for road tax and company car tax bills, but likely residual values are disputed.
Space and practicality
In this respect the Prius+ is excellent, thanks to its five folding rear seats. The cabin can be arranged into anything between a two- and a seven-seater, with more luggage space the more seats are folded down. At its peak there is a huge amount of luggage space. In the front area storage is limited by very shallow and short door pockets and the fact that any space for a central bin is taken up by the hybrid system's battery.
Controls and display
Potential customers will either love or hate the displays, which are mainly concentrated in a wide digital layout at the top of the dashboard. A head-up display means the driver can keep their eyes ahead while observing key data, but it creates a frame that reflects distractingly up onto the inside of the windscreen on sunny days. The displays are clear in their own right, but their unusual position might be irritating to some.
Comfort
The cabin environment is very pleasant at low speed, cushioned as it is by soft suspension and with a very quiet drivetrain under the bonnet. The seats are quite flat and comfortable on straight roads, although the front seat backs could be better shaped. The lack of lateral support during cornering is obvious, however, and the soft suspension allows a lot of body roll. There can also be a lot of vibration passed up into the cabin on particularly broken road surfaces.
Car security
Both Prius+ models feature locking wheel nuts to prevent the alloy wheels being stolen. Darkened privacy glass is fitted to the rear screen and all side windows behind the front doors. Keyless entry is standard, and it is very difficult to steal the car without the proper key. Security experts Thatcham have not yet tested this model, but the previous Prius hatchback won five stars for preventing theft.
Car safety
A hill-start assist function holds the brakes for two seconds after releasing the pedal, chiefly to prevent the car rolling backwards during hill starts. Stability control is standard and joins two braking safety systems; one to help apply the maximum safe braking force in an emergency stop situation, and another to flash the hazard warning lights rapidly to alert following traffic of the car's sudden stop. Passive safety is also well catered for.
Driver appeal
This is a car of contrasts depending on the environment it's being driven in. In town, where its electric motor can take over more often from the engine, its refinement and ride quality provide a very relaxed and sometimes silent experience. Likewise on the motorway, where the car sits happily at speed. It's on A- and B-roads that the Prius+ struggles, forcing its engine to rev to its maximum and creating a strained, uncomfortable feeling throughout the car.
Family car appeal
Parents are essentially the core market at which the Prius+ is aimed. Both private buyers and user-chooser company car owners who have more than three children, or like to be able to act as chauffeur to their kids' friends as well, will appreciate the ease with which this car allows the seating layout to change, as well as the comfortable ride when the car is used gently. The interior is not glamorous but it's likely to be able to resist damage well.
First car appeal
Seven-seat cars are generally bought by people who need the seats for their children and potentially their friends. Unless a person has left their driving test until much later in life, as sometimes happens in large cities, the Prius+ is likely to fail to appeal. The relevant talents it has, like very low CO2 output and a comfortable ride, are replicated in smaller, cuter and more importantly cheaper cars that would better suit young or inexperienced drivers.
Quality and image
Toyota is usually in the top two or three brands worldwide for reliability, and there is little to fault with its reputation as a manufacturer of cars that almost never go wrong. It also has a very strong image in the green car market, focusing on quiet, smooth hybrid propulsion systems that not only emit low CO2 but also minimal harmful particulates. The perceived interior quality of the Prius+ is a stumbling block, however; it just doesn't look at all classy.
Accessibility
It's remarkably easy to get in and out of the front two rows of seats in the Prius+. The doors tend to be an ideal length in car park spaces, sitting at their rest points without hitting other cars. The middle row folds flat, allowing easier access to the rearmost seats if those are filled first. The car does an excellent job of making it easy for parents to fill the car without any fuss. The tailgate is stiffer than it should be, though, which does impede access.
Stereo and ICE (In car entertainment)
As part of a very modern centre console display sits a relatively small colour screen, which serves many functions including as a media interface for the stereo. It's easy and intuitive to use, with a traditional set of buttons and dials around the screen. There are USB and auxiliary input sockets, along with Bluetooth for playing music wirelessly. In terms of ease of use, pairing a device with the system is on a par with most other systems in this price bracket.
Colours and trim
There is a typical range of colours available, covering blue, red, black, white and silver. Lighter colours suit the car best; especially silver, but the single blue option also works well with the sleek shape. The interior is a mix of soft-touch and shinier, hard-touch plastics that are better suited to the Japanese and US markets than to Europe. Swathes of mid-grey plastics are not currently desirable, and tactilely it also leaves something to be desired.
Parking
A rear-view parking camera is present on this model, but doesn't do its job as well as it could and should, because it's mounted away from the centre of the boot and therefore gives a slightly misleading perspective on the parking space. Fortunately the Prius+ is narrow with generally good visibility, and it's easy to park without the electronic aids. The narrow width also helps in finding suitable spaces in car parks and allows the doors to open wider than they otherwise might.
Spare wheel
Space saver spare wheel fitted as standard.
Range information
Petrol engine options - 1.8-litre (98bhp). Transmission options: CVT auto gearbox only. Trim levels: T4, T Spirit.
Alternative cars
Hyundai Santa Fe Seven-seat model similarly priced and equipped, but much less economical
Nissan Qashqai Good diesel engines and a seven-seat model boost this best-seller
Citroen C4 Grand Picasso Ageing but still very capable, with good fuel economy and pleasant styling
Ford Galaxy Proven and practical, but much larger and more expensive to run