March 2004
Toyota Prius Prius T4
Could futuristic-looking Prius be the start of a green revolution?
March 2004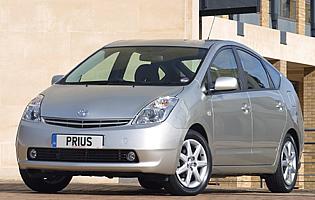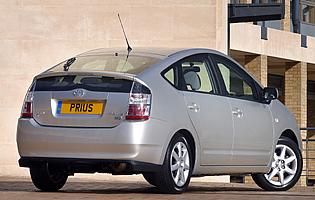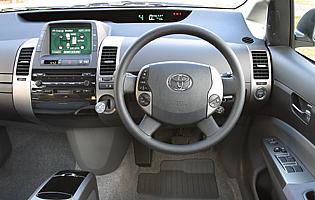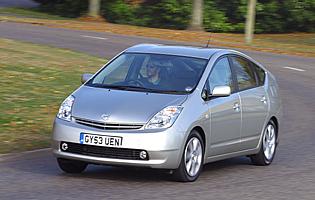 Overall rating

Likes:
Excellent fuel economy
Modern, sophisticated looks
Generous cabin space
Premium JBL stereo unit in T4 and T Spirit models
Exempt from London Congestion Charge
Gripes:
Disconcerting lack of any engine noise
Spoiler obscures view through rear window
Digital speedometer looks terrible
Cluttered steering wheel controls
Cheap-looking rear light clusters
The second generation Toyota Prius is described as the 'world's greenest family car'. With CO2 emissions of only 104g/km and a combined fuel economy of 65.7mpg, the company might be on to something. But the Prius also has to prove itself as a car to gain widespread acceptance.
History shows that people are traditionally suspicious of new technological developments. The Prius not only has to prove its worth as a car but also as a piece of hi-tech wizardry. The general consensus seems to be that the car's Hybrid Synergy System that switches power between a petrol engine and electric motor is pretty well sorted.
After a brief introduction the Prius turns out to be no more complicated to drive than its conventional rivals, the Vauxhall Vectra, Ford Mondeo and Renault Laguna.
The regenerative braking system, for example, comes across at first as rather daunting but after doing it once or twice it quickly becomes second nature. This is the system that uses the energy generated by braking to recharge the vehicle's battery cell.
With the Prius, Toyota has afforded the family motorist of today a sneak preview of the family car of tomorrow. Only time will tell if the promise of excellent fuel economy and planet-saving emissions levels will lure people away from their large, powerful diesel and petrol-powered models. But with the ever-increasing cost of fuel, cars like the Prius offer an attractive alternative.
Our verdict on the Toyota Prius Prius T4
It may be a technological wonder, but more importantly the Prius is a good all-round car; competently performing all the daily chores expected of it without any fuss whatsoever. The only potential stumbling block is the price: will people be prepared to fork out that bit extra to go green?
Costs
The initial outlay for a Prius is higher than many in its class, but thereafter things get better. The promise of a combined consumption figure of 65.7mpg will mean fuel bills are affordable. A VED band of AA will give excellent Benefit in Kind tax breaks for company car drivers. The promise of a GBP1,000 Government-sponsored 'PowerShift' grant will also help with the finances. Insurance group ratings range from 7E for the T3 up to 8E for the T Spirit won't break the bank and a three-year/60,000 mile warranty comes as standard.
Space and practicality
Holiday trips to the airport or further afield won't present any problems as far as boot space is concerned. The 400 litres provided is more than enough to accommodate several suitcases or the monthly supermarket shop. There are also plenty of stowage spaces and cup holders in the cabin.
Controls and display
All the switches and buttons on the Prius' dash feel solid and connected. Steering wheel-mounted controls are of good quality but there are too many of them, making the wheel cluttered and cumbersome to hold. The electronic speedometer is positioned too far away from the driver and isn't as attractive as the more traditional dial type speedo.
Comfort
Ride comfort is acceptable as the car's suspension configuration is taken from the tried and tested Corolla. Road and engine noise is hardly audible, which, while making for a peaceful journey, can become disconcerting after a while. Intrusive wind noise isn't a problem in the Prius. The seats are comfortable front and back, with chunky bolsters and good support for the lumbar region of the back.
Car security
No frills here really, simply remote control central locking connected to an alarm and immobiliser across the range. It is difficult to imagine the Prius being at the top of thieves' 'to steal list', though.
Car safety
Impressively, most of the safety equipment at Toyota's disposal has been incorporated into all Prius models. Dual front, front side and curtain airbags feature across the range. LED brake lights are fitted, which respond up to ten times faster than traditional lights. Anti-lock brakes (ABS), an Electronic Stabilisation Programme (ESP), traction control, pre-tensioning front seatbelts, three three-point rear belts, ISOFIX child seat compatibility and childproof locks complete what is an impressive safety spec-list.
Driver appeal
As driving experiences go the Prius is rather forgettable. The major thrill one derives from being behind the wheel is arriving at your destination, say, 240 miles from home and knowing that you have only used four gallons of petrol. While the steering is agile and responsive, the lack of any discernable engine note or acceleration noise leaves one feeling rather disengaged from the whole experience. Being able to body swerve that nasty congestion charge everyday is a nice incentive as well, if you live near England's capital.
Family car appeal
The Prius' excellent head and legroom means that three children will fit more than comfortably in the back. Boot space is more than adequate to accommodate a buggy or pram. Eight airbags as standard along with ISOFIX child seat compatibility make the Prius a safe bet. Interior fabrics feel durable and should stand up to the rigours of daily use.
First car appeal
Given the Prius' price and emphasis on being environmentally friendly, it is hardly an ideal candidate for a young person's first car. Although it isn't bad looking, it's hard to imagine it generating much street cred cruising around the city centre. Group 7E to 8E insurance won't be particularly cheap for those under the age of 25 either.
Quality and image
Toyota enjoys a good reputation for reliability and build quality, largely due to the success of models like the Corolla and Hilux pick up. Toyota is obviously confident that the Prius shares these characteristics as it is offering an eight-year/100,000-mile warranty on all of the hybrid components. The interior feels robust enough without straying too far from the conventional grey and black plastics.
Accessibility
The abundance of head and legroom afforded front and back makes access to the Toyota dignified and straightforward. All passengers have an elevated seating position, a feature that gives the driver good visibility apart from a view-obscuring spoiler placed in the middle of the rear window. Three children will fit comfortably on the backbench, as will three medium-sized adults. The adjustability of the front seats and steering wheel mean that the Prius is comfortable to drive over long distances and adapts to drivers of different sizes.
Stereo and ICE (In car entertainment)
A stereo designed by top hi-fi manufacturer JBL is fitted in T4 and T Spirit models. It features nine-speakers, AM/FM radio and a six-disc auto-changer. In the base T3 model buyers get a six-speaker system, with a single-slot CD player and radio. The seven-inch Multi Vision LCD screen is wonderfully simple to use and understand, even for technophobes. Satellite navigation, which works through the same display by means of a glovebox-located DVD system, is only available on the top of the range T Spirit model.
Colours and trim
The Prius is available in several bizarrely named colours, including: Salsa Red, Tideland Pearl, Seaside Pearl and the more conventional black. However, in keeping with the Prius' technological and futuristic feel, it looks best in silver. The grey cloth used for the seats appears hardwearing and robust, as does the plastic trim of the fascia.
Parking
Manoeuvring through narrow streets and in multi-storey car parks presents no serious problem as parking sensors and drive-by-wire steering come as standard on the Prius. 'London cab-like' is the best way to describe the Prius' turning circle. All potential blind spots have been taken care of with small glass sections, located between the wing-mirrors and the windscreen at the front and door and hatch at the rear.
Spare wheel
Space saver wheel fitted as standard.
Range information
All three Prius models feature the same 1.5-litre (76bhp) petrol engine mated to an electric motor. There are three trim levels: T3, T4 and T Spirit. A 5-speed automatic gearbox is featured on all cars.
Alternative cars
Vauxhall Vectra classic executive car
Ford Mondeo so popular it has become a demographic group
Renault Laguna  overlooked and under appreciated French offering
Proton Impian  cheap and cheerful Far Eastern counterpart
Mazda 6  dynamic looks and fun handling