November 2015
Toyota Mirai FCV
Curious styling is born of function before form
November 2015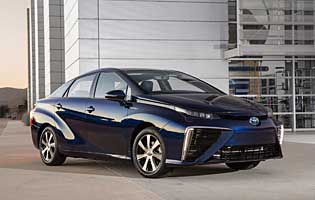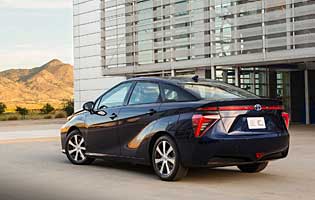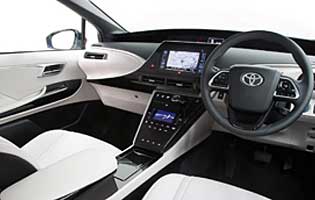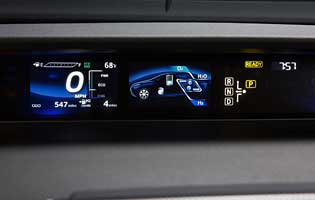 Overall rating

Likes:
Plush and controlled ride exhibits high-quality suspension
Ultra-quiet drive complemented by hushed ancillary technology
Lack of vibration creates relaxed and comfortable environment
Interior is futuristic without being confusing or intimidating
Gripes:
Lack of refuelling infrastructure
Driving range plummets with unsympathetic use
Unique styling is functional, but not attractive
High purchase price puts it beyond most private buyers
Toyota has brought about a watershed moment with the first mass-production hydrogen fuel cell car in the world - although Hyundai also claims that honour. Toyota deliberately chose to make it a saloon, which forced its engineers to innovate and break down barriers in the hope of taking a big step towards a zero-emission new car market.
The Mirai is a similar size to the Prius, if perhaps a little bulkier. It uses an almost identical hybrid drivetrain, too, but swaps the petrol engine architecture for that of a hydrogen fuel cell stack. Ultimately the extraction of energy from the hydrogen happens beneath the car's occupants and feeds electric motors at the front wheels.
The Japanese firm, in an incredible act of global goodwill, has released not just the car but thousands of patents relating to the fuel cell system as well, knowing it will never now recoup the money it has invested since starting development in 1992. Company bosses simply want the automotive world to be working on the same projects for the betterment of mankind.
While the Mirai is no oil painting, its striking looks are designed to maximise cooling for the drivetrain while minimising additional drag. Efficiency is everything here, and such a mindset results in a driving range of more than 300 miles. Refuelling is still a process in a degree of development, but takes only five minutes or so.
Toyota sees hydrogen as a complementary source of energy in a suite of possible solutions. The Mirai is the perfect guinea pig to get the technology out there and to challenge it in a number of different lifestyles and driving patterns, with a view to ultimately using optimised fuel cell systems in larger, heavier and longer-range vehicles.
Our verdict on the Toyota Mirai FCV
The Mirai is many things at once in many different contexts, but to the end user it simply drives like an electric car with a much longer range and shorter turnaround time when fuel is running low. The current shortage of hydrogen refuelling stations is a potential problem, though, as is the very high purchase price. Forward-thinking businesses with environmental concerns will be the first customers.
Costs
The hope is that if hydrogen becomes a mainstream energy source, prices will come down. At present the rates are somewhat subsidised by interested parties. The car's purchase price is more than double that of Toyota's own Prius petrol-electric hybrid, which means buyers really will have to want this specific car in order to pay for it. Road tax will be free for the foreseeable future, and residual values will stay high due to scarcity.
Space and practicality
Only having four seats may put some people off in terms of practicality. The boot is smaller than average for a car of this size, too, thanks to the space occupied by the fuel cell stack behind the rear seats. At 361 litres the boot is smaller than most compact family hatchbacks'. In the cabin there is useful covered storage that can also hold cups, while the front door pockets are perfectly adequate.
Controls and display
There are a number of digital screens in the Mirai, the largest of which is the Touch 2 interface that should be familiar to many existing owners of recent Toyotas. The stubby gear selector is neat and easy to use, while Mirai-specific displays are available to show off what the drivetrain is doing at any given time.
Comfort
Wide, chunky seats are fitted all around, complete with heaters front and rear. The passive comfort levels are on a par with just about any other car on the market and four adults will find plenty of room to relax. It is rare for any jarring or crashing to come through to the cabin from the road. The suspension could be softer but has already found an excellent balance.
Car security
There is little chance of anyone attempting to steal the Mirai to take a joy ride, but the materials and technologies on board are valuable nonetheless. Mirai owners should take care to park in secure locations if possible. An alarm and immobiliser should deter some thieves, but more determined criminals should be fought in advance with a good tracking device.
Car safety
The Mirai's hydrogen tanks were exposed to an amazing array of unconventional safety tests on top of the usual crash safety procedures. They were shot with rifles, set on fire and much more, after which the designers could be sure the system was safe. The tanks themselves are encased in a relatively fragile layer, which fractures to indicate a full fuel tank inspection is required, but the tanks are designed to be beyond robust.
Driver appeal
Driving the Mirai reveals a picture of the hugely impressive engineering behind it. Not only is the drivetrain ultra-quiet, but so are the brakes, the windscreen wiper motors and the interior fan. It also appears that Toyota has spent a lot of money on the suspension, which is plush, controlled and extremely well damped. This is a relaxing, satisfying car to commute in, and leaves one wondering why more cars aren't built like this.
Family car appeal
There are far more family-friendly vehicles on sale at half the price of the Mirai, but it's not inconceivable that some better-off families might want to choose a hydrogen car for personal reasons. It's difficult to envisage the modest saloon-style boot being able to cope with the full rigours of family life, though, and the supple leathers might be vulnerable to damage from finger nails, dirty shoes and the like.
First car appeal
At the Mirai's official asking price, there's no real prospect of even the most environmentally savvy, forward-thinking first-time car buyer being able to order one. However, if a wealthy young celebrity or business leader, or the teenage child of an older one, wanted to make a statement about their personal environmental credentials, this might be a prestigious and exclusive option.
Quality and image
The Mirai is easily one of Toyota's highest-quality products. A new seat production process gives a very high-quality feel from the moment you sit down, and the general sense from the interior is of solidity and dependability. In true Japanese style the cabin is littered with shiny plastics, which appeal more to the domestic and American markets than to European ones, but the overall effect is not unpleasant. The Mirai has a unique image, too; exclusive and advanced, but noble and clean.
Accessibility
The seats are mounted slightly higher than in most saloons, because the heavy drivetrain is routed beneath them. That makes them just about perfect for fuss-free entry and exit. Rear passengers will appreciate the broad doors and spacious footwell into which they can step. A saloon boot is lightweight and requires no effort to open - and little more to close.
Stereo and ICE (In car entertainment)
Toyota's standard Touch 2 media interface takes care of the stereo functions. As indicated by the name, it is controlled by touch. It is connected to sat-nav software and an 11-speaker JBL audio system. A neat feature is the integrated wireless mobile phone charging tray, while the use of the neat, futuristic heater controls almost counts as in-car entertainment as well.
Colours and trim
Toyota is only offering sensible colour choices for the Mirai; ones that will appeal to business users and sober well-off private buyers. Dark blue is the launch colour, but black, white and grey are available too. On the inside there are three colour choices, and while the combination of crisp white and black looks much better than you might imagine, the pale seats will get dirty easily.
Parking
The high purchase price necessitated by the brand new hydrogen fuel cell technology means that many other, longer-established technologies could be included as well. Parking sensors are standard-fit and it's good to have them, because the high rear window line means rear visibility is not ideal. The car is marginally wider than a Volkswagen Golf and is nearly 4.9 metres long, so despite hiding its dimensions well at first glance, car park spaces must be chosen wisely.
Spare wheel
Emergency tyre repair kit supplied as standard.
Range information
Fuel Cell Hybrid with electric motor (152bhp). Transmission options: single-speed transmission only. Trim levels: Mirai.
Alternative cars
Hyundai ix35 Fuel cell SUV is less advanced than the Mirai but offers more space and better looks
Honda Clarity Saloon styled, capable for everyday life and can even power your house
Mitsubishi Outlander PHEV Plug-in hybrid with lots of space and tempting UK tax advantages
Toyota Prius Quirky looks, hybrid drivetrain and a much more affordable price