May 2004
Toyota Land Cruiser LC3 3.0 D-4D Auto
With more than 50 years on and off road, it's hardly surprising the Land Cruiser is well regarded
May 2004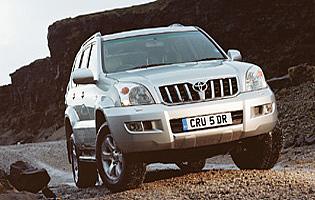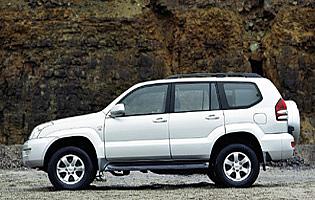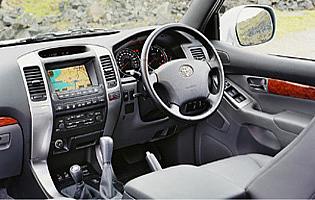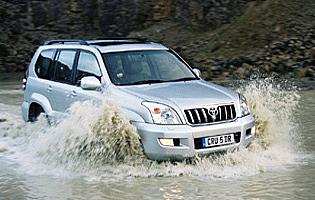 Overall rating

Likes:
Indestructible mechanicals give ultimate off-road confidence
The badge counts for a lot and demands respect
Superb range of engines to choose from
Choice of three- and five-door body styles
Gripes:
Tendency to wallow around corners
Caught between value and premium off-road prices
Some interior elements feel less robust than expected
Styling is too neutral for some tastes
Few major manufacturers fail to offer some sort of rugged off-roader these days, but compared to Toyota's mighty Land Cruiser they are all Johnny-Come-Latelys playing catch-up. Only Land Rover's Defender can hold a candle to the Land Cruiser in terms of history and reputation.
In contrast to the Defender, which still has the same basic design today as it did fifty years ago, the Land Cruiser has epitomised Toyota's 'Kaizen' principle of continuous evolution so that today's models bear little resemblance to their forbears.
If anything the Land Cruiser has developed a softer appearance over the years. The current model was even influenced by the design of Toyota's wildly successful Rav4 'soft roader', replacing set-square geometry with curves and comfort. This should not be taken as evidence that the vehicle has run to seed though - beneath the skin it is as uncompromising an off-roader as ever. Put it this way - if you were trapped in the middle of the Serengeti rather than the supermarket car park, you'd probably stand a better chance of making it back alive in a Land Cruiser over any other vehicle.
Added to mechanical robustness is a new concern with comfort. Aware that most 4x4s rarely venture away from Tarmac, Toyota has upgraded the interior so that on-road travel is far less noisy and jarring than it once was. It is nowhere near as comfortable as its Lexus RX300 stablemate and falls short of 'premium' status for the quality of cabin plastics and switchgear but it is ahead of the cheaper offerings from Kia, Hyundai and SsangYong. Such rivals offer a good deal of off-road clout and tremendous value for money but all lack the complete dominance the Land Cruiser exhibits over even the most challenging terrain.
Our verdict on the Toyota Land Cruiser LC3 3.0 D-4D Auto
The sort of people who gain a vicarious thrill from dressing up in army surplus gear and attaching ranks of pointless headlights to their vehicles may be disappointed by the Land Cruiser's neat and not particularly macho appearance, but for everyone else it is a contemporary-looking car that looks good in town or country and isn't afraid of hard work when required.
Costs
Located squarely between the value-oriented and premium 4x4 sectors, the Land Cruiser is a perfect illustration of getting precisely what you pay for. It may not astound with the length of its standard equipment list but you do know that what it has will work correctly for years to come. Toyota's reliability is legendary - a key element in keeping costs down - and service intervals are long for a vehicle that is likely to be worked hard. Anyone looking to cut costs will inevitably opt for the diesel engine. Constant strong demand for used Land Cruisers means that they hold their value very well.
Space and practicality
Five-door models are nominally eight-seaters, even though the rear rank is really only suitable for children. Toyota's designers seem to have missed one trick though - in eight-seater models, the second rank of seats is split 60/40, but the third rank splits 50/50, creating a curious asymmetry. The load area is large but not as enormous as one might expect.
Controls and display
As with the rest of the interior treatment, dials and switches lack the sparkle and finish of most rivals. They are easy enough to read and operate, but the driver does not actively enjoy reading and operating them the way he can in, say a Touareg or Nissan X-Trail. You'll get the information you needed but nothing more evocative.
Comfort
Much of the Land Cruiser's interior feels curiously characterless. It's all well built but uninspiring with a few poorly matched plastics and glaring moulding marks. There's nothing to make you raise an eyebrow at a particularly clever innovation or unexpected piece of craftsmanship the way there is in a Volkswagen Touareg or Volvo XC90. There's not even the anti-style of a Land Rover Defender. Everything is inoffensive but it would not be unreasonable to ask for more from a modern motor. Expensive variants hide their anonymity better behind some superior materials, but it's not exactly a classic interior. Five can be seated in comfort but the mooted eight is optimistic. Wind noise is intrusive, becoming even more noticeable with the sunroof open which displays a tendency to click and whirr at certain speeds.
Car security
4x4s seem to attract would-be thieves in today's climate, so Toyota provides a good security package with shielded door locks and double locking to prevent opening even if the key mechanism has been forced. In addition there's the expected alarm and immobiliser twosome. Ultrasonic sensors are fitted which can detect if a window is smashed of there is movement. The car's unique VIN number is stamped into the bodyshell and on selected key components.
Car safety
ABS, EBD and Brake Assist are aboard all models and the effect they have in avoiding accidents before they happen should not be underestimated. If the worst should happen, the Land Cruiser boasts a specially reinforced bodyshell with car-like crumple zones, a welcome innovation compared to the over-reliance on the strength of a ladder frame chassis. More obvious safety features include three-point seatbelts for all seats (including seven seat models), ISOFIX mounting points for the outer seats in the second rank and driver, passenger, side torso and side curtain shield airbags. High-spec models come with an anti-rollover Vehicle Stability Control system. Given the particular risk of a rollover in such a high-sided vehicle, it may be a worthwhile investment from the options list for other grades, too.
Driver appeal
On roads the Land Cruiser bowls along fairly well. All the usual 4x4 vices and virtues are on display; it leans through corners and steering can feel imprecise at speed but visibility is good to the sides if impaired to the rear by the boot-mounted spare wheel. Cabin noise is less intrusive than expected. Venture onto the rough stuff and the Land Cruiser excels. Whether it's rocks, mud or sand, immense traction, high ground clearance and a feeling of mechanical components hewn from the same granite over which they drive make driving a Land Cruiser an exhilarating experience. The presence of plenty of electronic assistance including hill start assist control, downhill assist control and height-adjustable suspension (on top models) further enhances its abilities.
Family car appeal
Doubtless many Land Cruisers are pressed into service on the school run but in reality it is not terribly practical for such purposes. The cabin isn't spacious or family-oriented enough, particularly in the rear seats, and it's too large and imprecise to park outside the school gates or squeeze into a supermarket parking bay. A Volvo XC90 makes a far more sensible option for urban and suburban families. Genuinely rural families could put a Land Cruiser to use as a dual-purpose working and family vehicle.
First car appeal
Unless you're the son or daughter of an isolated crofter, there is little to recommend the Land Cruiser as a first purchase. If you are the son or daughter of an isolated crofter, you'll probably inherit Dad's Land Cruiser in the fullness of time anyway.
Quality and image
Owning a Land Cruiser will win you plenty of approving nods and winks from off-road aficionados and fellow owners. There's no danger of being mistaken for a 4x4 'dabbler' when you drive such a comprehensively capable vehicle. However credible it may be, there's equally no danger a Land Cruiser will be mistaken for a 'premium' off-roader, no matter how much Toyota insists this is the case.
Accessibility
Obviously, five-door models are far easier to climb into than three-door models. The rear door opens wide and is easy to load, even though the boot volume isn't as large as one might suppose from outside. Some space is lost due to the Land Cruiser's inward-sloping C-pillars and the fact that the third row of seats folds 'up' into them rather than down into the floor. Good-sized running boards aid the necessary step into the cabin.
Stereo and ICE (In car entertainment)
Standard issue is a six-speaker radio CD/tuner with antennae cleverly embedded in the rear quarter glass. Top of the range LC5 models gain a radio/cassette player with six-disc CD autochanger, nine speakers and a 400W amplifier. Incidentally, Toyota's satellite navigation system is among the best with very clear voice instructions and fast reaction times.
Colours and trim
Four distinct trim levels are badged LC2, LC3, LC4 and LC5. In common with other Toyota models, there is no LC1 because Toyota believes people don't want to be seen buying what is obviously and entry-level car. If it's not something that bothers you and you yearn for the basics, a stripped-down commercial vehicle model is also available.
Parking
Light steering with loads of powered assistance helps with parking and off-roading, even if it makes the on-road experience less than direct. Though large, the Land Cruiser is more compact than it looks
Spare wheel
A full-size alloy replacement is fitted as standard.
Range information
Three and five-door models are both offered. Engine choice is a straight choice between a 4.0-litre VVT-i V6 petrol unit and a 3.0-litre D-4D common rail turbo diesel. Cars come with five-speed manual or four-speed automatic transmission with a low ratio transfer gearbox. Note that the older, larger, cruder Land Cruiser Amazon is still sold but is generally too large and uneconomical for UK usage and should not be confused with the new model, which replaces the former Land Cruiser Colorado model.
Alternative cars
Kia Sorento Bears a passing resemblance to Land Cruiser and tremendous value for money
Land Rover Defender The veteran British battler remains the only choice for many
Volkswagen Touareg Superior cabin build and awesome diesel engines
Lexus RX300 Land Cruiser's posh elder brother doesn't like getting its boots muddy