Toyota Avensis Touring Sports Business Edition Plus 1.6 D-4D
Expertly shaped front seats offer exceptional comfort
June 2015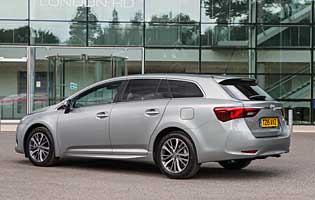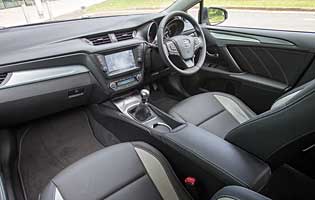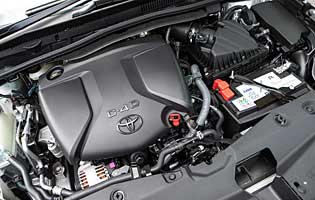 Overall rating

Likes:
Chunky, expertly shaped front seats offer exceptional comfort
Huge boot available in both saloon and estate variants
Tall gearing makes for excellent motorway cruising fuel economy
Good value for money compared to alternatives
Gripes:
Small wheels necessary to gain the lowest running costs
Some ancillary controls date back more than a decade
Engine struggles to provide strong overtaking acceleration
Boot would benefit from measures to prevent luggage sliding or rolling
Toyota's Avensis has been the type of car that rolls along through its life being loved by loyal buyers and being overlooked by the many in favour of flashier, more fashionable cars. Toyota hasn't tried to change this perception overnight, but has made some crucial improvements nonetheless.
The Avensis is roughly the size of a BMW 3 Series and is one of a handful of similarly mainstream models that used to be extremely popular before the advance of the premium German brands effectively stole the segment away from the Toyotas, Renaults and Hondas of the car world.
However, these cars are still very profitable even though sales volumes are falling, and Toyota is showing that it's still willing to invest. The Avensis has been upgraded with much-improved seats, newly-standardised safety equipment and diesel engines sourced from BMW - to satisfy the demanding European driver without necessitating the huge research and development costs that come with building new engines from scratch.
There is a clear bias in the sector towards business users, so Toyota has renamed two trim levels to clearly reflect their target buyer. The Business Edition and Business Edition Plus are keenly specified to give high-mileage drivers the low running costs, the comfort and the equipment that they really want, including integrated navigation on the higher of the two grades.
With rivals like the Renault Laguna and Honda Accord having disappeared from the UK market altogether, Toyota's main concern outside of the dominant premium brands is the Volkswagen Passat, which has itself moved upwards in both quality and price. The Japanese firm is banking on its reliability and safety records to win buyers' minds even if their hearts lie elsewhere.
Our verdict on the Toyota Avensis Touring Sports Business Edition Plus 1.6 D-4D
The Avensis is not obvious, not boastful, it doesn't make an instant impression and yet it won't become annoying to live with, either, unless the driver simply wants more performance than the Avensis' relaxed engines can give. It's a straightforward car with exceptionally comfortable front seats and an economical engine that will transport an individual or a family in high levels of safety and with peerless reliability.