December 2014
Suzuki Vitara 1.6 DDiS SZ-5
Boxy design is carried off well thanks to even proportions
December 2014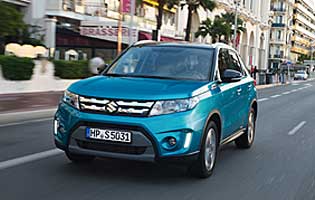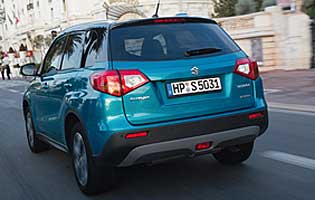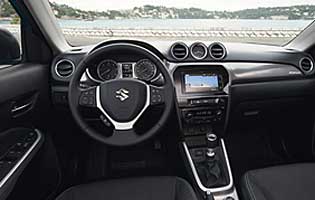 Overall rating

Likes:
Surprisingly high driving position gives commanding and confidence-inspiring view ahead
Strong diesel engine pulls well and is impressively flexible
Wide cabin offers plenty of room across the rear bench seat
Excellent value for money against all its rivals
Gripes:
Boot space sacrificed in the name of style
Rear legroom is reduced by the presence of taller front seat occupants
Only two engine options
Trip computer could be more comprehensive
Suzuki operates on a much lower budget than most mainstream manufacturers, but even so, the 2015 Vitara has been a long time coming. It drops the 'Grand' title, having forgone any pretence of being a true off-roader, but its maker says it is designed to maintain all-road ability for reassuring winter handling or for tackling muddy fields.
This generation of Vitara marks a wholesale departure from its predecessors, in that it has been released with a newfound focus on style at the expense of practicality. It shares many of its chassis and running gear components with the SX4 S-Cross, but is shorter, wider and has a higher roof. The Vitara is billed as the more stylish, more design-led effort to the S-Cross' family workhorse.
It's larger than many of the most popular compact SUVs and crossovers, with more interior width and a bigger footprint on the road. Suzuki hopes that by raising the size a little and placing the Vitara on a platform that offers multiple benefits over the likes of the Renault Captur and Nissan Juke, buyers will see the added value.
The dimensions make it a relatively square shape on the road, which helps it to feel nimble and belies its surprisingly imposing chunkiness. It is an entirely different proposition to the old Grand Vitara, and uses the SX4 S-Cross' on-demand four-wheel drive system for better fuel efficiency, although it adds a newly developed function to combat wheelspin before it happens.
Suzuki's ultimate aim is to have both functionally led and design-led cars in three of the most popular car classes. A rival for the likes of the Volkswagen Golf is not in any of the company's plans, with bosses preferring to bias their efforts in this sector towards taller models that are very much in vogue with families.
Our verdict on the Suzuki Vitara 1.6 DDiS SZ-5
The Vitara has a lot of talents, often hidden beneath the all-new, boldly crafted surface. It needs to be driven for a while to really get its message across, but once it does it can stake a claim to be one of the best-value compact crossovers out there, and one whose features a family can grow into as time goes by. It can't match rivals for engine choice, but in every important respect the Vitara meets or exceeds expectations handsomely.
Costs
As well as costing less than the less attractive but more practical S-Cross, the Vitara secures an extremely good level of value for money. Few, if any, other cars offer this combination of space, equipment and style for the money, and that is a key factor that could persuade buyers on its own. The diesel model has low emissions, so benefits more from emissions-based taxation systems, and both engines fall into insurance groups that shouldn't present problems for most drivers with a few years' no-claims bonus.
Space and practicality
In the name of achieving the shape the designers wanted, the boot has been shrunk slightly. It does mean that it loses out to some rivals for practicality, and bigger boots can be found even in the compact family hatchback class. There are useful recessed bins at both sides of the boot, though, which are ideal for placing bottles of milk or wine into to stop them falling over or rolling around. Inside the cabin the storage between the two front seats is impressively spacious, but an odd intrusion into the space means it's not as practical as it could be.
Controls and display
The slightly frustrating aspect of the multi-function LCD display between the speedometer and rev counter is that the instant fuel consumption meter, by which a driver can gauge with live feedback how well he or she is doing at conserving fuel, stops at 80mpg. Gentle cruising sees the bar stuck at 80mpg, leaving you none the wiser as to your actual performance. Better news comes with the new sat-nav and media interface screen, which features much-improved graphics and is more cleanly integrated into the dashboard than its equivalent in Suzuki's own SX4 S-Cross. The analogue controls are sturdy and accurate.
Comfort
There is far more adjustment in the driving position than in most rival cars, and it would take someone of quite unusual proportions to drag the wheel all the way to one of its extremes. Getting comfortable is easy, and the added lumbar support for the driver is especially welcome for long journeys. The rear seats have less in the way of support, but there is enough width to place three children across the bench.
Car security
High-end models like this one have privacy glass to help keep prying eyes from seeing anything that may have been left on the back seat. The panoramic sunroof exclusive to the SZ-5 model can be blocked with an electric, sliding cover. Central locking with deadlocks is standard, as per consumer expectations, and the fuel filler cap locks with the central locking. A storage bin between the two front seats adds to the covered space and increases security, allowing small valuables to be kept out of sight.
Car safety
Higher trim grades use a special Radar Brake Support system that actively scans the road and detects an impending crash, applying the brakes to their fullest if the driver doesn't press the pedal hard enough. The system can actually prevent low-speed bumps, while mitigating high-speed impacts. Adaptive cruise control will, once activated, prevent the car from getting too close to the vehicle in front, slowing down as necessary and speeding up to a maximum pre-set speed as defined by the driver.
Driver appeal
Despite its appearance the Vitara is actually an impressive performer on the road, particularly in the handling stakes where, with Sport mode activated via the drive mode selector dial, the four-wheel drive system engages to provide more balanced drive out of corners. It doesn't roll too much, it absorbs nasty bumps with aplomb and the primary controls are all blessed with a weighty, substantial feel that delivers a sense of sturdiness and stability. The diesel engine is not the quietest, but it is exceptionally flexible and is capable of high fuel economy in the right hands.
Family car appeal
Families without the need or desire for a big boot, but who want a high-riding car that looks good and offers a lot of luxury for a reasonable outlay will find the Vitara just about perfect. It's big enough for a family, as long as the modest boot fits the bill, and with ISOFIX child seat mounts and the ability to turn the front passenger airbag off, it's safe to carry newborns and toddlers too. Importantly, it will also look good on the drive.
First car appeal
There isn't much about the Vitara that might make it a particularly prevalent option for first-time car buyers. It comes in exciting colours, is easy to drive and offers plenty of space to be going on with, as well as benefiting from a good reliability record so far for the car it shares its parts with. But its size and purchase price count against it in terms of risk, and if a new driver did want to take one of these for their first motor it might be a tough task to source affordable insurance.
Quality and image
The Vitara looks great; it's instantly different to anything that it might be compared to. That could give it a crucial advantage with buyers who choose the car they really want, rather than just the one that makes the most sense. Suzuki's image is still in part in the shadow of bygone days where its cars were cheap and cheerful, but the Vitara deserves better than that. Some of the cabin plastics may feel worse for wear after several years of ownership, but in the main it is solidly built.
Accessibility
The driver's seat is higher than many people might expect, and while that gives a brilliant driving position, particularly short drivers may find it an irritation to climb into it every day. All the doors open nice and wide, though, giving passengers and driver alike instantly good access. The front door apertures are more forgiving than the rears, which have been shrunk compared to the SX4 S-Cross'. Also worthy of note is the particularly light tailgate, which allows easy one-handed operation for when carrying heavy shopping or a child.
Stereo and ICE (In car entertainment)
Suzuki fits a good stereo to the Vitara as standard, with speakers in both the front and rear doors as well as tweeters for higher frequency notes placed closer to head height. Occupants can choose to hook their media player up to the car via USB, an old-fashioned auxiliary lead or even Bluetooth. Digital radio is standard, with an FM/AM system to back it up.
Colours and trim
Emphasising the Vitara's aim to capture hearts as well as minds, the car is being made available in a series of bright metallic colours as well as one or two lower-key options. Two colours, including a burnt orange that looks particularly good, are brand new to Suzuki. On the inside the look is improved from the SX4 S-Cross, thanks to a better-integrated media interface screen. There are no particularly evident signs of cost cutting, but for quality the plastics do fall a notch below those of some more expensive rivals.
Parking
Even though this model is slightly wider than the S-Cross with which it shares many parts, it still isn't a particularly wide car by any standards. It slots into parking bays with almost no effort, although some might think the steering should be a little lighter at crawling speeds than it is. There is good visibility, in the main, but the front and rear parking sensors and reversing camera fitted to this high-spec model are welcome. Mid-range grades feature rear parking sensors only.
Spare wheel
Emergency tyre repair kit supplied as standard.
Range information
Petrol engine options - 1.6-litre (118bhp). Diesel engine options - 1.6-litre (118bhp). Transmission options: six-speed manual gearbox, plus auto (petrol only). Trim levels: SZ-3, SZ-T, SZ-4, SZ-5.
Alternative cars
Nissan Qashqai Larger, considerably more expensive and less wieldy, but higher quality throughout
Renault Captur Popular and colourful compact crossover with small, efficient engines
Skoda Yeti Practical shape, useful boot and excellent engines hide behind drab styling
Peugeot 3008 Excellent driving position and comfortable seats, but not the prettiest option