August 2009
Suzuki Jimny 1.3 SZ4 3dr
Subtle refresh hasn't spoilt the Jimny's familiar appearance
August 2009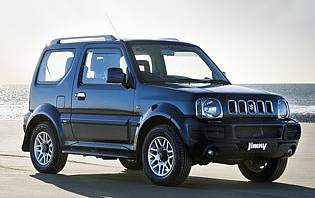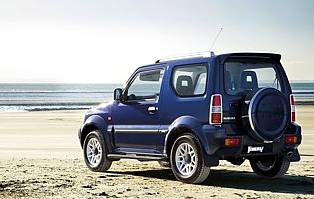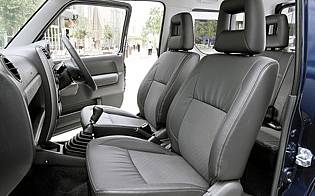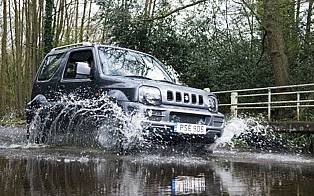 Overall rating

Likes:
Compact size makes it ideal for the cut and thrust of urban life
A genuine off-roader, and one that's more capable than you think
Refreshingly honest and capable car
Surprisingly generous equipment levels considering asking price
Gripes:
Don't expect Volkswagen levels of cabin fit and finish
Ride can feel a little crashy on poorly surfaced urban roads
At motorway speeds the modest petrol engine gets a little noisy
Rear seat space is limited
The conventional SUV might have taken a pounding in recent years as the focus has switched to more efficient and smaller vehicles, but 4x4s will always have a role to play in motoring life. If you don't need a 4x4 the size of a country manor but occasionally have the need to go off-road, micro 4x4s like Suzuki's Jimny might be the answer.
If Suzuki's Jimny looks familiar, that's because the basic vehicle hasn't changed much over the years. Despite rival car firms expending considerable effort to reinvent their wares on a regular basis, Suzuki has displayed a commendable level of confidence in the Jimny and resisted the temptation to tinker for the sake of change.
As a result, this refreshed iteration retrains the Jimny's familiar compact footprint. Town dwellers seeking a fashionable alternative to a conventional city runabout have often fallen for the car's charms. The ability to park in the smallest of spaces, see above the masses thanks to the lofty driving position and benefit from the car's sprightly 0-30mph performance are just some of the Jimny's positive qualities.
Of course, there's also the car's 4x4 transmission; this oft-forgotten element is what originally gave the Jimny its edge over larger SUVs. Frankly, if ou don't need the bulk of a conventional 4x4 or wish to purchase a second car capable of routinely dealing with adverse conditions, there's not a lot to choose from. The Jimny, unlike some of its more recent rivals, is the real deal as afar as off-roading on the cheap goes.
With its switchable transmission, you can engage all-wheel drive when you want and keep fuel bills and cabin noise low when you don't. In all-wheel drive mode the Jimny is akin to a mountain goat; its compact size and willing engine affords it a surprising degree of a agility. There are no Land Rover-style electronic aids to help you, but it's clear that's how Suzuki and its loyal customers like it.
Our verdict on the Suzuki Jimny 1.3 SZ4 3dr
Sometimes more of the same is a good thing. In the case of Suzuki's Jimny, that the car hasn't received any major mechanical upgrades is testament to its underlying performance. As super-compact 4x4s go, the Jimny is hard to beat. It will go where you point it - even if that includes a steep and slippery slope - and feels almost invincible in a way on Land Rover's Defender does. That the Jimny is also a perfectly usable runabout for urbanites seeking something different is the icing on the cake.
Costs
It may cost a little more than your average supermini but Suzuki's Jimny offers more for the buyer seeking something different or a compact 4x4 with genuine mud-plugging ability. Used hard, the petrol Jimny isn't terribly frugal and there's no diesel option. Although, as if to balance this out, general running costs are more in keeping with that of a conventional city runabout.
Space and practicality
Front seat occupants should fare well in the Jimny. It's a little snug but never uncomfortable. It's more than a little sung in the back, though. Realistically the rear seats are only comfortable for children, although suitably agile adults should be okay for short journeys. Storage space in the cabin is modest but acceptable, while the car's boot space is also on the small size - ideal, though, for undemanding singletons or couples.
Controls and display
There's not a lot going on inside the Jimny, which is understandable given it's uncomplicated approach to motoring. What you do get to see and touch is more than acceptable, with the various controls and displays intuitive and easy to read respectively.
Comfort
Despite the Jimny's decidedly basic set-up, it's more comfortable than you might think. The cabin might be sung for two adults up front, but for urban trips it's more than adequate. It can, however, get a little noisy when running at motorway speeds - the engine has to work hard and it's not the quietest around.
Car security
While no Ferrari, the Jimny like every car will always be a target of the opportunist thief. As such, remote central locking is a welcome addition, although the lack of a cover for the car's rear load space does mean that your belongings will be exposed. Given the modest expense, a visual deterent such as a steering lock should keep the all but the most persistent of criminal minds at bay.
Car safety
Suzuki's modest approach to motoring means, predictably, that you don't get the same high level of technological help as you would in a plush saloon. However, the Jimny's switchable four-wheel drive is a feature that comes into its own when conditions underfoot are less than special. Elsewhere anti-lock brakes and airbags ensure that you're covered for most eventualities.
Driver appeal
Given the Jimny's 4x4 origins it's would be wrong to be overly critical of its on-road behaviour. The short wheelbase and tall stance put it second best behind a conventional supermini around town - there's noticeably more pitch and roll - while it won't set any land speed records. Where it does shine is in helping you zip around town and, predictably, is off-road. The Jimny is a fully featured 4x4, what with switchable all-wheel drive. In this environment it's the motoring equivalent of a mountain goat.
Family car appeal
A limited amount of interior space is the restricting factor for family use. The rear would struggle to accept a pushchair and older children would find the two back seats cramped. However, as a second car, it's a workable choice for both urban and rural families.
First car appeal
Given the Jimny's modest price and easy to drive character, it's not hard to see its appeal as a car for he novice driver. As an alternative to a conventional city hatch it makes a surprising amount of sense, especially if you value a lofty driving position and good visibility.
Quality and image
Although often spoken of in unkind terms, there's a lot to like about Suzuki and its Jimny. The basic premise of a compact, low cost 4x4 is a sound one, and has done well in developing markets. Seen more as a niche, lifestyle product in the West, it has a loyal fan base and easily punches above its weight in a tightly knit market sector.
Accessibility
Being a three-door car, access to the front seats is straightforward. The car's high rise stance does mean that you still have to climb up and in, but it's not a patch on, say, Land Rover's much larger Defender. Access to the rear seats requires a greater level of agility due to the modest amount of space available. Great for children, adults won't want to stay there for too long. At the back the car's tailgate opens out - not up - meaning it's often better to drive into parking spaces to ensure access to the rear.
Stereo and ICE (In car entertainment)
Despite the car's modest price, Suzuki hasn't - relatively speaking - scrimped on the audio provision. The combined radio and CD unit is easy to use and the sound quality is easily comparable to equipment costing much more. Sadly it does get swamped by the engine when travelling at motorway speeds.
Colours and trim
The Jimny might not have changed much in recent years but it still looks modern in its appearance. This is helped by choosing a bright, bold hue from the colour palette. Inside it's a little more conservative, although you've got to appreciate that some will put this vehicle to work, meaning there's no room for fancy trim options.
Parking
It's not hard to see the Jimny's appeal in an urban environment; its short, squat stance makes it perfect for slotting into those normally inaccessible city centre spaces, while car parks are no match for the little Suzuki's compact turning circle. Thanks to the lofty driving position, fore and aft visibility is good, too.
Spare wheel
Full size steel spare located on the rear door.
Range information
Petrol engine options - 1.3-litre (85bhp). Transmission options: five-speed manual gearbox. Optional four-speed automatic gearbox for SZ4 model. Trim levels: JLX, SZ4.
Alternative cars
Daihatsu Terios Equally competent off-roader but more refined on-road manners
Suzuki Grand Vitara Big brother to Jimny is more expensive but also more refined
Fiat Panda 4x4 variant is cheap, cheerful and surprisingly versatile
Skoda Roomster Scout version looks the part but lacks off road potential; is more spacious and refined but expensive