December 2012
Suzuki Jimny 1.3 SZ3
Refreshed exterior helps to boost Jimny's appeal
December 2012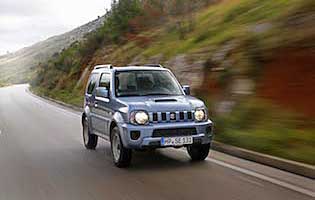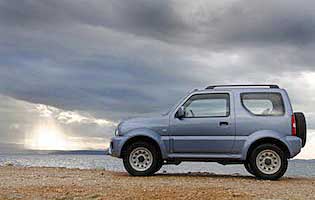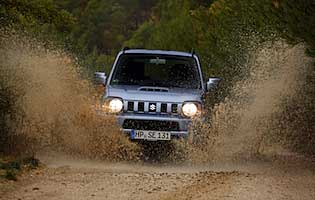 Overall rating

Likes:
Refreshed exterior breaths new life into long-running Jimny
Four-wheel drive affords it impressive off-road potential
Compact size is great for parking and urban motoring
Improved equipment levels welcome
Gripes:
Build quality still lags behind standard set by European models
Despite improvements engine isn't smoothest in its class
Modest amount of interior space
Not a car for long distances
Suzuki's Jimny has carved out a successful career as one of the smallest and most enduring 4x4s on the market. It's not exactly modern in the same sense as the stereotypical 'soft-roader' clan, but its robust construction and simple styling have resulted in cult status.
The Suzuki Jimny has succeeded in finding favour with the small group of drivers in need of such a niche vehicle. In real terms if you need an ultra compact 4x4, the Jimny is going to be your only option due to its size, abilities and price.
Short and narrow but with excellent ground, the Jimny can confidently be taken off the beaten track. Key to this ability is the four-wheel drive system - selected by pushing a button on the dashboard. Operating in rear-wheel drive mode until required, the system engages the four-wheel drive at speeds of up to 62mph.
Although a diesel engine is available in selected markets, UK buyers are restricted to 1.3-litre petrol engine. Recent technology improvements such as variable valve timing means it offers an acceptable level of power with modest fuel consumption.
The latest round of enhancements are as subtle as the previous ones, and this time centre on minor cosmetic changes to the car's nose. Bonnet, bumper, grille and headlights have all been tweaked, while minor trim upgrades to the SZ4 model round off what can be viewed as an incremental revamp.
Our verdict on the Suzuki Jimny 1.3 SZ3
For anyone seeking a rough-tough ultra compact 4x4 with genuine off-roading ability, the Suzuki Jimny is one of only a handful of options. Comfort levels have been improved and the car's 1.3-litre petrol motor is now a more rounded performer, although the baseline performance remains modest by current standards. You'd have to be a loyal fan to consider a Jimny as your sole, day-to-day transport but it gets the job done.
Costs
There's no denying that the Jimny occupies a very small niche in the car market as a low cost micro-SUV. Its saving grace is its off-road potential, making it appealing to a narrow section of buyers who are likely not to baulk at the car's less than economical running costs - a compact diesel 4x4 will likely consume less fuel, for example.
Space and practicality
Interior space is predictably modest, particularly in the rear, and even with the seats folded flat there's limited capacity. Front passengers do fare reasonably well, with a decent amount of headroom, although the narrow body can make it feel a little snug.
Controls and display
The Jimny's low-key interior design results in a control layout that is simple and functional. The driving controls could be more precise, although the steering's slight vagueness does help to mask kickback through the helm when driving off road.
Comfort
The SZ3 variant makes do with a few less toys than the SZ4 - part leather seats for example - but is none the worse for it. It's well equipped considering the price but there's no escaping the higher than average noise levels - wind, engine, tyre - entering the cabin.
Car security
Like the rest of the Jimny, the security provision is modest. Central locking is standard and the vehicle is also immobilised. Secure storage is limited, which is a shame if you need to keep valuables out of sight.
Car safety
ABS braking with brake-force distribution is standard as are driver and front passenger airbags and a collapsible steering column. Four-wheel drive comes with its own safety benefits that shouldn't be underestimated regardless of the conditions.
Driver appeal
The Jimny is full of compromises, although most don't detract too much from the overall driving experience. The car's 1.3-litre engine isn't as coarse as it once was but it's still quite vocal. ON road it can be a little bumpy and off-road is where it really shines with genuine potential thanks to its ground clearance and selectable four-wheel drive.
Family car appeal
The rear of the Jimny would struggle to accept a pushchair and older children would find the two back seats cramped. However, as a second car, it's a workable choice for both urban and rural families.
First car appeal
If you consider the Jimny's low price, size and image, it makes it a very interesting choice for the first time car-buyer, although its driving characteristics are different to that of a conventional supermini.
Quality and image
Despite the car's enduring appeal, the interior is basic in terms of materials and construction although the 2012 improvements have made a small difference. The car's cult following is one reason why it has lasted so long.
Accessibility
Thanks to a tall body and higher than average ground clearance, access to the cabin is good - you do have to step up a little to get in. Access to the rear isn't as good due to the limited space, three-door body and restricted movement of the front seats. The full width boot door offers good access to the rear.
Stereo and ICE (In car entertainment)
There are no surprises here as the Jimny's CD player and radio system is standard fare. However, the unit's output struggles against the above average engine and road noise the car produces.
Colours and trim
The SZ4 trim level gives a good impression of relative luxury with synthetic leather seats, leather trim and rear privacy glass. Sadly SZ3 models make do with a downgraded interior as befits the reduced price point. A decent array of colours is available in metallic and solid styles plus a stylish two-tone scheme.
Parking
A decent turning circle and big mirrors make the Jimny easy to park. Good visibility helps, as does the power steering, which removes some of the strain - a bonus considering the Jimny's underpinning four-wheel drive system
Spare wheel
Full size steel spare located on the rear door.
Range information
Petrol engine options - 1.3-litre (85bhp). Transmission options: five-speed manual gearbox, four-speed automatic gearbox. Trim levels: SZ3, SZ4, SZ4 auto.
Alternative cars
Ford EcoSport Polished on the outside but a little rough around the edges and lacks all-wheel drive
Suzuki Grand Vitara Larger and more expensive in-house rival but more refined
Fiat Panda 4x4 is cheap and versatile Panda variant
Skoda Roomster Scout version lacks off road potential, but is more spacious than the Jimny