March 2012
Subaru XV 2.0D SE
Rakish looks of the XV are a refreshing change for the normally conservative Subaru
March 2012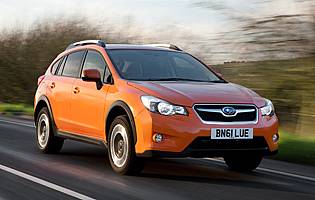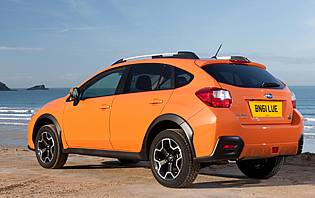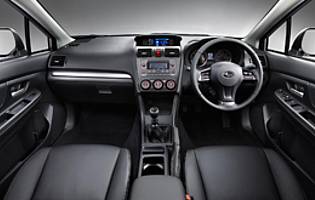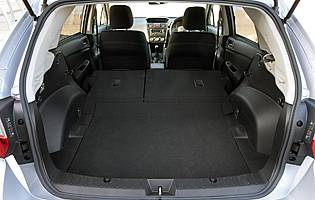 Overall rating

Likes:
Bold exterior look is a refreshing change
Balanced and refined on-road ride
Accommodating and well-built cabin
Off-road performance easily trumps its soft-roader rivals
Gripes:
Durable cabin lacks the design flair of its rivals
Petrol variants will cost a bit to run
Appearance of aftermarket sat-nav unit is disappointing
Less capable urban-centric SUVs offer a more rounded experience
Subaru is a marque famous for two things: rally cars and rugged cars. The former might have fallen out fashion with most buyers - thank rising running costs - but the latter market sector is a buoyant one due mainly to the influx of 'soft-roader' models from mainstream rivals. The XV activity hatchback offers traditional Subaru values alongside SUV-like performance.
Two things set Subaru apart from its mainstream rivals: its devotion to permanent all-wheel drive and loyalty to the 'boxer' engine layout. A nod to its rugged past, Subaru insists that its off-roaders wouldn't be special unless they came with full-time all-wheel drive for that added element of driver security and confidence. The boxer engine layout, so named because the pistons lay flat and 'punch' in and out unlike an upright, in-line engine, is another of the firm's USP features.
With interest waning in rally-replica performance cars and interest rising rapidly in family-friendly sports utility vehicles (SUV), Subaru's XV promises to offer the best of both worlds in terms of performance and ease of use. The twist in the tale is that the XV retains Subaru's hard-core functionality alongside the town and commute-friendly characteristics of the opposition.
Certainly, in the looks department the XV couldn't have come from any other car maker. Subaru's quirky design language is evident from all angles, yet this angular design works well with bright exterior colours and the car's contrasting dark protective plastic panels. The XV's cabin reverts to Subaru's traditional low-frills appearance, which sadly lags behind that of the bright and breezy designs of its rivals. Still, there's plenty of room, which is what counts in a family car.
Where the XV does excel is in the way it drives. All-wheel drive might be an underrated component, but there's no questioning its value when on slippery winter roads. Factor in the car's cleverly integrated traction control electronics and the XV becomes a potent device when grip is lacking. It will also tow confidently and tackle surprisingly harsh terrain - the only limiting factor being ground clearance.
Our verdict on the Subaru XV 2.0D SE
For all the XV's left-field styling cues, underneath its rakish body is a car capable of much more than its SUV tag suggests. Yes it will do all the usual soft-roader stuff, but it's also a whisker away from challenging a genuine 4x4 off the road. If you're lifestyle includes roughing it off the main road and towing on a regular basis, the XV is made of sterner stuff than anything from the likes of Ford, Nissan, Audi, BMW, Kia and Hyundai.
Costs
Opting for a car with full-time all-wheel drive, even if it's a diesel, will mean taking a modest financial hit regarding running costs. That said, the XV's diesel motor is competitive in the SUV market. The car itself is also well equipped and, refreshingly, can be had with a surprisingly generous aftersales package that covers more than the usual service intervals.
Space and practicality
Key to the XV's appeal for families will be the car's ample cabin, which offers a good level of legroom both fore and aft. The cabin's various storage areas are practical and welcome, while at the rear the waist height load lip helps when manhandling heavy or awkward items.
Controls and display
Simple to read displays and intuitive controls make for an easy life inside the XV. Complimenting the car's fuss-free approach is the factory-fit audio unit, which easily outshines the aftermarket solution. Supplementary controls on the steering wheel are welcome, while there's a pleasing weighty feel to the steering and manual gearshift.
Comfort
Cars with the standard-fit fabric seats will likely be the preferred choice for many occupants, as these seats offer a good level of support. The optional might appear luxurious but up front at least they lack the same level of support. Overall, though, the XV's ride proves comfortable and easily adept at coping with road surface extremes - urban potholes, concrete motorway sections and rutted off-road tracks. Inside the cabin, road and engine noise has been kept to a pleasing minimum, too.
Car security
A sturdy rear load cover and covered storage spaces in the cabin should make life hard for thieves. There's no special added electronic protection over and above the car's anti-theft system, although the XV is hardly a be-winged Impreza STi and is much less conspicuous.
Car safety
With a generous helping of airbags and electronic stability systems onboard, you'd be forgiven for thinking that the XV's permanent all-wheel drive system was largely redundant. You'd be wrong because the combination of the mechanical and electronic systems work well together, ensuring that the car remains stable in all weathers.
Driver appeal
This is where Subaru hopes its XV will have an advantage over most rivals, as the car uses Subaru's range of 'boxer' engines which boast a lower than average centre of gravity. The result is noticeably less roll than rivals and a surprising willingness to change direction. The engines themselves boast plenty of torque and, in the case of the diesel unit, solid performance and refinement. Crucially, the XV is also above average off-road thanks to its permanent all-wheel drive system and sophisticated electronic traction control.
Family car appeal
All with loyal fans of the brand, Subaru is hoping that the XV will prove popular with active families. Its go-anywhere ability is matched by its bash-proof exterior and functional cabin. There's no shortage of storage options inside, while the car's towing credentials are first rate.
First car appeal
Leaving aside purchase price, there's no reason why the XV couldn't be your first car. It's easy to drive and visibility from the driving seat is good. The car's various controls are easy to use and there's the all-wheel drive element to keep you safe when the weather turns sour.
Quality and image
Subaru's brand image has been fluctuated in recent years, with the company in the UK choosing to distance itself from its past and the rally-oriented Impreza WRX and STI family. Although focus has switcher do more family friendly cars such as the Forester SUV, competition in this sector is tough. The XV is tasked with adding a softer option to the range, but with the sufficient all-terrain ability to keep the Subaru faithful happy.
Accessibility
The XV's increased ground clearance over a regular family hatchback is just enough to offer meaningful performance when off-roading, yet isn't too much to make life hard for occupants. This also proves a bonus at the rear, as when the XV's tailgate is open the load lip is at roughly waist height.
Stereo and ICE (In car entertainment)
There are two main options with the XV, a regular audio unit and an optional touch screen sat-nav complete with a full range of audio functions. There's a slight aftermarket feel to the latter, which isn't surprising as that's what it is. Function-wise it's good but the various menus could be more intuitive. The standard unit performs well too, and both allow MP3 player connectivity.
Colours and trim
Subaru has bucked its own conservative trend with the XV and chosen to roll out some surprisingly bold exterior colours. Factor in the car's chunky-looking black wheel arch protectors and roof rails, and the XV promises to stand out from the crowd.
Parking
With its lofty driving position the XV is a straightforward car to park. All round visibility is good; although the car's rear window pillars are quite thick. Steering assistance is par for the course and the car's good-size mirrors help, too.
Spare wheel
Space saver fitted as standard.
Range information
Petrol engine options - 1.6-litre (114bhp); 2.0-litre (150bhp). Diesel engine options - 2.0-litre (147bhp). Transmission options: five-speed (1.6 petrol), six-speed manual gearbox plus CVT 'Lineartronic 'auto gearbox (petrol only). Trim levels: S, SE, SE Lux Premium,
Alternative cars
BMW X1 Premium alternative is a safer bet for city dwellers
Kia Sportage High value Sportage is an impressively rounded choice
Nissan Qashqai Benchmark soft-roader has been a runaway success for Nissan
Ford Kuga Ford's first attempt has proved to be a solid performer