October 2014
Subaru WRX WRX STI
Butch looks hard to mistake for anything other than Subaru's WRX STI
October 2014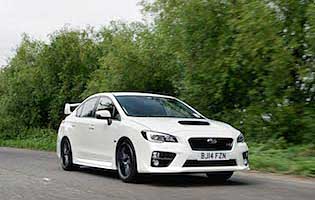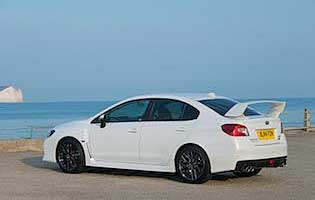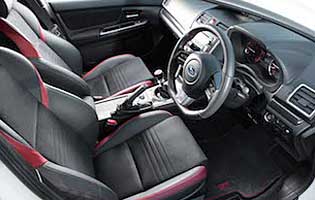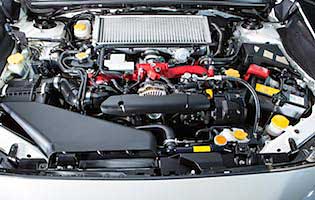 Overall rating

Likes:
Build quality a welcome step up over previous variants
Four-door body style will please fans of the old WRX saloon models
Uprated 2.5-litre engine offers improved performance and economy
Still and engaging and blisteringly quick driving experience
Gripes:
Likely an expensive car to run due to thirst, servicing and insurance costs
Despite improvements, real world economy remains modest
European premium rivals retain the edge in terms of cabin refinement
Asking price puts this car alongside more rounded and versatile alternatives
After a few years away from the UK market, Subaru's decision to reintroduce the iconic WRX STI nameplate was proof that there's still life left in the rally replica formula. This move also marks a return to the saloon format after sticking with the unloved hatchback bodystyle of the previous generation car. Detailed revision to the powertrain, suspension, steering and interior help lift the car in what's become a fragmented but competitive market.
Subaru has suffered more than most in recent years. Its modest model line-up fell out of fashion with buyers increasingly attracted to European cars boasting lower running costs, greater refinement and a more rounded driving and ownership experience.
The Japanese firm's wares - especially its rally-themed performance offerings became more of a niche alternative to what BMW, Audi and the like were offering. However, a small but loyal band of buyers continued to show interest, and after toughing it out when currency fluctuations resulted in prices soon became uncompetitive, Subaru returned with a refreshed WRX STI performance flagship.
This 'new' WRX STI is, for many, a welcome return to the traditional saloon format. What it sacrifices in terms of hatchback versatility it compensates for in terms of iconic design. The revisions to the car's characterful flat-four 'Boxer' engine have improved drivability and economy, while ride and steering tweaks have helped the car better cope with demanding road surfaces.
The result is hardly surprising; the WRX STI continues to be an engaging and responsive sports saloon boasting a combination of grip and power that's hard to beat. Some premium German rivals might boast more refined cabins and low CO2 ratings, but few manage to project a character as bold and confident at the WRX STI's.
Our verdict on the Subaru WRX WRX STI
Audi, BMW and even Vauxhall will supply you with an all-wheel drive sports saloon capable of putting a smile on your face in all weathers. What sets Subaru's WRX STI apart from the mainstream opposition is its stubborn, no compromise approach to high performance motoring. The WRX is for keen drivers who know what they're doing and care more about driving than badge snobbery.
Costs
It's hard to avoid this subject, but there's no denying that the WRX will be an expensive car to run. The combination of a high VED rating, thirst, the prospect of an elevated insurance premium and paying a premium for servicing and consumables means the car's agreeable purchase is just the start of the financial adventure.
Space and practicality
As compact saloons go the WRX is a reasonable size, and good enough to support a small but growing family. Cabin space and, especially, rear legroom is good, while boot space is generous and easily accessible thanks to the car's wide loading aperture.
Controls and display
As with previous variants, this WRX's fascia is biased more towards function than style. The main dials and displays are clear and intuitive, but it's the aftermarket infotainment unit that disappoints with its unconventional menus and often hard to read screen when in direct sunlight.
Comfort
The car's figure-hugging front sports seats certainly hold you in place, but for everyday use the car's ride is quite firm. Engine and general road noise is largely absent, which makes the work commute and long motorway drives reasonably relaxing.
Car security
Don't be surprised if you find the car attracting attention - anything with a bonnet scoop and big wing will do that. Thankfully it's good to see that a full immobiliser package is available along with the convenience of keyless ignition. The saloon bodystyle also offers greater security as it's easier to lock valuables out of sight than a hatchback. Thinking long term, measured such as a tracking device and extra security at home when the car is parked are recommended.
Car safety
It's easy to dismiss four-wheel drive as a gimmick but it's a hugely underrated feature here. You can fine-tune the system for the prevailing conditions, making it smarter and more predictable. Subaru hasn't skimped on the conventional features either, with the car's numerous airbags and sophisticated electronic stability control aids rounding off a comprehensive approach to keeping you safe.
Driver appeal
This remains the overriding reason for purchase, and with a little more power, a proven all-wheel drive system and a finely tuned ride, the WRX remains an all-weather performance saloon that's hard to beat in a dash from A to B. It might still be a little gruff at times and the Boxer engine's once trademark burble might be more subdued, but it's still a thrilling experience serving up more grip and acceleration than most people can handle. And best of all, it's docile enough to be used every day without any major compromises.
Family car appeal
At a pinch the WRX could be used as a family car, although a compact saloon of any flavour will always be trumped by a compact SUV or people carrier in terms of space and versatility. At least rear seat access is reasonable and the car's boot is a good size. Running costs will be high - another consideration if your budget is modest.
First car appeal
While the appeal of a WRX will be strong among those who fancy fast cars, it's a little thuggish on the road and demands a considerable amount self-restraint. It's also a car that demands to be driven smoothly, and that's before you consider the high running costs.
Quality and image
Among hardcore fans the WRX enjoys a loyal following and the return of the compact saloon layout will no doubt please traditionalists. With the arrival of more refined and competent all-rounders from the likes of BMW and Audi, the WRX is very much a niche proposition now as it can't match the German rivals for cabin quality and running costs.
Accessibility
Although front seat occupants fare well, the only obstacle for some might be the heavily bolstered front seats - you cannot easily slide in and out. The car's rear door apertures are modest, and do require you to be agile, but it's not an insurmountable obstacle. At the rear, the car's boot opens easily to reveal a low loading lip.
Stereo and ICE (In car entertainment)
Boasting an enhanced standard fit audio unit, the WRX STI competes head-on with its mainstream rivals. If you want navigation you'll need to choose Subaru's aftermarket solution, which is less satisfactory and struggles to complete with the slick built-in units from the likes of BMW, Vauxhall and the like.
Colours and trim
Bold colours are the order of the day, and do much to complement the STI's butch stance. White is also a surprisingly effective choice if you wish to stand out. Inside, there's more of a somber mood what with the presence of dark plastics and upholstery, although the overall quality feel still lags behind European alternatives.
Parking
Forward visibility is good and so is the car's accurate steering - its quick rack is a rarity in the performance sector these days. The view rearwards is less generous though, as the combination of the car's rear screen, headrests and the car's large boot-mounted wing get in the way.
Spare wheel
Space saver fitted as standard.
Range information
Petrol engine options - 2.5-litre turbo (305bhp). Transmission options: six-speed manual gearbox. Trim levels: WRX STI.
Alternative cars
BMW 2 Series M-branded car offers rapid performance and a good dose of refinement for similar money
Mitsubishi Lancer Evo X is a direct rival and offers a more measured experience on the road
Volkswagen Golf In 'R' high performance specification, the Golf is an impressive mainstream alternative - all-wheel drive, too
Vauxhall Insignia In VXR trim the Insignia is a low-key and surprisingly underrated choice for similar money