Subaru Outback 2.5i SE Premium Lineartronic
Very spacious and practical
December 2016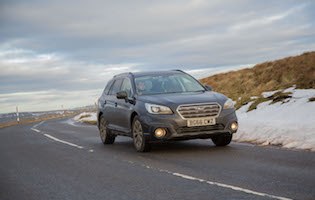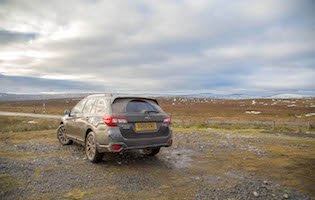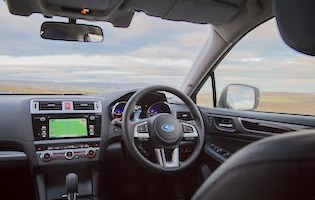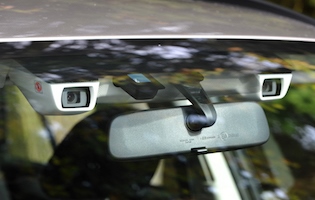 Overall rating

Likes:
Understated looks
Reasonably comfy cruiser
Competent in adverse conditions
Very spacious and practical
Gripes:
Uninspiring driving dynamics
High price tag
Some switch-gear feels cheap
CVT automatic gearboxes are a little unrefined
Subaru's Outback estate has been with us a few years now, and though it hasn't been a sales sensation, it has appealed to those looking for a soft-roading wagon with a baggage-free image and a mix of on- and off-road manners. Now, however, it has received minor updates to make it feel a little more premium.
On the outside, the Outback boasts a smart design with a few lashings of body cladding that suggest some off-road capability. It isn't too brash and out there, but it looks subtle, understated and quietly classy.
Inside, it is packed with toys, including an updated Eyesight safety system that supports the lane departure function. Satellite navigation, leather upholstery, two-zone climate control and Bluetooth connectivity are all included as standard, but you pay a price. More than £32,500, in fact.
Under the skin, Outback customers get a choice of two engines: a 2.5-litre petrol with 173bhp and a 2.0-litre diesel with 148bhp. The former is offered only with a CVT automatic transmission, while the latter gets the option of a six-speed manual. Neither is especially fast, with 0–60mph times around 10 seconds, but both manage respectable fuel economy.
On the road, the Outback feels soft and comfortable, but not especially dynamic. The steering is a little devoid of feel and the long springs mean it rolls a little, but it's quite a pleasant machine to cruise around in. It's capable off-road, too, managing to traverse tough conditions without too much difficulty.
Our verdict on the Subaru Outback 2.5i SE Premium Lineartronic
The Outback is a decent car, with impressive capability off-road and good road manners, as well as bags of equipment. There are, however, problems with the price tag, which speaks of a premium product that never really materialises from the driver's seat.
---
Costs
Prices start at £32,680, which is more than you'll pay for a basic Jaguar XF, but you do get a lot of kit for your money. Satellite navigation, two-zone climate control, keyless start, leather upholstery, cruise control – all are present and correct. It shouldn't be too ruinous to run, with even the petrol version managing 40mpg and sensible CO2 emissions keeping tax to a minimum.
Space and practicality
A big boot and plenty of rear passenger space make the Outback a highly capable family wagon. The boot is plenty big enough for a family's holiday luggage, and there's always the option of using the roof rails to fit a top box for extra stowage. The Subaru also allows the occupants to traverse pretty much any weather condition this country can throw at it.
Controls and display
The Outback is a fairly simple vehicle to drive – especially the automatic versions – but it's let down by the plethora of buttons that festoon the dash. At best, they look a little messy, but at worst they're downright distracting. Once you're used to them, they'll be fine, but at first they can be overwhelming, particularly if you're trying to fathom them out in busy traffic.
Comfort
The Outback's long-travel suspension makes it a comfy cruiser, soaking up lumps, bumps and cats' eyes with aplomb. Sharp potholes will make themselves felt in the cabin, but by and large it will be a soft and pliant over most surfaces. The seats, too, provide reasonable support, so a long journey can be undertaking without suffering too many aches and pains.
Car security
With all that's been made of keyless entry and a price tag of over £30,000, you could be forgiven for parking the Outback with a degree of trepidation, but the car's unassuming image is likely to come to its rescue. Subarus have something of a people's car image, and the Outback doesn't look as chintzy as some other cars in this price bracket.
Car safety
The Outback was awarded five stars when it was tested by Euro NCAP, scoring solidly across the board. Its best scores were in adult and child occupant protection, which is likely to prevent any sleepless nights, and though pedestrian protection was a little less convincing, the Eyesight safety assistance system was rated "good" by the testing body.
Driver appeal
The Outback has rally credentials, but it doesn't handle like a rally car. The ride height means it pitches and rolls through corners and under braking, while the steering feels a little lifeless and inert. It's fairly agile, however, with plenty of grip and the ability to corner at higher speeds than its larger cousin, the Forester.
Family car appeal
Roomy estates are always good for families, and all-wheel-drive ones are even more appealing. The Outback isn't a match for a Land Rover Discovery when the going gets tough, but it's better on the road and it's perfectly happy on muddy fields. It's spacious, too, offering bags of boot space and rear legroom.
First car appeal
The Outback would be an expensive option for a first car, but impressive safety and a slightly less desirable image than some premium estates will mean insurance premiums are relatively low. Even so, though, it's going to be a pricey thing to run.
Quality and image
The Subaru has a premium price tag, but it doesn't have a premium cabin. The plastics are generally fine, but some of the switchgear feels a little cheap. It has all the goodies you'd expect from a big premium car, though, with toys such as satellite navigation and climate control included on even the most basic cars.
Accessibility
Because the Outback is only slightly more elevated than a normal estate car, it's easy to get into and out of, while the low boot lip means you can heft heavy objects into the boot without undue fuss. The rear seats fold, too, meaning you can even fit in plenty of sizeable items.
Stereo and ICE (In car entertainment)
The Outback comes with a touchscreen infotainment system as standard, incorporating satellite navigation, Bluetooth connectivity and a range of multimedia functions. It's not the easiest system to use on the move thanks to some slightly fiddly buttons, but once you've got it set up as you want it it's simple enough. The navigation displays are clear, too.
Colours and trim
The Subaru colour palette is limited, with white, silver, blue and a couple of shades of grey comprising the full list of options. It's all set off nicely by some chrome trim and the car's tough-looking cladding. Inside, there's some soft leather to sit on and a range of backlit buttons give it a high-tech feel on dark nights.
Parking
The Outback is a sizeable vehicle, and that does make itself felt when you're parking. It has a reasonable turning circle, though, as well as decent visibility and aids such as sensors and a manoeuvring camera. With care, it'll fit into most reasonably sized spaces, but when you buy a car this big you have to accept that it won't fit into every gap.
Spare wheel
Emergency tyre repair kit supplied as standard.
Range information
Petrol engine options: 2.5i (173bhp). Diesel engine options: 2.0D (148bhp). Transmission options: six-speed manual; CVT automatic. Trim levels: SE Premium.
---
Alternative cars
Mercedes-Benz E-Class AllTerrain Comfy and classy, but not cheap.
Audi A4 Allroad The all-new Audi is a stylish tech fest.
Skoda Octavia Scout The badge may not be premium, but the capability is.
Volvo XC70 Chunky Volvo is one of the original soft-roading estate.