October 2013
Subaru Outback 2.0D SX Lineartronic
Bigger lights are a key change to the front
October 2013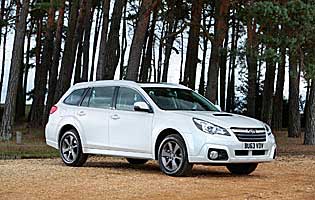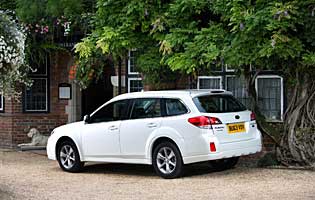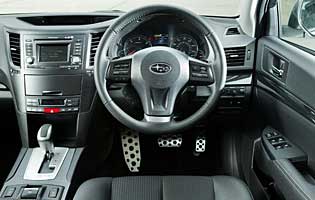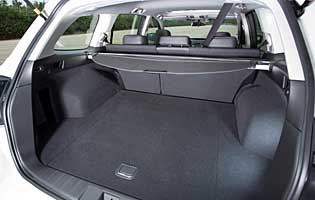 Overall rating

Likes:
Smartened exterior appearance
Smooth and flexible diesel engine
Fuss-free interior
Practical and tough cabin
Gripes:
Suspension changes reduce ride quality a little
Only one engine option
CVT gearbox not as slick as best conventional automatics
Some fiddly buttons in the cabin
Honest and versatile is the most straightforward description of the Subaru Outback, a car with a modest but dedicated following thanks to its reliability, practicality and down-to-earth image. Now Subaru has upgraded the Outback for the 2014 model year with detail changes inside and out plus key mechanical enhancements.
Subaru has claimed that the Outback is the original 'crossover', as it was one of the first vehicles that took an ordinary estate car in the shape of the Legacy and then added the supplementary elements of a normal 4x4. The raised ride height, body protection and tougher looks all contributed to the Outback becoming a firm favourite and the recipe has changed very little.
The Outback's exterior design is familiar, and its sturdy appearance is one of its key appeals. That said the latest generation Outback has benefited from some visual tweaks. Most obvious is the switch to body-coloured plastic mouldings all around the lower section of the car, dark-finished alloy wheels and larger fog lamps all help boost its visual appeal.
On the inside the Outback has also been updated, the significant changes being a new instrument pack with more modern dials and a new LCD display for relevant vehicle information. The dashboard itself is finished in a darker metallic black, while reshaped steering wheel spokes and an electronic handbrake show attention has been paid to cabin comfort.
Mechanically the Outback remains broadly as before with its unique 'Boxer' diesel engine, however for the first time however this diesel unit can now be specified alongside Subaru's CVT Lineartronic transmission, which gives a full auto mode as well as seven 'virtual' gears. The latest Outback also has updated suspension, with revised bushes plus stiffer springs and dampers for increased body control.
Our verdict on the Subaru Outback 2.0D SX Lineartronic
There was very little wrong with Outback in its previous guise but that hasn't stopped Subaru making several improvements. The automatic gearbox works well with the boxer diesel engine, the exterior looks sharper and the cabin is improved. The only downside is the suspension, which has reduced body roll when it wasn't really an issue and sacrificed some of the ride quality in the process. However, it's still an impressive machine.
Costs
Thanks to its diesel engine the Outback should offer respectable running costs for this type of vehicle, although the manual transmission option offers both better fuel economy and lower emissions.
Space and practicality
Passenger accommodation is generous and the same goes for the car's load bay. The straightforward layout leaves plenty of space for all sorts of load and passenger permutations with very little ease.
Controls and display
The big change here is the new instruments, and although Subaru say that clarity has been improved there is still an element of unnecessary change - the new dials look smart but don't really offer any additional clarity. Otherwise the layout is simplicity itself, and it's easy to climb aboard and get straight on the move.
Comfort
One big plus point of the Outback's boxer diesel engine is smoothness, and the unobtrusive engine contributes greatly to its quiet cabin. There is a little road and wind noise as speed but nothing exceptional, and although the seats don't have a massive amount of lateral support they are comfortable to spend time in.
Car security
Aside from the expected fitment of remote central locking and an alarm, the Outback has locking nuts on its alloy wheels and a good load cover that helps to keep luggage away from prying eyes.
Car safety
Aside from the benefits of four-wheel drive, Subaru claim the Outback is as good as its highly regarded Legacy sister car in terms of safety. The latest Outback also gains an improved version of its vehicle dynamics control system, making it even better at avoiding an accident in the first place.
Driver appeal
Most people know what to expect from a car like the Outback and in many respects it provides just that. The combination of a diesel engine and an automatic gearbox means fuss-free progress, although occasionally a demand for quick acceleration can me a high-rev drone from the engine. However when driven in a more relaxed fashion it works well.
Family car appeal
A car that's a perfect fit for the active family thanks to its durable nature, load-lugging capability and all-weather all-wheel drive, the Outback is no people carrier but it will be easier to live with than a conventional SUV if space at home is tight.
First car appeal
Although an easy car to live with it seems unlikely that a first-time driver will find the Outback's size appealing, nor its purchase price.
Quality and image
Although the Outback has premium aspirations it is fair to say it actually sits somewhere in the middle ground. The build quality is very good, with a solid feel throughout but the choice of materials is mixed. Image-wise the Outback has a sturdy, dependable reputation no doubt boosted by Subaru's well-known motorsport success.
Accessibility
Big doors front and rear plus a relatively high roof are the ideal combination, making entry and egress very simple indeed. The same goes for the tailgate which is tall and wide and opens to give straightforward loading.
Stereo and ICE (In car entertainment)
Although rather unimpressive-looking, the Outback's standard fit audio system is of decent quality. It has USB input and Bluetooth, although it lacks DAB audio. Sound quality is respectable and the steering wheel controls are easier to operate than the buttons on the unit itself.
Colours and trim
A broader range of colours are available on the Outlander and the brighter shades give a visual lift alongside the body-coloured mouldings. On the inside the darker finish gives it a classier feel and will do a better job of hiding any dirty marks from genuine country life.
Parking
A tall body and a good seating position are a good starting point for the Outback, and add to that the standard fit reversing camera and it is pretty easy to park for a car of its size.
Spare wheel
Full size spare wheel fitted beneath the boot floor.
Range information
Diesel engine options -2.0-litre (147bhp). Transmission options: Six-speed manual and CVT automatic. Trim levels: SX and SX Lineartronic.
Alternative cars
Nissan Qashqai More road-biased but comfortable and practical
Audi A6 Allroad Premium quality and ability with a matching price tag
Volvo XC70 One of the older class offerings but still capable
Ford Kuga Conventional SUV with on-road focus