September 2004
Subaru Legacy Outback 3.0R
The Outback is one of the smarter crossover estates
September 2004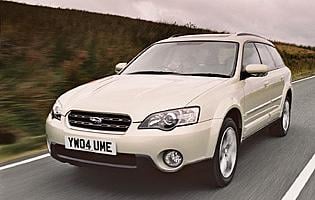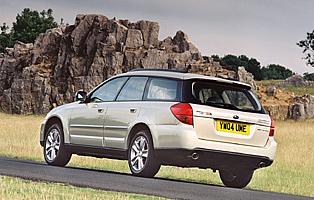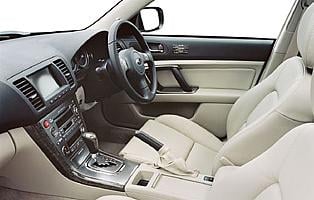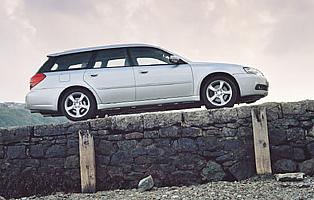 Overall rating

Likes:
Impressive interior build quality and materials
Pleasant and involving to drive
Capacious carrying capability
Good level of standard equipment provided
Gripes:
No diesel engine a serious handicap
Lacks status with car-buying public
Standard estate almost as capable off-road
Fuel costs and emissions quite high
Some people regard all-wheel-drive 'lifestyle' estate cars as a recent arrival on the scene, but Subaru has been producing such vehicles for years. Yet strangely, models such as the Legacy-based Outback remain one of the best-kept secrets in autodom.
One of the reasons for the Outback's failure to sell in bigger numbers is obvious: there is no diesel. Other reasons are more to do with the way the whole Legacy range is positioned. Outback-badged models are differentiated from the Legacy Sports Tourer estate by little more than a rear limited-slip differential, slightly raised ride height and significantly raised prices.
Market issues aside, both the Legacy Sports Tourer and Outback models are among the best-driving estates around. The familiar Subaru 'burble' emanates from the exhaust and these large, rangy cars are far more manoeuvrable and enjoyable to drive than might be expected.
Interior quality is very high indeed. If you haven't taken a look inside a Subaru for a while, the classy layout, build standards and cleverly-selected materials will come as a revelation. Indeed, anyone expecting the Outback name to signify chunky functionality is likely to be shocked by a cabin that looks like it belongs in an expensive executive saloon rather than something designed to cross muddy fields.
The boot is massive. What it lacks in clever folding arrangements and gimmicky dividers it more than makes up for by offering loads of good, old-fashioned volume and a flat floor. After all, these sorts of vehicles are intended for active sports enthusiasts.
Buyers need to ask whether they really need the Outback's raised ride height. Probably most will find the Legacy Sports Tourer perfectly adequate, and every Subaru comes with all-wheel-drive as standard. All models come loaded with equipment, and Subaru is notably more generous than most of its rivals in the premium crossover estate market.
Our verdict on the Subaru Legacy Outback 3.0R
An excellent vehicle is undermined only by the lack of a diesel and Subaru's uncertain badge status. A good alternative choice for those not wanting to follow the crowd.
Costs
An Outback looks fairly expensive to buy and run - until you compare it to its even more expensive rivals. Subaru dealers aren't generally regarded as among the cheapest for remedial work and any problems involving the all-wheel-drive system are likely to be particularly costly, but as long as they are properly looked after by owners, Subarus are durable, reliable vehicles. At least buyers know they aren't just paying for the badge, which is the case with some models in this sector.
Space and practicality
Little needs to be said to illustrate the Legacy's practicality. That hangar-like boot is evidently of tremendous utility. The strong chassis can cope with heavy burdens, while all-wheel-drive means that traction is never a problem. All seats have more than acceptable amounts of head and legroom.
Controls and display
Less in-your-face than might be imagined, the controls and instruments exude a cool, almost minimalist feel. It resembles an executive saloon inside, not a rough dirt-digger. Night-time illumination of the dials is particularly attractive, though rather bright at full power. It is easily dimmed.
Comfort
Subaru says the interior is designed to 'surprise and delight', which sounds like the pleasant flipside of 'shock and awe'. Joking aside, the interior is genuinely impressive and marks the clearest advance the current Legacy range has made over its predecessors. Most surprising of all is the high quality of the materials used in cabin construction - the plastics and trim elements are worthy of BMW, Lexus or Audi. Some Scooby fans might prefer a touch more noise from the engine, though what there is sounds glorious.
Car security
Standard issue for Outback models includes a Thatcham Category one alarm with immobiliser, keyless entry with flash confirm and a cargo security cover that does a good job of hiding what's in the boot.
Car safety
Subaru should probably make more noise about its safety package, which stands comparison with some of the best in the business. Active front head restraints reduce whiplash, dual-mode front airbags inflate according to the severity of the accident and brake and clutch pedals snap away under severe impact to protest the driver's legs. There are side airbags, ABS and two ISOFIX rear seat mounts, too.
Driver appeal
Subarus are always fun to drive, and the Outback is no exception. Anyone hoping to undertake serious off-roading tasks will be disappointed, as even with its raised ride height, this is a car for green fields and dirt tracks, not rock-strewn landscapes and deep ruts. On the road, the self-levelling rear suspension helps to maintain a smooth ride, while the gutsy engines provide rapid acceleration. Grip never feels like it is lacking, even on wet roads.
Family car appeal
Anyone who still holds that estate cars are superior to people carriers or 4x4s for family use will warm to an Outback, as it possesses traditional estate practicality with lots of room and keener driving than an MPV or off-roader could ever offer. There's plenty of space in the rear seats and even more space behind them for packing in all the ingredients of a family holiday. The Legacy is also popular as a towing and touring vehicle and looks the part when fitted with bike racks and roof racks.
First car appeal
Though the Subaru badge is always popular among younger drivers, they are unlikely to get into much of a fuss over the Outback. It's simply too grown up. Even converts to the crossover estate cause might avoid the Legacy on the grounds that it seems more mature than an Audi Allroad or Jaguar X-Type estate. This is not a car for fickle fashion followers.
Quality and image
It's difficult to place Subaru in terms of image and public perception. While the Impreza is associated with aggressive sportiness (and boy racers), the Forester is a firm farmer's favourite. The Legacy range is different again, matching many more renowned brands for build quality and driving pleasure but somehow not quite attracting the same kudos. Add the Outback's raised ride height and semi-off-road ability and it's difficult to identify a typical buyer, other than a committed contrarian.
Accessibility
As with its other models, the Legacy range has attractive frameless doors that offer reduced weight as well as added aesthetic appeal. Rear doors are larger than the norm and afford easy access to the cabin, while the raised ride height makes the Outback attractive to anyone with back problems who may have difficulty stooping or bending. The struts of the rear tailgate could offer a bit more assistance though
Stereo and ICE (In car entertainment)
Yet again, Subaru provides considerably more than the bare minimum. A radio/CD player with six speakers is standard issue. Higher-spec models gain the ability to play cassettes as well and come equipped with a 6-stacker CD system.
Colours and trim
There are only seven colours to choose from - a modest selection by modern standards. Buyers looking to accentuate the car's off-road aspects should go for Dark Green Mica over Granite Grey Opal, while Regal Blue Pearl and Obsidian Black Pearl lend it more of a luxury car air, particularly mated to the Ivory Leather trim of 3.0 variants. Three flavours of Outback can be had - standard, SE and R.
Parking
The rear end of the Outback is a long way from the windscreen, so reversing into a tight spot can be tricky. Rear parking sensors should be a worthwhile investment from the options list. Drivers who still lack confidence might like to order additional bumper corner protectors as well. Visibility is good considering the Legacy's size, though perhaps the wing mirrors could be larger.
Spare wheel
Full size spare fitted as standard.
Range information
Outback models are powered by either a 2.5-litre (162bhp) or 3.0-litre (241bhp) petrol engine. The Legacy Sports Tourer offers an additional entry-level 2.0-litre (136bhp) petrol unit. Transmission options comprise a 5-speed manual gearbox and both 4- and 5-speed automatic alternatives.
Alternative cars
Volvo XC70 Ageing crossover vehicle is costly
Audi Allroad Luxurious cabin, but you'll pay for the privilege
Jaguar X-Type Estate Good-looking estate far better than saloon
Mazda6 AWD Unusual auto gearbox spoils oft-forgotten offering