March 2004
Subaru Legacy 2.0i SE Sports Tourer
Subaru's Legacy Sports Tourer is a vastly underated driver's car
March 2004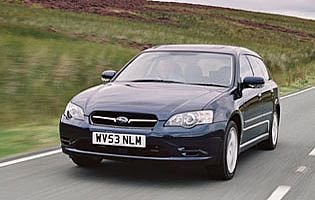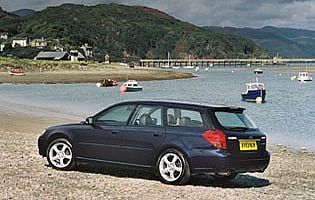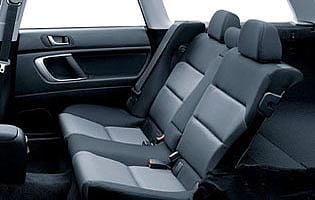 Overall rating

Likes:
Attractive sound of the boxer engines
All-wheel drive puts the 'sports' into Sports Tourer
Interior quality matches best alternatives
Allows drivers to stand out from the crowd
Gripes:
Lack of a diesel engine severely restricts appeal
Poor fuel economy with a heavy load
Emissions levels not tax-friendly for businesses
Depreciation still likely to be a long-term problem
Although a familiar badge of many years' standing, it has taken a while for the Subaru Legacy to finally come of age. But at last it has done so, and the latest Legacy is among the very best cars on the road today.
In saloon form the latter-day Legacy makes a decent fist of being a driver-oriented executive car, and the Outback variant offers considerable off-road potential, but it's the Sports Wagon estate model that maximises the vehicle's appeal while keeping costs reasonable.
Throughout the range, drivers feel the benefits of Subaru's trademark all-wheel-drive (AWD) mastery, and have three rorty and sporty boxer engines to choose from, which each have plenty to recommend them. Of course Subaru has been combining AWD, willing engines and estate bodies for years, but the recent rise of the sports-oriented estate or 'sportswagon' may mean that the modest Legacy's time has finally come. Sitting in the middle of the range, the 2.5i has the necessary strength to handle heavy loads with a bit left over for fun.
An unexpected bonus is the Legacy's hugely impressive standard of interior fit and finish. It feels like the best-built Subaru ever and doesn't lack creature comforts such as air conditioning and electric windows all round. Even small details such as the damping of switchgear, the colour matching of different materials or the tactile nature of most surfaces seem to have had thought and effort put into them. Subaru may have a bit of a rough and tough image, courtesy of the Impreza, but the Legacy is classy and elegant. Add rear loadspace of Siberian proportions and this really is a car to be reckoned with.
That huge boot barely seems to make any difference to the Legacy's handling characteristics. Driving the Sports Tourer is tremendous fun, sometimes bordering on the comical - large load luggers aren't really supposed to give the driver a rallycar experience, are they?
The Legacy's Achilles' heel is the lack of a diesel option to give it wider appeal. It is likely that a diesel unit will eventually be made available, but until then, the car looks destined to remain an undiscovered gem as far as the general public is concerned.
Our verdict on the Subaru Legacy 2.0i SE Sports Tourer
One of the most underrated cars in the marketplace and worthy of comparison with premium petrol estates.
Costs
List prices for the Legacy show a wide spread - around GBP13,000 separates the top and bottom of the range, so it is important to make like-for-like comparisons with other makes when weighing up a Legacy. Subaru servicing costs aren't cheap, but the marque has a good reputation for building cars that can clock up huge mileages and run for years. Fuel costs are likely to be higher than average, and relatively high carbon dioxide emissions will hurt the Legacy's credentials as a business car.
Space and practicality
It's hard to fault the functionality of the Legacy Sports Tourer, provided you have a garage or parking space large enough to park it. Passenger accomodation is extremely generous. However, buyers are increasingly opting for diesel engines in their estate cars, which limits the Legacy's appeal.
Controls and display
There is nothing eye-catching about the Legacy's driver interface - but that's not a criticism. In an era when many cars feel it necessary to include all manner of bells and whistles simply for the sake of novelty, the conventional and intuitive layout is rather refreshing. Apart from a few brittle-feeling plastics around the stereo console and base of the gear selector (in automatic models), clarity and quality are to the fore.
Comfort
The Legacy makes good use of its ample proportions. All seating positions are comfortable. More expensive models have more supportive seats. Rear seats feel particularly spacious. The driver's seat features height and stepless lumbar adjustment. Other notable features include a height-adjustable centre rear headrest, adjustable shoulder anchorages and climate control on all models. Steering wheel adjusts for rake but not reach.
Car security
Deadlocks, keyless entry and shielded door locks are all fitted as standard. So is a sophisticated Thatcham Category One alarm and immobiliser, which is only available as an expensive cost option on some rivals.
Car safety
Standard safety equipment includes driver and passenger dual-stage airbags, side airbags, twin ISOFIX rear child mounts and a cargo security cover. Both front seats have quick-reacting pre-tensioners while the rear seat has a central three-point seatbelt and two outer ISOFIX locking devices. ABS with EBD is included on all models to back up the already impressive levels of grip.
Driver appeal
This must rate as one of the best-driving estates money can buy. Subarus always have a little extra 'something' because of their all-wheel-drive grip and unusual engine configurations, but the Legacy's strengths go far beyond novelty value. The saloon is the more poised and nimble option, but the fact that the engine of the Sports Tourer generally has to be worked harder can actually enhance the experience. The tail will slide if a fast corner is taken incorrectly with a heavy load on board - but that's just an added incentive to concentrate and become involved behind the wheel.
Family car appeal
This could be an excellent family car. There's loads of space, it feels robust enough to absorb the repeated impacts of tiny fists and Spot the dog may try to relocate permanently from his kennel into the boot. A good safety package adds to family appeal. If your family is on a tight budget though, you can get cheaper running costs elsewhere. No MPV can match the fun the driver will have at the wheel, though.
First car appeal
Unless you've left school and instantly acquired a large family, several dogs and a well-paid outdoor job, the Legacy is unlikely to feature anywhere near the top of your first car wish list.
Quality and image
Quality is high, but the Legacy's image remains frustratingly low. This car deserves to be spoken of in the same breath as the Lexus IS300 SportCross, Volvo V70 and Audi A4 Avant, but is still more likely to draw comparisons with the Vauxhall Vectra, Mazda 6 or all-wheel-drive Mitsubishi Outlander. Others view the Legacy as a car for former Impreza fans who've come over all sensible. Still, owning one will win the odd appreciative nod from others in the know.
Accessibility
Previous Subarus have sometimes been ergonomically 'under-designed' as if the company had spent such time and effort on the oily bits that such trifles as cabin layout and doors were left to the apprentices. Happily, that's no longer the case. Wider than it was, and with cleverly positioned rear seats, the interior is extremely spacious and affords ready access.
Stereo and ICE (In car entertainment)
In another welcome break with its past practice, Subaru includes a fine 6-speaker stereo radio/CD player as standard, even on entry level models. It's not the easiest system to use and only 3.0-litre models benefit from steering wheel audio controls, but nevertheless it provides good enough sound quality for all but the most demanding audiophile. Satellite navigation is an expensive option and better systems are available.
Colours and trim
Seven different exterior colours to choose from, all of them with a mica/metallic finish as standard. Outback models have seven different colours to choose from. Generally, dark colours flatter the Legacy's curvaceous body. Inside, the 2.0-litre models show a little too much exposed plastic and have softer seats. The 2.5i SE offers the best balance between kit and list price.
Parking
A good deal of practice is required to park the Legacy Sports Tourer with confidence. The rear bumper is an awfully long way from the driver. Parking sensors aren't even available as an option - and this is one car that would definitely benefit from their reassuring presence. Steering lightens up helpfully, but driver's will need to aim for wide open spaces, not cramped parking bays.
Spare wheel
Space saver on all models except the Outback, which gains a full-size spare as a result of its generally tougher working environment.
Range information
Three petrol engines available: 2.0i (135bhp); 2.5i (162bhp); 3.0R (241bhp). Trim levels split into an unbadged entry-level followed by S, SE and R (3.0 only). Five-speed manual or four-speed automatic transmission available on 2.0 and 2.5. Five-speed automatic standard on 3.0 (including Outback).
Alternative cars
Vauxhall Vectra Estate capable conventional estate
Rover 75 Tourer smooth riding and spacious but unexciting
Volvo V70 more expensive, similarly-sized, better image
Honda Accord Tourer high-quality finish and excellent diesel options