October 2009
Subaru Legacy 2.0D SE Tourer
Sophisticated appearance hints at the Legacy's premium class aspirations
October 2009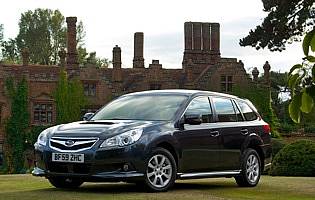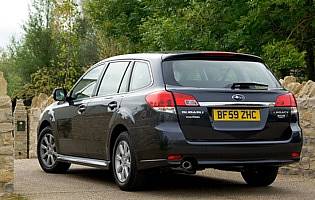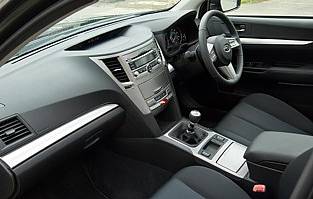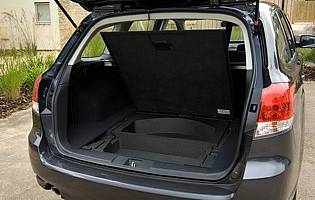 Overall rating

Likes:
Interior quality much improved over previous generation
Diesel engine adds much needed boost to running costs calculations
All-wheel drive makes Legacy a great all-weather family holdall
Unusual engine layout makes for an unusual but enjoyable driving experience
Gripes:
Cabin quality still lags behind its European rivals
Keen drivers will be disappointed by the lack of steering feedback
Operation of the electric handbrake is counter intuitive
Diesel engine economy and emissions performance overtaken by rivals
Nothing symbolises a left field choice more than something from Subaru. In the case of the Japanese firm's Legacy, its main rivals are the far more sensible products from the likes of Ford, Vauxhall, Honda and Toyota. In reality the Legacy is a little different, what with its standard fit all-wheel drive and 'boxer' style engines.
For this generation of Legacy Subaru took the decision to offer the range in Tourer (estate) form only for the UK. The more popular option over the saloon, this decision only serves to highlight the car's appeal to buyers who often make full use of the car's load carrying abilities.
The same buyers are also likely to appreciate the car's all-wheel drive system more than the average Ford Mondeo driver. With some located in rural areas, the benefits of such a system is obvious - especially during the winter months when road surfaces can prove treacherous.
Subaru also pitches its all-wheel drive system as something that helps give the Legacy an edge over its rivals in the keen driver stakes. Combined with the lower centre of gravity of its 'boxer' configuration engines (cylinders are horizontally opposed, not inline), the Legacy does perform in a more spirited manner than your average mid-size estate car.
Elsewhere, the Legacy performs much like your average estate car. It's a spacious machine, and one that will easily accommodate a growing family if, say, a people carrier or SUV is not on the shopping list. The cabin is durable if a little lacking in character, although the generous levels of standard equipment go some way to mitigating this.
Our verdict on the Subaru Legacy 2.0D SE Tourer
Despite the thorough overall, even if it looks like a subtle one from the outside, it's business as usual for Subaru's Legacy. This is no bad thing, as the car is now an even more rounded, affordable all-weather mode of family transport than its many rivals in the medium-size estate market. It may lack the whizz-bang features of some cars, but what it does it does well. And for the Subaru faithful that's the most important thing of all.
Costs
The Legacy is not like a Mondeo or Insignia. Yes, you can have a diesel model but the inclusion of four-wheel drive means fuel economy will be down a little on its main rivals. Elsewhere it's going to be little different from running said Ford or Vauxhall, though. In diesel trim tax and general running costs should prove affordable.
Space and practicality
Passenger accommodation is generous and the same goes for the car's load bay. With the Legacy now available only as an estate car in the UK, this single model type boasts a wide, flat (with the seats folded) and flexible rear space. Inside, there are enough storage areas to keep a family happy.
Controls and display
Although sometimes criticised for its conventional - read plain - cabin design, the Legacy boasts clear and intuitive controls and displays. In the real world this is what matters the most, although the counter-intuitive electric handbrake control is the only fly in the ointment.
Comfort
With its generously proportioned cabin, all the Legacy's seating positions are comfortable. The rear chairs are particularly spacious - not usually the case with cars of this size. The other notable feature is a general absence of engine and road noise when cruising.
Car security
The usual suite of features are present here - deadlocks, remote locking and the like. The immobiliser package is also most welcome on such a desirable car, while the Legacy Tourer also comes with a sturdy load cover for added peace of mind.
Car safety
Aside from the benefits of four-wheel drive, there's a cabin full of airbags to consider along with a full compliment of electronic stability aids to keep you safe if the grip runs out.
Driver appeal
Although not an out-and-out sporting estate, this Legacy does offer the keen driver something to smile about. It's up there with offerings from Audi and the like in the real world, thanks to the willing nature of the engines - especially the diesel unit - and car's supple ride. The standard fit all-wheel drive system also plays a part, giving you much needed added security during the winter months.
Family car appeal
A car that's a perfect fit for the active family thanks to its durable nature, load-lugging capability and all-weather all-wheel drive, this Legacy is no people carrier but it will be easier to live with than a conventional SUV if space at home is tight.
First car appeal
Expensive to run and insure by the standards of a conventional supermini, this potent model is better overlooked for something cheaper. It's very easy to drive though, which won't help to convince an enthusiastic novice to look the other way.
Quality and image
Subaru has gone to great lengths to improve actual and perceived quality levels. By and large it is much better than previous generations, but the Legacy's image remains frustratingly low in a crowded market dominated by German offerings. That said, among the Subaru faithful the Legacy remains a popular all-weather family car.
Accessibility
The basics are worthy of note: it's easy access to the front cabin and there's little in the way of compromise when accessing or exiting the rear. At the back, the car's substantial tailgate proves no hardship to open or close and presents you with a flat load bay.
Stereo and ICE (In car entertainment)
Located centrally in the car's fascia, the included radio/CD player is easy to use and performs well. Some controls are a little fiddly, but steering wheel mounted controls are present. Satellite navigation is an option, and works well - it's easy to programme and provides quick navigation calculations.
Colours and trim
In facelifted guise, bright colours do much to flatter the Legacy's various styling details, and help promote an upmarket, almost Germanic look. Inside, considerable strides have been to boost quality levels, and it appears to have worked, although the cabin trim materials still lag behind those of Legacy's European rivals.
Parking
Although the Tourer's rear bumper is a long way from the driver's seat, it rarely proves difficult to park the car in even the tightest of spaces. At least rearward visibility is good, and the steering lightens up helpfully.
Spare wheel
Spare wheel fitted as standard.
Range information
Petrol engine options - 2.5-litre (167bhp). Diesel engine options - 2.0-litre (150bhp). Transmission options: six-speed manual gearbox (diesel), plus CVT auto gearbox (petrol only). Trim levels: S, SE.
Alternative cars
Vauxhall Insignia Sport Tourer Polished and spacious performer but lacks all-wheel drive
Audi A4 Avant In quattro all-wheel drive guise A4 is a premium all-rounder
Volvo V70 Left-field choice like the Legacy boasts plenty of space
Honda Accord Tourer High-quality Japanese alternative. No all-wheel drive but diesel variant is good to drive