November 2005
Subaru Forester 2.0 XE
Revised exterior makes the Forester look more car like
November 2005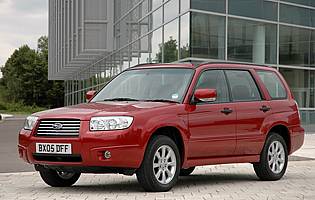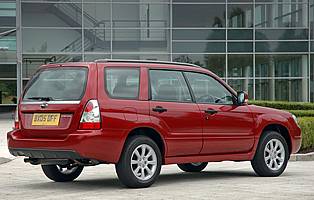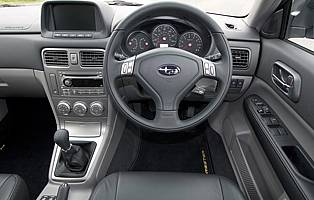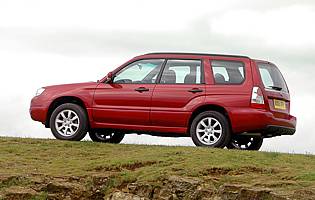 Overall rating

Likes:
Good visibility thanks to high driving position
All-wheel drive is a bonus when driving in bad weather
Estate car-like room makes Forester a practical family vehicle
Handles like a conventional car despite its high ground clearance
Gripes:
Petrol only range, ensuring real world fuel economy is not that great
Modest service intervals mean running costs can work out above average
Cabin quality will disappoint anyone used to premium European cars
Suffers from poor image outside of the Subaru fan base
Subaru's Forester is a difficult car to pigeonhole - it's neither a conventional estate car nor a full-blown off-roader. However, to many people that's exactly why it's an attractive proposition.
It's difficult to put Subaru's Forester into a clearly defined category, thanks in part to its dual roles of mud-plugger and family estate. For that reason, too many people dismiss the car as something of an automotive misfit.
That said, the Forester has occupied a niche almost all to itself for many years. The lifestyle estate club is largely made up of expensive German cars, while the 4x4 fraternity stretches from low cost Japanese metal to high-end Range Rovers. But unlike these largely fashion-led marques, Subaru is a company that rarely follows trends.
Judging by the car's appearance, that's a fair comment. The Forester's upright, boxy stance is at odds with anything else on sale in this class. Even its closest rival, Skoda's all-wheel drive Octavia estate, cuts a more streamlined dash. However, the Forester's personality is heavily influenced by Subaru's utility past, and for many this is part of the brand's attraction.
Things have moved on, however. The 2005 model year cars sport a more modern grille and, in a move that will please the critics, the Forester's cabin boasts a significant quality upgrade. An improved engine line-up has helped to lift the car's performance and, admittedly, less than spectacular fuel economy.
Our verdict on the Subaru Forester 2.0 XE
For anyone after a durable, affordable, all-weather family vehicle without the baggage of a conventional off-roader, Subaru's Forester is on its own. But while it also makes a good towcar, the picture isn't perfect. Cabin trim quality cannot match that of its European counterparts and there's no diesel option. Still, its car-like handling and semi-exclusive status count in its favour.
Costs
At face value the Forester is a good buy. Equipment levels are reasonably high and the inclusion of four-wheel drive makes its something worth a serious look when similarly priced rivals fall at one or both of these hurdles. However, the petrol-only range will cause you to dig deep on a regular basis, as will the conservative service intervals. That said, residual values have remained strong, which is a massive plus considering so many cars are in private hands.
Space and practicality
While you can't change the seating positions radically like you can in a people carrier, the average family will find it hard to pick fault with the Forester's seating plan. The rear seats do fold, which further boosts the car's load carrying capacity. There's the usual number of storage areas dotted around the cabin, but the glovebox is on the small side. At the rear the car's load lip is higher than normal thanks to its greater ground clearance and the load cover is easy to retract.
Controls and display
There are no surprises in the Forester's cabin, as the various controls are straightforward and, from the driver's perspective, all close to hand. The main instruments are clear and concise, and the audio unit's display is big and easy to read. The same goes for the optional sat-nav display as it's mounted high up on the fascia.
Comfort
Supportive but never over-firm seats do a fine job of keeping you in place, while noise levels - engine and road - are kept to a pleasing minimum unless you're driving enthusiastically. Space-wise the cabin's big enough so you won't be rubbing shoulders or elbows with fellow occupants. Rear seat occupants don't get the same level of head and legroom as their front seat counterparts, but the amount of room available shouldn't cause the average adult any distress.
Car security
You might be surprised to learn that Subarus - and not just the quick ones - are not just popular with law abiding citizens. Thankfully, the Forester, like the rest of the line-up, comes with a decent immobiliser that cuts the ignition if you take too long from unlocking the car to turning the key. That said, any form of aftermarket tracking device will be money well spent, and it could even reduce your insurance premium.
Car safety
The Forester might still be considered a little too close to the utility end of the market by some people, but there's nothing wrong with its safety kit. Twin front and side airbags are standard, along with ABS brakes and electronic brakeforce distribution (EBD). Of course, the car also boasts permanent all-wheel drive, which will prove invaluable if you live in a rural area or routinely encounter bad weather on your travels.
Driver appeal
Despite the Forester's above average levels of ground clearance, it behaves more like a car on the road. The extra grip from the four-wheel drive system certainly helps, although the car's Impreza-based underpinnings should be given most of the credit. The engines also do a commendable job, and you're never left wanting even with the regular 2.0-litre unit. All the controls are smooth, the brakes are powerful and refinement levels are high. And although not a serious mud-plugger, the car works well in slippery conditions and is a decent towcar option.
Family car appeal
Offering a little more flexibility and a lot more go-anywhere versatility than a conventional hatchback, the Forester would make a good family car. This is especially true if you're not a fan of traditional compact people carriers or sports utility vehicles (SUVs). Active families will appreciate the Forester's four-wheel drive feature, while city dwellers will benefit from a car that's no larger than a regular family model and much easier to park than a big SUV.
First car appeal
The Forester is not your typical first car, but there's no reason why a novice shouldn't be able to get in and drive away without any problems. Visibility is good both fore and aft, and the controls are light and easy to operate. The regular 2.0-litre will be more than adequate, although running costs will be on the high said compared to a conventional supermini.
Quality and image
The Forester is held in high regard within the circle of Subaru owners and enthusiasts. Anyone who regards durability and versatility above all else will also see that the car makes sense. Customer satisfaction is high among owners, which says a lot for the brand. Subaru still has much to learn in terms of creating stylish, appealing and high quality cabins, though, as some materials lack a premium feel.
Accessibility
The Forester's above average ride height and wide opening front doors make getting in and out easy. It's also reasonable at the back, although the rear doors don't open quite as wide only the very tall will experience serious difficulty. At the rear the tailgate opens up with little effort and the load lip is at a good, elevated level for unloading, but you might struggle loading heavy items.
Stereo and ICE (In car entertainment)
The car's large audio unit dominates the central console, and in the main it proves easy to use. Reception and sound quality is good, and remote controls on the steering wheel duplicate the unit's basic functions. The optional sat-nav system looks less well integrated - the display is mounted on top of the fascia - but it works well and responds quickly to route changes.
Colours and trim
Dark metallic hues work best on the Forester - probably a nod to the car's rural roots and the fact a green one looks 'right' ambling along country lanes. Inside, the picture isn't so rosy. The shiny plastics in the Forester's cabin might have been upgraded, but the overall feel lags behind that of its European rivals. Opting for leather upholstery does wonders for the ambience, though.
Parking
Sitting higher up than you would in a conventional car has its benefits, and parking is one of them. The view forward is only slightly obscured by the car's large windscreen pillars, but the rear is fine thanks to the straight-down nature of the tailgate. The light power steering also helps, while the four-wheel drive system barely impacts on the car's reasonable turning circle.
Spare wheel
A full size spare is fitted as standard.
Range information
Petrol engine options - 2.0-litre (156bhp); 2.5-litre (208bhp). Five-speed manual gearbox is standard fit - auto gearbox an option. Trim levels: (2.0) X, XE, (2.5) XT, XTE.
Alternative cars
Honda CR-V Conventional mid-size SUV is well built and refined but doesn't drive like a car
Volvo XC70 Chunky all-wheel drive Swedish estate is versatile but pricey and not exciting to drive
Skoda Octavia 4x4 estate Closest rival to Forester, Octavia is good value, well built and boasts a diesel option
Audi A4 Avant Traditional lifestyle estate is not cheap but popular. No off-roader despite quattro option