August 2004
Subaru Forester 2.0 X All Weather
Low-range gearbox gives grip in all conditions
August 2004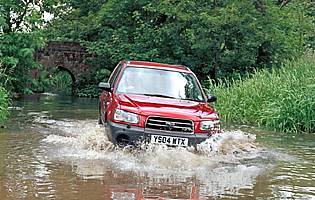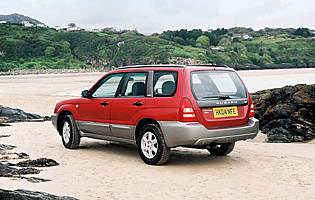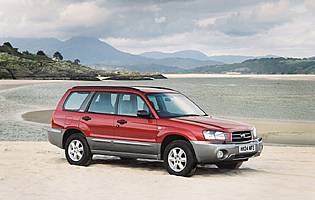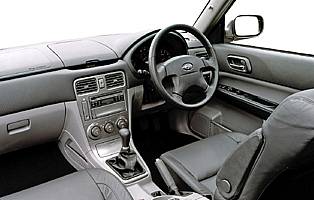 Overall rating

Likes:
Performance car handling is thrilling
Low-ratio gearbox adds extra options
Frameless doors add sophisticated touch
Loads of storage options all around cabin
Gripes:
Lack of diesel powerplant is major drawback
Fuel consumption can be heavy
Grey plastics of interior fail to match rivals
Chunky styling not to all tastes
Subaru's Forester remains a relatively rare sight on UK roads - and it's difficult to know why, as few other cars offer such value for money, practicality and performance as standard.
The original Forester was launched in 1997 and managed to build up a small but loyal following among farmers and tradesmen. A 2002 makeover made it substantially more attractive to the SUV crowd, but the Forester remains essentially a workhorse rather than a fashion accessory.
That's not to say it's crude. Externally, the Forester gives a decent impression of brawn, while retaining the manageable proportions of a family estate. Large headlamps, roof rails and some extra space in the wheel arches let the world know this is a car with off-road ability, and the presence of all-wheel-drive and high and low ratio gear settings inside the cabin confirms this. Ground clearance isn't as generous as on a 'proper' off-roader, while estate shape restricts approach and departure angles, but the Forester can cope with fairly tough terrain.
Subaru interior quality has come a long way in recent years and these later Foresters exhibit a much improved level of comfort compared to early models. Storage wells and cubbyholes abound. Rear seats fold completely flat and they collapse with admirable ease. Only the quality of some plastics and fabrics disappoints slightly. They are not themselves poor, but with the Nissan X-Trail and Mitsubishi Outlander offering outstanding interiors, buyers will be aware that the Forester lags just behind.
The driving experience offered by the Forester comprehensively beats its direct rivals. This is a Subaru after all, and true to form the Impreza-based chassis is terrifically able on the road. Non-turbo X models are far from sluggish. Turbo charged XT models are genuinely rapid. Subaru's long-lasting love affair with the 'boxer' engine configuration results in a great engine note, too. However, the lack of any diesel powerplant at least partially explains why the Forester isn't more popular. When driven hard, fuel consumption can be heavy.
Our verdict on the Subaru Forester 2.0 X All Weather
For sheer practicality, few cars approach the Subaru Forester. It's as spacious as an estate, as grippy as a 4x4 and boasts performance figures many a hot hatch would envy. If the range included a diesel engine, everyone would drive one.
Costs
Fuel economy is usually identified as the Forester's Achilles' heel, but it is not quite as decisive a factor as all that if one compares the fuel costs to a bulkier 4x4. Owners report average fuel consumption of about 30mpg, which is reasonable. Insurance groupings have come down a few notches compared to first-generation Foresters. Carbon dioxide emissions levels remain fairly high but the low list price offsets this, making the Forester just about a viable option for business users needing some go-anywhere ability.
Space and practicality
The 60/40 split rear seat can easily be folded using just one hand to create a large load area with a firm, flat floor. It's not unreasonable to expect that many Foresters will spend almost as much time with the rear seats down as they will in passenger-carrying mode. In addition to the Forester's load-carrying capacity, there's the added bonus of knowing that a wet field or muddy lane won't stop you reaching your delivery destination.
Controls and display
Motorcycle-style cowls are a nice touch to add some sportiness to the instrumentation. There are three large circular dials in the fascia for ventilation and climate control functions, all of which are easy to use. Some of the switches and buttons lack the heavyweight feel of classier cars. Overall, the Forester's offers plenty of clear and comprehensible information to the driver.
Comfort
The steering wheel adjusts for angle only, not height. The driver's seat of all models does adjust for height though, so most people will be able to find a comfortable position without too much trouble. Front seats are firm and supportive, but rear seats feel a little bench-like. The huge variety of storage options including drinks holders, cargo nets and map pockets helps keep the light, airy cabin space uncluttered. Headroom is excellent.
Car security
Subaru claims its security measures were 'UK inspired', which is perhaps not quite the compliment they intended. Deadlocks, keyless entry and shielded door locks come with a Thatcham category one immobiliser and alarm. Thieves are likely to be more interested in what's being transported than they are in stealing the car outright. The standard load area cover should be used whenever anything is left in the vehicle.
Car safety
Front airbags are standard. Side airbags are theoretically optional extras but both standard XT models and All Weather X models have them included. All three rear seats feature three-point seatbelts and height-adjustable head restraints plus ISOFIX seat mountings. The brake pedal is designed to snap away in a severe impact - but the accelerator and clutch pedals don't.
Driver appeal
The low centre of gravity partially explains why the Forester feels so much more alive than the majority of SUVs or 'soft roaders' despite featuring the same raised driving position. Coupled with full-time all-wheel-drive and standard rear limited-slip differential, the engine is responsive yet small enough to demand being revved fairly hard - all of which adds to the fun. Incidentally, the Forester also has a reputation among caravanners as an excellent towing vehicle.
Family car appeal
While sharing many of the attributes of a modern family MPV - good storage space, a raised ride height and load-carrying ability - few Foresters seem to be used as family vehicles by anyone without a dirt track leading to the front door. They lack the food trays and entertainment systems MPVs offer and may seem a little rough and ready to mollycoddled modern youngsters. It could act as a working vehicle during the week and a family estate at weekends.
First car appeal
A Forester is unlikely to appear anywhere near the top of a new driver's wish list. These cars tend to be bought new by private buyers who hold onto them for a long time rather than by novices looking to run a fun car for a few months to a year before upgrading. As a result, used examples tend to have been worked hard but are rarely abused and remain affordable. The Subaru badge has some clout among youngsters, but most would prefer to spend their pocket money on an older Impreza.
Quality and image
Owning a Forester might attract approving nods from other owners, but it completely lacks the fashionable 'lifestyle' attitude of the Nissan X-Trail or Toyota Rav4. Subaru is held in high regard by performance nuts thanks to the Impreza's rallying antics, yet few will spare a thought for the Forester or its equally neglected sibling, the Legacy. Whatever its virtues, this car looks destined to be perceived as a 'farmer's favourite'.
Accessibility
Doors feature frameless windows, an unexpectedly sophisticated piece of styling on such a rugged car. As well as reducing the size and weight of the doors, they make climbing in and out a little easier without seeming to sacrifice any rigidity and still shut with a satisfying 'thunk'.
Stereo and ICE (In car entertainment)
A radio/CD player with four speakers is standard issue. It's not exactly state-of-the-art but at least Test Match Special fans will be pleased to know it includes the Long Wave frequency. Mainly as a result of the Impreza's clientele, various upgrades can be ordered from famous names such as Alpine and Kenwood.
Colours and trim
Early Foresters were a little bare inside, but - no doubt aware that rivals offer generous amounts of kit - current models are competitively equipped. Comfort and convenience features include climate control air conditioning, heated door mirrors, headlamp washers and windscreen wiper de-icer. The optional All Weather Pack for the Forester 2.0 X is a sound investment and includes side airbags, alloy wheels, electric sunroof, front fog lamps, heated front seats and cruise control. Unusually in this sector, mica or metallic paint is provided as standard. Strong, bold colours work well. XT models gain a full leather interior.
Parking
No more onerous to park than a conventional estate car, only the Forester's wide track is likely to cause any parking problems. Visibility is good using sizeable wing mirrors and the car's regular dimensions make judging distances simple. A rudimentary parking aid is available as an optional extra but isn't really required for a car likely to spend most of its time in wide, open spaces.
Spare wheel
A full-size steel spare is provided as standard, which adds further credibility to the Forester's go-anywhere credentials. It is worth noting that all Foresters come fitted with 205/70 all-terrain tyres.
Range information
Foresters are badged 'X' (for 'crossover') and 'XT' (for 'crossover turbo'). Some models also gain an 'All Weather' appellation if buyers opt for an optional pack of extras. X models have a 2.0 (123bhp) petrol engine while XT models gain a turbocharged 175bhp version of the same powerplant. Two transmission systems are employed: a five-speed manual or four-speed automatic.
Alternative cars
Mitsubishi Outlander Nice interior fails to compensate for bland drive
Nissan X-Trail Superbly screwed together with good diesel options
Hyundai Tucson Value for money SUV looks the part but lacks character
Volvo XC90 Similar styling, similar ability - and nearly twice the price