Car Buyers Guide
SsangYong Korando 2.2 Diesel ELX
April 2016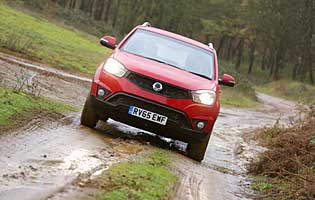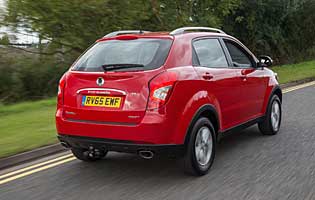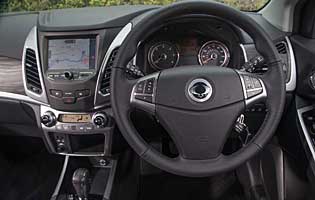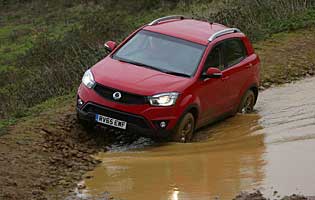 Overall rating

Likes:
Improved engine provides convincing power
Low prices throughout the range
Comfortable seats
Good towing capacity
Gripes:
Handling can't match that of many rivals
Suspension doesn't cushion rear passengers against bumps
Slightly worse fuel economy than competitors
SsangYong badge lacks desirability
The Korando is an extremely well-priced SUV, aimed at people who require the functionality of a proper 4x4 utility vehicle but who can't justify the inflated prices of the more upmarket brands. By offering all the functionality of a premium off-roader, but for a fraction of the cost, SsangYong has cornered a market that could previously only afford to buy second-hand.

SsangYong has been making cars successfully for years, though most of these models have been aimed at parts of the world with very different requirements to those of Europe. The results tended to be cheap-feeling and head-turningly unattractive, with some historic SsangYongs remaining on the roads to give the brand an unwarranted bad name.

The Korando was SsangYong's first real foray into modern construction methods. It's evidently a much more up-to-date car than previous models, though for driving enjoyment doesn't yet match contemporary models from Hyundai, Kia, Nissan and other manufacturers whose cars are only a little bit more expensive. Drivers who seek captivating driving dynamics from their new SUV should look elsewhere.

But apart from that, the main hurdle SsangYong will have to overcome is badge snobbery. Many brands, especially Kia and Hyundai, started life on British shores as faintly unwelcome bargain-basement alternatives to premium carmakers. Now, they're absolutely essential parts of the UK automotive landscape, and offer seriously competitive products across all market segments.

And the Korando is the most recent example of this type of progress. Although SsangYong continues to focus on SUVs and pick-ups rather than providing a comprehensive range of passenger vehicles, it's well on its way to achieving popularity with UK drivers. And in a lot of ways, and for plenty of buyers, it outperforms its more mainstream rivals.


Our verdict on the SsangYong Korando 2.2 Diesel ELX
For people looking at buying a small SUV with 4x4 capabilities, and especially for towing large loads, the Korando is a dark horse. It's now fair to compare the Korando to more mainstream models, and in some important instances it comes out on top. While the bargain starting price catches the eye first, there's better value to be found at the very top of the range, where the flagship Korando has as much equipment as rivals that cost many thousands of pounds more.